The CRO Industry in Flux: Navigating Technology, Business Models, and Trends in Pharma R&D Outsourcing
As the global pharmaceutical landscape continues to transform at a breathtaking pace, it becomes crucial to examine the phenomenon that is powering this change - Contract Research Organizations (CROs). With the burgeoning demands of the pharma R&D sector, we're seeing an uptick in the trend of outsourcing, and central to this discourse is understanding what a CRO is. At the core, these entities offer outsourced research services to their clients in the pharmaceutical, biotechnological, and medical sectors. This article aims to provide a comprehensive exploration into the intricate world of CROs, their burgeoning role, and the potential impacts they have on the evolving pharma R&D outsourcing industry. We delve into the various aspects of their operations, dissect the driving factors behind their growth, and evaluate the potential challenges they face in the current pharmaceutical environment.
Pharmaceutical companies are increasingly outsourcing their R&D activities, including early-stage research programs, to third party organizations -- academic institutions, biotech startups, and private CROs -- as a means to stay competitive, flexible, and profitable against all odds.
Economically, there are factors such as increasing downward pressure on drug pricing by governments, an impending "patent cliff" threatening $198 billion worth of sales during 2019-2024), and downturns in income due to the increasing competition from generics and biosimilars.
From the innovation's point of view, there is a boom in life sciences, stimulating the emergence of novel biological targets, therapeutic modalities, and even whole new areas of drug discovery -- adding opportunities, but also complexity and uncertainty to research programs. In fact, according to Deloitte's report, return on late-stage pipelines dropped for the top 12 pharma companies from 10.1% in 2010 down to 3.7% in 2016.
Technologically, there is an unfolding "digital revolution", bringing even further complexity and investment cost to the table -- in a form of artificial intelligence (AI), data mining and big data technologies, data-driven diagnostics, and digital health.
Finally, the rise of the personalized medicine paradigm forces companies to rethink their research pipelines and "one-size-fits-all" product development programs, as well as reconsider their market strategies.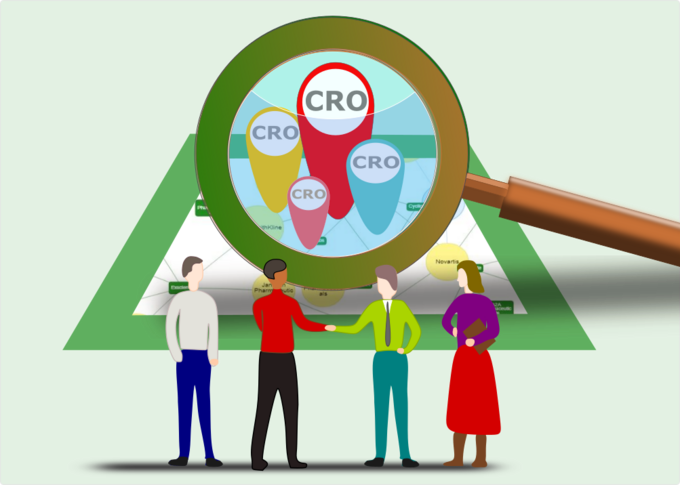 The interplay of the above circumstances appears to be a favorable situation for the contract research market, leading to steady growth in this sub-sector. According to a report by Clearwater International (autumn 2019), the global CRO industry exhibits market growth of around 10% CAGR with projected acceleration up to 12% through to 2022, potentially reaching $45B market value.
Another natural factor of growth for the CRO industry is the overall increase in the number of biotech companies and the volume of ongoing research projects in the pharma industry -- since 2007 the number of drug candidates under development almost doubled (15267 in 2018 vs 7737 in 2007).
Pharmaceutical CRO industry at a glance
The roots of the contract research business can be traced back to the mid-1900s when companies like Huntingdon Life Sciences and Charles River Laboratories emerged to offer basic animal experimentation services. The pharmaceutical CRO industry as we know it only started to shape in 1970-80s -- with the emergence of a regulatory frameworks for the pharmaceutical market, expansion of then-existing contract research companies into clinical trials and other functions, and foundation of new companies -- future CRO industry giants, like Quintiles (1982), Parexel (1982), and PPD (1985).
Today, the CRO industry is fairly fragmented including more than 1000 organizations, although relatively few of them are global full-service companies. However, it is those few largest CRO industry players, like Covance, IQVIA, Syneos Health, Parexel, PPD, PRA Health Sciences, Charles River Labs, Wuxi Apptec, and Medpace, who control the lion's share of the market. According to a study by the Tufts University Center for the Study of Drug Development (CSDD), the top 10 largest CROs benefited from around 57% of outsourcing spend in 2018, which is 12% more than in 2011.
Estimations by Objective Capital Partners suggest that the global contract research market in 2019 is valued at around $30B and growing. According to a 2016 report by Credit Suisse, the CRO industry can be roughly segmented into the four market categories with each having the following shares of the pie: central lab services -- 4%; preclinical services -- 9%; clinical stage services -- 42%; and post-approval activities -- 45%.
According to David Widley, equity analyst at Jefferies consulting firm, currently, big pharma outsources around 40-45% of their activities to CRO industry players, and he expects this number grows up to 60% in the future. In contrast, small and medium-sized companies outsource substantially more of their activities -- up to 65-70% and the emerging biotech startups typically outsource up to 90%, some of them operating as "virtual" companies.
Evolving business models of CRO industry players
When outsourcing R&D services, a straightforward Fee-For-Service task-based model is utilized for separate well-defined services, like screening a library of compounds against a known target or synthesizing a reference compound, which can be performed for a pre-agreed price.
Another option -- the Full-Time Equivalent (FTE) model, where a sponsor company, basically hires a science project team at CRO premises and pays for all the materials and other project expenses. The FTE model is suitable for multifaceted more complex projects, where flexible continuous discovery work is anticipated, as this model allows to minimize contractual bureaucracy.
However, business models of collaboration between companies and CROs are continuing to evolve to meet the growing pharma companies' focus on external innovation and strategic alliances. In newer models, initial innovation often comes from the CROs, who establish early chemistry and biology entry points into disease and then approach potentially interested pharma companies to collaborate as strategic drug discovery partners. Such projects can be structured in different ways, including milestone and royalty payments, FTE payments, and event potentially jointly owned intellectual property (IP) rights commercialized as joint ventures or spin-off companies.
Some CROs or smaller service providers and biotech startups often have their own internal drug discovery activities and target licensing deals with big pharma. For instance, there is a wave of artificial intelligence (AI)-driven startups in the pharma industry, and according to BPT Analytics data, 9% of them have their own drug discovery pipelines. The number of R&D deals (drug candidate discovery) in this sub-area has increased substantially since 2015.
RELATED: Choosing The Right CRO For Pharma R&D Outsourcing
Another growing trend is the insourcing of CRO researchers in sponsor company sites, especially where the sponsor has unused laboratory space but does not plan new hires. This model can provide for high visibility into the CRO's work, efficient management, capital efficiency, and potentially lower costs. Another variation of this model is to have embedded sponsor's scientists within the CRO.
Whatever the case is, it should be noted that a general tendency is that client sponsored and CRO led programs are becoming more common.
R&D marketplaces streamline contract research offering
An important trend in pharmaceutical research outsourcing is the emergence of new types of marketplaces, which connect pharma sponsors with CROs, academic institutions, and biotech startups via an advanced digital infrastructure. For example, research marketplaces such as Scientist.com and Science Exchange allow sponsors to search for specific R&D service providers, engage in a transaction, manage projects, structure payment schedules and automate the whole process of sourcing R&D services.
RELATED: 19 Online Marketplaces Facilitating Life Science Research
Continuing consolidation of CRO industry
Driven by a growing readiness of large pharma companies to outsource a wider range of their R&D tasks, including even basic research and idea generation, the larger CROs are looking to acquire niche / high-impact service or manufacturing companies to expand their existing capabilities. Several noteworthy consolidation events include the mergers of InVentiv Health with INC Research (2017), and Quintiles with IMS (2017); the acquisition of Covance by LabCorp (2014), of WIL Research (2016), MPI Research (2018), KWS Biotest (2018) and Citoxlab (2019) by Charles River Laboratories, and of Selcia (2018), Villapharma (2016) and DiscoverX (2017) by Eurofins.
Via these acquisitions, CROs aim at evolving from commodity service providers to key strategic partners who offer integrated "end-to-end" solutions in drug discovery and development.
It is also noteworthy to point out that private equity investors have been highly active in the sector of pharmaceutical contract research, being responsible for much of the consolidation, and increasingly competing with strategic acquirers in M&A rally. This activity suggests high growth expectations for CRO companies.

Partnering with academia for contract research services
While relatively commoditized CRO market is primarily based around later stage preclinical, clinical, and post-approval activities, there is also a tendency among pharma companies to outsource idea generation, and early discovery work, such as basic research, target identification, validation, and hit discovery, to third party organizations.
Examples of notable pharma-academia partnerships include: AstraZeneca's collaboration with the University of Cambridge to fund the breakthrough research -- in 2018; GlaxoSmithKline's 5-year partnership with the University of California to establish a state-of-the-art laboratory for CRISPR technologies, the Laboratory for Genomics Research (LGR) -- in 2019; Boehringer's expansion of PROTAC drugs partnership with Dundee University in 2019, LEO Pharma's launch of an open innovation initiative with the University of Victoria in Canada to share traditionally confidential and proprietary research data with the UV researchers and students to advance clinically relevant research, and more.
Recently approved drugs resulting from industry-academia partnerships include Spinraza and Kymriah, both considered medical breakthroughs of recent years.
According to a report by The Pistoia Alliance and Clarivate Analytics, academic organizations seem especially attractive as research partners for pharma sponsors in such fields as biologics discovery and cell therapies. This is because big pharma is optimized for scaling up production of "one-size-fits-all" therapeutics of large batches, with the same formulation for all patients.
In contrast, in cell therapies (e.g. CAR-T therapies) the raw ingredients (T cells) start with the patient, are modified in a lab, and delivered back to the patient to treat a disease. This new supply chain is more aligned with, say, an academic research hospital, than a big pharma supply chain.
In general, the field of biologics is more varied, compared to small molecules, making academia a natural and efficient "playground" for identifying and validating early ideas. Illustratively, Berend-Jan Bosch, associate professor of virology at Utrecht University, pointed out that industry-university collaboration is 'key' to quickly develop a vaccine against a new and quickly spreading Wuhan coronavirus.
Contract research: biotech startups drive innovation
Biotech startups and small pharma companies start seriously impacting the medical innovations landscape in general, and the CRO industry in particular -- with a 103% increase in the number of new molecular entities (NMEs) discovered by small pharma, which accounted for 63% of all new prescription drug approvals over the past 5 years. Many such companies form research partnerships with big pharma to advance its innovations further or offer specialized research expertise, services, and tools.
The strategic position of large drug makers is now to expand external R&D partnerships with smaller innovators, or acquire them altogether -- 2019 was a "hot" year for M&A activity in the pharma industry. While acquiring small innovative companies is a long-practiced strategy for big pharma, the landscape of M&A will be heating up due to an increasingly diverse market of advanced technologies and innovations, and due to a growing competitive interest for biotech M&As from the side of large CROs and recent newcomers to pharma industry -- tech giants (Google, Tencent, Amazon etc).
Adoption of artificial intelligence in CRO industry
According to data listed by Internet Live Stats, the term "artificial intelligence" (AI) was googled 3.5 billion times per day in 2018, illustrating global interest, hype, and wilde ongoing discussions around this reincarnated technology. Considering the widely believed strategic implications of adopting data-centric technologies, like AI, it is not surprising that the pharma industry is not an exception to this trend: large drug makers are actively tapping AI to innovate drug discovery and optimize R&D productivity.
This situation positively impacts the CRO industry, offering substantial opportunities due to the increasing demand for data-centric AI-based solutions and services.
On the one hand, top CRO companies are increasingly focused on adopting AI-based technologies as an additional value-adding component of their R&D services offering to pharma sponsors. Examples include IQVIA's AI-based NextGen smart trial platform, used by dozens of pharma clients, Evotec's $15 million investment in AI-driven biotech Exscientia, and Eurofins' collaboration with UgenTec to apply AI for high-throughput molecular testing, to name a few
On the other hand, there is a growing number of emerging companies building sophisticated AI-driven drug design platforms and tools, essentially offering contract research services, and starting to play competitors with "traditional" CROs. Some of them are summarized in 201 Companies Applying Artificial Intelligence In Drug Discovery and Development.
The New Age of Remote Labs in the CRO Industry
The Clinical Research Organization (CRO) industry is undergoing a transformative change led by pioneering companies integrating automation and artificial intelligence (AI) into standardized laboratory facilities. This new type of remote labs redefine the very business model of what is a CRO and how it operates.
RELATED: Companie Making Automated Drug Discovery a Reality
Among these pioneers is Strateos, which has ventured into offering cloud-based automation for routine operations. It has extended its capabilities through strategic acquisitions and partnerships, thereby strengthening its position in the CRO industry. They are now focusing on their LodeStar™ software platform, targeting automated drug discovery and data analytics.
Emerald Cloud Lab is another influential player, offering a broad range of scientific instrumentation to design fully customizable life science experiments. Their commitment to democratizing academic research is evident in their recent collaboration with Carnegie Mellon University, aiming to facilitate remote experiments via their platform.
San Francisco-based Culture Biosciences is another example, revolutionizing bioreactor experiments' optimization and scaling. Their recent shift towards upstream bioprocess development in automated drug discovery further highlights their role in the CRO industry's evolution.
Meanwhile, UK-based Synthace is offering a cloud-based, no-code platform for experiment automation, making the CRO industry more accessible and efficient.
These companies, through their advanced remote labs, are reshaping the CRO industry, making preclinical experimentation more accessible and efficient, thereby accelerating the discovery of novel therapeutics. As the definition of what a CRO is continues to evolve, their impact on drug discovery will undoubtedly be profound.
A wider context of the pharmaceutical CRO industry
Numerous analytics reports, including ones by Deloitte, and Ernst and Young, point to a declining R&D productivity of the pharmaceutical industry over the last decade. In our recent article The Evolution Of Pharmaceutical R&D Model, I reflected on several possible reasons for such a tendency, and how pharma is starting to adopt a more agile business model of innovations. One of the features of this more agile model is a shifting focus on mining a large number of early innovations externally (vs prioritizing several high-cost programs) -- via open science, venture-funds, industry-academia partnerships, accelerator programs, etc, then "killing projects early", and selecting only the most promising and validated programs for development. Another feature is relying heavily on R&D outsourcing and external partnerships. I think something like that is now happening in the industry, and it means more M&As and more opportunities for the CRO companies in the coming future.
Topics: Industry Trends