The Evolving Pharma R&D Outsourcing Industry: A Bird's-eye View
Pharmaceutical companies are increasingly outsourcing their R&D activities, including early-stage research programs, to third party organizations -- academic institutions, biotech startups, and private contract research organizations (CROs) -- as a means to stay competitive, flexible, and profitable against all odds.
Economically, there are factors such as increasing downward pressure on drug pricing by governments, an impending "patent cliff" threatening $198 billion worth of sales during 2019-2024), and downturns in income due to the increasing competition from generics and biosimilars.
From the innovation's point of view, there is a boom in life sciences, stimulating the emergence of novel biological targets, therapeutic modalities, and even whole new areas of drug discovery -- adding opportunities, but also complexity and uncertainty to research programs. In fact, according to Deloitte's report, return on late-stage pipelines dropped for the top 12 pharma companies from 10.1% in 2010 down to 3.7% in 2016.
Technologically, there is an unfolding "digital revolution", bringing even further complexity and investment cost to the table -- in a form of artificial intelligence (AI), data mining and big data technologies, data-driven diagnostics, and digital health.
Finally, the rise of the personalized medicine paradigm forces companies to rethink their research pipelines and "one-size-fits-all" product development programs, as well as reconsider their market strategies.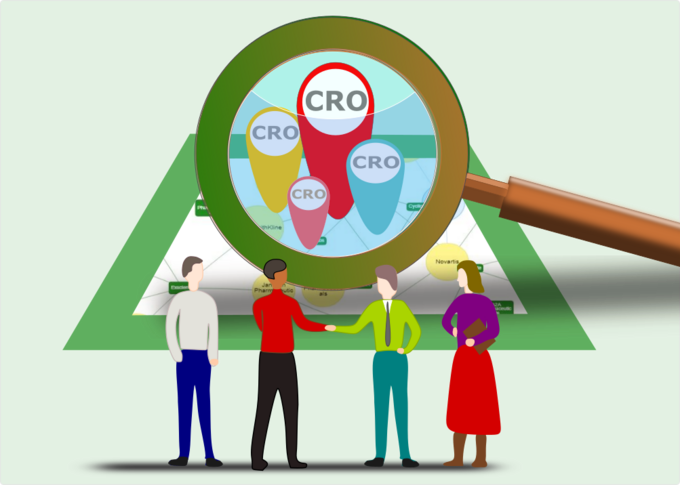 The interplay of the above circumstances appears to be a favorable situation for the contract research market, leading to steady growth in this sub-sector. According to
a report
by Clearwater International (autumn 2019), the global CRO industry exhibits market growth of around 10% CAGR with projected acceleration up to 12% through to 2022, potentially reaching $45B market value. 
Another natural factor of growth for the contract research market is the overall increase in the number of biotech companies and the volume of ongoing research projects in the pharma industry -- since 2007 the number of drug candidates under development almost doubled (15267 in 2018 vs 7737 in 2007). 
CRO industry at a glance 
The roots of the contract research business can be traced back to the mid-1900s when companies like Huntingdon Life Sciences and Charles River Laboratories emerged to offer basic animal experimentation services. The industry as we know it only started to shape in 1970-80s -- with the emergence of a regulatory frameworks for the pharma market, expansion of then-existing contract research companies into clinical trials and other functions, and foundation of new companies -- future CRO giants, like Quintiles (1982), Parexel (1982), and PPD (1985). 
Today, the CRO industry is fairly fragmented including more than 1000 organizations, although relatively few of them are global full-service companies. However, it is those few largest CROs, like Covance, IQVIA, Syneos Health, Parexel, PPD, PRA Health Sciences, Charles River Labs, Wuxi Apptec, and Medpace, who control the lion's share of the market. According to a study by the Tufts University Center for the Study of Drug Development (CSDD), the top 10 largest CROs benefited from around 57% of outsourcing spend in 2018, which is 12% more than in 2011. 
Estimations by Objective Capital Partners suggest that the global contract research market in 2019 is valued at around $30B and growing. According to a 2016 report by Credit Suisse, the CRO industry can be roughly segmented into the four market categories with each having the following shares of the pie: central lab services -- 4%; preclinical services -- 9%; clinical stage services -- 42%; and post-approval activities -- 45%.   
According to David Widley, equity analyst at Jefferies consulting firm, currently, big pharma outsources around 40-45% of their activities to CROs, and he expects this number grows up to 60% in the future. In contrast, small and medium-sized companies outsource substantially more of their activities -- up to 65-70% and the emerging biotech startups typically outsource up to 90%, some of them operating as "virtual" companies. 
Continue reading
This content available exclusively for BPT Mebmers.
Topics: Industry Trends