Pharma R&D Outsourcing Is On The Rise
Pharmaceutical companies are increasingly outsourcing research activities to academic and private contract research organizations (CROs) as a strategy to stay competitive and flexible in a world of exponentially growing knowledge, increasingly sophisticated technologies and an unstable economic environment.
The R&D tasks that firms choose to outsource include a wide spectrum of activities from basic research to late-stage development: genetic engineering, target validation, assay development, hit exploration and lead optimization (hit candidates-as-a-service), safety and efficacy tests in animal models, and clinical trials involving humans.
According to a report by Clearwater International (autumn 2019), the global CRO market will potentially rise to a $45 billion industry by 2022, as compared to an estimated $30 billion valuation (by Objective Capital Partners), exhibiting the current rate of market growth of around 10% CAGR with projected acceleration up to 12%. This is in line with Vantage's alliance benchmarking study, revealing that over 80% of bio-pharma respondents reported increased alliance activity compared to previous periods. Getting ideas and expertise from external sources is a well-established practice in the pharmaceutical industry with about one-third of all drugs in the pipelines of the top ten pharmaceutical companies initially developed elsewhere, according to a 2014 WSJ article by Jonathan D. Rockoff.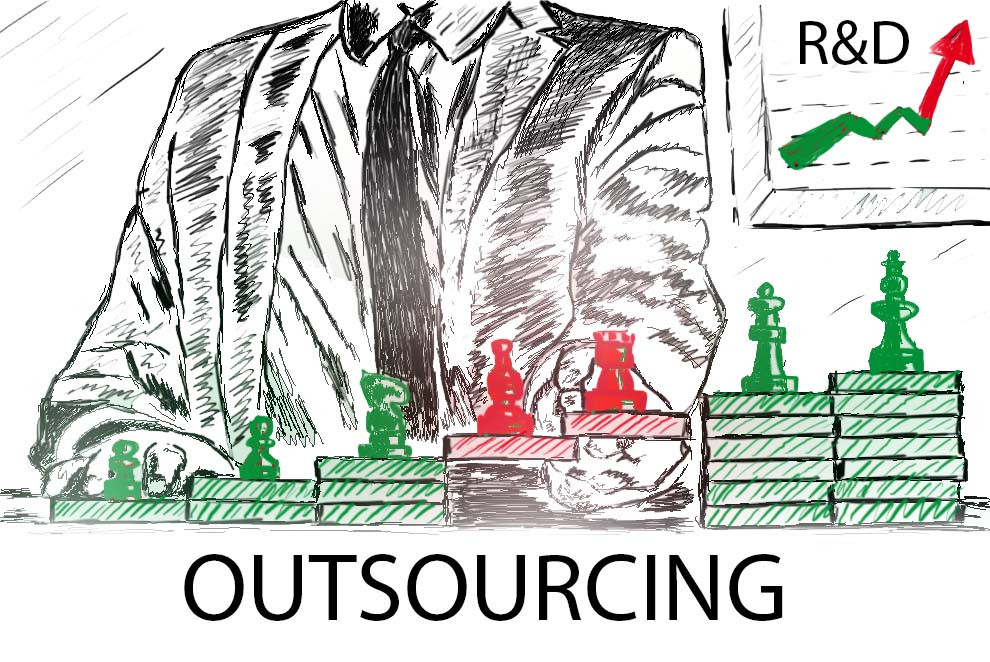 The growing statistics is heavily supported by a wave of recent media reports clearly suggesting a strong focus of biopharmaceutical companies on partnering with academia, CROs, and biotech startups.
Indeed, AstraZeneca has been in the process of moving its global headquarters to Cambridge, UK to harness the university's scientific might. Back in 2013-2014, the company established a number of strategic R&D outsourcing partnerships with academic organizations, including Academic Drug Discovery Consortium (ADDC), Medical Research Council Laboratory of Molecular Biology (MRC LMB), and Cancer Research UK (CRUK) Cambridge Institute.
RELATED: The Evolving Pharma R&D Outsourcing Industry: A Bird's-eye View
Meanwhile, AstraZeneca's global biologics research and development arm MedImmune has already been collaborating with The University of Texas MD Anderson Cancer Center towards developing immunotherapies against cancer.
Pfizer has undertaken a similar strategy in the US, having positioned many of its research and development facilities close to major bioscience hubs, such as San Francisco and La Jolla in California and Cambridge, Massachusetts.
Bristol-Myers Squibb has partnered with Allied Minds, a Boston-based group focused on the commercialization of academic research, to scour American universities for innovative drug discovery ideas. Promising research projects will be structured into startup companies within a new enterprise, known as Allied-Bristol Life Sciences.
GlaxoSmithKline has recently teamed up with University of Leicester to develop novel drugs against blood cancer.
Actelion has recently extended an agreement with a chemical CRO Enamine to access its novel building blocks and screening libraries for use in early drug discovery.
Several other strategic alliances between Big Pharma and CROs were summarized by KP research, MergerMarket and Clinipace, covering collaborations in 2010-2016.
At the same time, large pharmaceutical organizations sometimes prefer acquiring external technology vendors or innovative units involved in promising R&D projects, rather than maintaining "classical" outsourcing operations. For instance, in the oncology domain, recently AbbVie agreed to buy Pharmacyclics for $21 billion, and Pfizer acquired Medivation for $14 billion.
Whatever model to mine external expertise and resources is chosen, let's see which factors stimulate pharmaceutical companies to expand their involvement in dealing with external technology vendors, rather than performing tasks internally. The four underlying motives are summarized below.
Cutting costs
Diminishing profits have become a major cornerstone for pharmaceutical companies over the past decade. A recent report, "Decline In Economic Returns From New Drugs Raises Questions About Sustaining Innovations" reveals a somewhat alarming picture for drug makers, suggesting that the newest medicines are generating a negative rate of return across the industry.
Clearly, drug discovery and development is a costly venture with an estimated $0.8 to $1.7 billion spent by the pharma industry in R&D to bring a new drug to market (according to PhRMA). In many cases, drug candidates fail at the latest stages of drug discovery programs and it adds up to potential risks and overall costs.
Additional tension for innovator companies comes from profit drops associated with the approaching "patent cliff" for a number of highly profitable drugs. Evaluate Pharma forecasts that around $215 billion in sales will be at risk due to patent expirations between 2015 and 2020.
In order to increase the success rate of drug discovery programs and decrease R&D costs, pharmaceutical companies seek to improve and accelerate every stage of early drug discovery process, starting from target identification and validation, and all the way towards a preclinical drug candidate with an excellent ADME/Tox profile. To achieve these goals, drug researchers has turned to new areas in science to develop better in vitro, in vivo, and in silico methods and models. In most cases, it is cheaper and more efficient to outsource those technologies from external organizations, than it is to create in-house infrastructure and hire all the necessary research staff.
Chasing innovations
An increasing lack of innovation in pharma seems to be among the underlying reasons why drug makers tend to outsource research to academia or CROs. According to the insight by Stewart Lyman in his article "The innovation challenge: Assessing biopharma startups" in Xconomy, Big Pharma is losing efficiency at discovering new drugs and "has to get its ideas from somewhere else".
The Tufts study conducted in 2012, found that biopharmaceutical companies are increasingly forming partnerships with academic medical centers with the goal of identifying promising pathways for potential breakthrough therapies through basic research in medicine, as well as guiding their translation into clinical development of new medical products.
According to Dr. Sy Pretorius from an international Life Sciences consulting company Parexel, "Academic centers are particularly well-suited for doing the early work around target discovery and target validation and basic science research".
One recent example of how pharma benefits from outsourcing academic expertise is Sanofi SA having received its first set of antibiotics drug candidates from its collaboration with Harvard University.
In the pursuit of new ideas, some of big pharma companies try outsourcing models in a form of open innovation and resource sharing, as was summarized by Dr. Jackie Hunter in her article in Drug Discovery World.
For example, Lilly organized PD2 portal back in 2009, allowing researchers to have their compounds screened against phenotypic, disease-relevant assays that were already established at Lilly. The portal later grew into a network of 70 small biotechnology companies and 174 academic institutions. Later in 2011, Lilly introduced the TargetD2 program to provide external access to a panel of well-validated target-based assays across five targets of interest. In addition, there is a possibility to provide access to relevant computational methods to let researchers conduct structure-based research on the initial results.
Another example of resource sharing comes from Glaxosmithkline (GSK) having established an R&D group Scinovo.
Takeda provided incubation facilities for academics and biotech companies in its Shonan research center in Japan where external and internal researchers can work together side-by-side.
Pfizer has launched Centers for Therapeutic Innovation in 2010 with the aim of translating leading science into clinical candidates via networked collaboration.
Accessing specialized knowledge and technologies
Advances in genomics, combinatorial chemistry, high-throughput screening (HTS), and cheminformatics have all contributed to an explosion in the number of new promising biological targets and lead molecules. However, it is rare that biopharmaceutical companies have all the required expertise and infrastructure in-house to fully embrace the new technologies' potential. Thus, companies more often choose to outsource their research programs to specialized CROs or academic centers focused on a particular area of knowledge and capable of providing a state-of-the-art expertise in certain areas.
A vivid example when R&D outsourcing appears to be a smart approach for accessing a novel technology early in the drug discovery process is a collaboration with companies offering artificial intelligence (AI) and machine learning (ML) capabilities for big data analysis, hypothesis probing, accelerating hit exploration activities and identifying hidden dependencies in data patterns.
(For a brief review of how pharma companies are collaborating with AI-driven vendors, read Biopharma's Hunt For Artificial Intelligence: Who Does What?)
A partnership between pharmaceutical giant Pfizer and IBM's Watson for Drug Discovery to advance cancer research made headlines recently. Scientists at Pfizer will use the IBM's supercomputer for rapidly analyzing and testing research hypotheses from "massive volumes of disparate data sources", including more than 30 million sources of laboratory and data reports as well as medical literature.
Lundbeck has become the latest pharmaceutical company to partner with IBM Watson Health to accelerate a discovery of psychiatric and neurological treatments.
It is worth noting, though, that Watson Health has been receiving a wave of criticism lately for allegedly not being able to provide the level of innovation claimed. While it is hard to prove or disprove any such criticism, it appears illustrative of possible risks of the R&D outsourcing activities, especially when a highly sophisticated and poorly measurable technology is outsourced. Only a historical track-record of measurable success cases might be a strong indicator to choose a particualr R&D outsourcing partner.
Now, in 2018, most big pharma companies have developed relations with various AI-technology vendors to harness external expertise in big data analytics and modelling, which is illustrated in this "Collaborations Map".
Increasing speed and agility
The modern world is characterized by rapidly changing technological paradigms, exponentially growing data, and the increasing role of the interdisciplinary collaboration and expertise. Developing sophisticated in-house infrastructure and substantially expanding the count of staff with specific expertise in advanced areas of research is not only costly but also risky for a pharmaceutical company. Especially it is true at the earliest stages of drug discovery process when the uncertainty is the highest. Maintaining only the most important core functions and competencies, while outsourcing research-intensive programs with yet uncertain results to specialized CROs or academic labs, seems to be a reasonable strategy.
Thinking Strategically: Pros and Cons of Pharma R&D Outsourcing
The whole pharma R&D outsourcing concept revolves around the idea that it is more efficient to contract out standard and routine R&D activities such as chemical synthesis, toxicology, drug metabolism, formulations etc, while maintaining more creative and judgmental processes ("know-how generating proceses") in-house. Not only standard and routine tasks, but also well-understood science, robust and repetitive, is believed to be suitable for outsourcing models of cooperation. Another meaningful use case -- outsourcing expertise in advanced technologies, such as artificial intelligence, which can not be quickly built up internally (however, in this latter case an option of aquiring a suitable technology vendor might be a strong alternative to outsourcing operations).
As outlined above, pharma R&D outsourcing has several decent advantages, which drive the current industry trend up. Flexibility of the externalized R&D is probably among the key pros here, as it basically allows to transform certain R&D research tasks into a preferable variable cost, as opposed to fixed costs of internally maintained R&D resources.
Buying-in molecules at later stages of development to mitigate risks is another lucrative benefit of preclinical R&D outsourcing.
However, rather strong disadvantages are also existant and it is important to realize them during strategical decision making. Those include:
- Significant increases in management overhead costs due to search and monitoring activities. A study by the Center for European Economic Research shows that the added complexity of managing an outsourcing process can easily overshadow the cost reduction of R&D work itself.
- A loss of cumulative knowledge base within pharma organizations due to dissolution of the teams and the weakening of internal R&D capability, thereby weakening their "learning-by-doing" process.
In any case, one of the critical aspects to consider during any R&D outsourcing initiative is chosing the right partner with a decent track-record of success, measurable performance indicators, suitable business model, and state-of-the-art technological and innovative capacity.
Topics: Industry Trends