Pharma R&D Outsourcing Is On The Rise
Pharmaceutical companies are increasingly outsourcing research activities to academic and private contract research organizations (CROs) as a strategy to stay competitive and flexible in a world of exponentially growing knowledge, increasingly sophisticated technologies and an unstable economic environment.
The R&D tasks that firms choose to outsource include a wide spectrum of activities from basic research to late-stage development: genetic engineering, target validation, assay development, hit exploration and lead optimization (hit candidates-as-a-service), safety and efficacy tests in animal models, and clinical trials involving humans.
According to a report by Clearwater International (autumn 2019), the global CRO market will potentially rise to a $45 billion industry by 2022, as compared to an estimated $30 billion valuation (by Objective Capital Partners), exhibiting the current rate of market growth of around 10% CAGR with projected acceleration up to 12%. This is in line with Vantage's alliance benchmarking study, revealing that over 80% of bio-pharma respondents reported increased alliance activity compared to previous periods. Getting ideas and expertise from external sources is a well-established practice in the pharmaceutical industry with about one-third of all drugs in the pipelines of the top ten pharmaceutical companies initially developed elsewhere, according to a 2014 WSJ article by Jonathan D. Rockoff.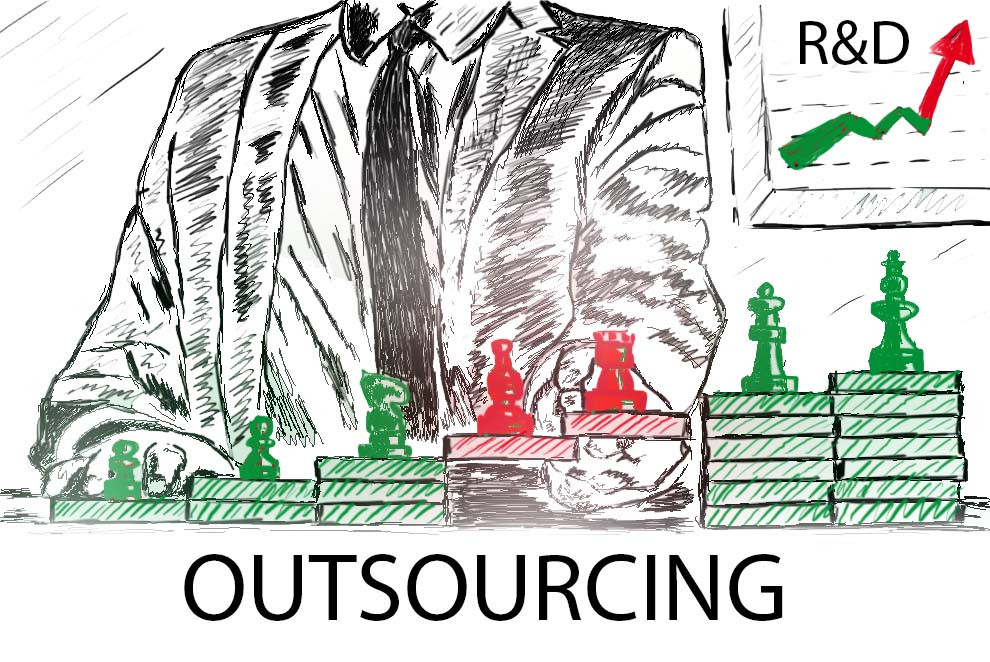 The growing statistics is heavily supported by a wave of recent media reports clearly suggesting a strong focus of biopharmaceutical companies on partnering with academia, CROs, and biotech startups.  
Indeed, AstraZeneca has been in the process of moving its global headquarters to Cambridge, UK to harness the university's scientific might. Back in 2013-2014, the company established a number of strategic R&D outsourcing partnerships with academic organizations, including Academic Drug Discovery Consortium (ADDC), Medical Research Council Laboratory of Molecular Biology (MRC LMB), and Cancer Research UK (CRUK) Cambridge Institute. 
RELATED: The Evolving Pharma R&D Outsourcing Industry: A Bird's-eye View 
Meanwhile, AstraZeneca's global biologics research and development arm MedImmune has already been collaborating with The University of Texas MD Anderson Cancer Center towards developing immunotherapies against cancer.
Pfizer has undertaken a similar strategy in the US, having positioned many of its research and development facilities close to major bioscience hubs, such as San Francisco and La Jolla in California and Cambridge, Massachusetts.
Bristol-Myers Squibb has partnered with Allied Minds, a Boston-based group focused on the commercialization of academic research, to scour American universities for innovative drug discovery ideas. Promising research projects will be structured into startup companies within a new enterprise, known as Allied-Bristol Life Sciences.
GlaxoSmithKline has recently teamed up with University of Leicester to develop novel drugs against blood cancer.
Actelion has recently extended an agreement with a chemical CRO Enamine to access its novel building blocks and screening libraries for use in early drug discovery.
Several other strategic alliances between Big Pharma and CROs were summarized by KP research, MergerMarket and Clinipace, covering collaborations in 2010-2016.
Continue reading
This content available exclusively for BPT Mebmers.
Topics: Industry Trends