Hunting Cancer Before It Can Hunt You: A Bird's Eye View of Cell-Free DNA Market Trends
Chapter 2 of a Hitchhiker's Guide to Cell-Free DNA.
By the end of 2022, there will be an estimated 609,360 deaths cause by cancer in the US alone [1]. In 2018 there were 17 million new cancer cases and 9.5 million cancer deaths worldwide [2]. By 2040, this is expected to increase to 27.5 million new cancer cases and 16.3 million cancer deaths annually [2]. Currently, only five cancer screening tests are available in the US (breast, colorectal, cervical, lung and prostate), accounting for 42% of annual cancer incidence in people aged 50-90 [3]. Cancer detection before stage IV could reduce cancer-related deaths by >15% within 5 years [3]. Accordingly, the population health cell-free DNA (cfDNA) industry is expected to grow to nearly 30 billion dollars by 2028 [4]. Unsurprisingly, cfDNA will pervade every facet of clinical care, drug development, clinical trials, etc. This has not been lost on the business world as a market that barely existed a little over a decade ago is becoming increasingly saturated. Indeed, there is a new start-up in the cfDNA space daily. The reason for this isn't just financial, it's also related to the simplicity of these methodologies and the accessibility of artificial intelligence and machine learning. In the last edition of this series, "The Hitchhiker's Guide to Cell-Free DNA, Chapter One", you were introduced as CEO of the fictitious company, Comprehensive Precision. You presented an extensive cfDNA and liquid biopsy primer to your board, and now have to prove your worth. Today you must present your plan to enter the cfDNA market comprised of very talented companies, including Grail, Exact Sciences, Freenome, Guardant Health, etc. Your focus is on population health screening as you intend to put oncologists like me out of a job by identifying cancer before it's apparent radiographically or symptomatically. Today, in Chapter 2 of "The Hitchhiker's Guide to Cell-Free DNA" we will perform a cursory market analysis and targeted description of population health cancer screening companies, discuss the associated value chain, and explore methods of entry into the market.
Cursory Market Analysis
Knowing there are numerous ways to evaluate an industry, you begin your assessment of the population health cancer screening cfDNA market with a Porter's Five Forces Analysis (figure 1).

Figure 1: Porter's Five Forces for cfDNA based cancer screening
You note that the potential for new entrants, buyer power, threat of substitution, and competitive rivalry forces are HIGH. Even the power of suppliers is MODERATE to HIGH. Accordingly, you conclude the cancer screening cfDNA industry is hostile. You feel companies thinking of entering the field should NOT do so UNLESS they have a disruptive technology or are well established liquid biopsy entities (e.g., Tempus, Caris, Neogenomics, etc.). By the time your company, Comprehensive Precision, could develop a cfDNA population health platform there may be no more worlds left to conquer. Indeed, the brilliant approach the competition has taken is to partner with academic institutions, community networks, insurance companies, etc., to prohibit new entrants from entering the market.
Grail, maker of the Galleri test, aggressively developed partnerships with numerous institutions, including the Cleveland Clinic, Dara-Farber Cancer Institute, Intermountain Healthcare, Mayo Clinic, Sarah Cannon, Sutter Health, US Oncology Network, Allegany Health System, Ohio State, Vanderbilt, Munich Re Life US (life insurance), etc. They have a contract with the UK NHS to perform 140,000 of the Galleri cancer screening test, and an agreement with the US Department of Veterans Affairs for 10,000.
Freenome, who makes a test for early detection of colorectal cancer, partnered with Biognosys, Brigham and Women's Hospital, institutCurie, Qiagen, UC SanDiego Health System, UCSF, and the Parker Institute for Cancer Immunotherapy. Moreover, Roche has 360 million dollars invested in Freenome.
Thrive Earlier Detection, maker of the CancerSEEK screening test, and who Exact Sciences purchased for 2.15 billion dollars, have partnerships with Pfizer, Mission Wisconsin, etc., but seem to be lagging behind Freenome and Grail in this regard.
Guardant Health partnered with Epic EHR, containing over 250 million patients, to allow clinicians to order their Guardant Shield test. However, they also are lagging behind their competitors in identifying partners for their population health tests.
Natera, maker of Signatera cfDNA tests for colorectal cancer, bladder cancer, and immunotherapy response prediction, is an in-network provider with Aetna, Anthem, Cigna, and UHC. Additionally, they partnered with Foundation Medicine, Qiagen, etc. 
Interestingly, Tempus, Caris, Neogenomics, etc. don't appear to presently offer population health screening tests, which feels like a missed opportunity as it's directly linked to their core competencies. Indeed, these are the only companies you envision competing with those aforementioned, without developing a disruptive technology. Even then you note it would be difficult.
Ultimately, solely based on your Porter's Five Forces analysis and assessment of how competitors are positioned, you conclude Comprehensive Precision should not enter the cfDNA population health cancer screening market without a disruptive technology. Accordingly, you forego performing market segmentation, conjoint analysis, pricing strategy, etc., as it wouldn't change your view at this time. However, you do consider the possibility of entering the market with a disruptive approach and technology. You begin by assessing your competitors.
Grail and their Galleri test
Illumina announced their acquisition of Grail for 8 billion dollars August 18, 2021. This was fascinating on multiple levels. Initially, Illumina actually formed Grail and spun it out in 2016. Grail's first employees were part of Illumina, which still owned 12% of Grail at the time of the acquisition. By that time Grail had already raised $1.9 billion from investors, including Jeff Bezos and Bill Gates [5]. Moreover, the Illumina-Grail platform allowed for a profound level of vertical integration rarely seen in the genomics industry. This prompted the Federal Trade Commission (FTC) and European Commission to investigate the deal. The FTC filed an administrative complaint and authorized a federal court lawsuit to block Illumina's proposed acquisition of Grail [6, 7]; the case is ongoing. Nonetheless, Illumina, in moves that are long overdue, is leveraging its genomics expertise to vertically integrate in ways it didn't previously. Most notably, Illumina is aggressively entering the drug target identification and drug development forums [8]; a move you feel other precision genomics companies should emulate if they are not already. 
Grail's population health cancer screening test is called Galleri. Grail claims the Galleri test can adequately detect if a patient has one of 50 different cancers from a single vial of blood [9]. It is presently available to patients by prescription. To date, Galleri has been prescribed by more than 2,400 prescribing partners and has 34 partnerships with health systems, employers, and insurers. Most surprisingly, this includes the life insurance company, Munich Re Life US, which has raised many red flags. 
In their seminal CCGA study, published in Annals of Oncology in 2021, Grail assessed 15,254 patients at 142 sites using their Galleri test (figure 2).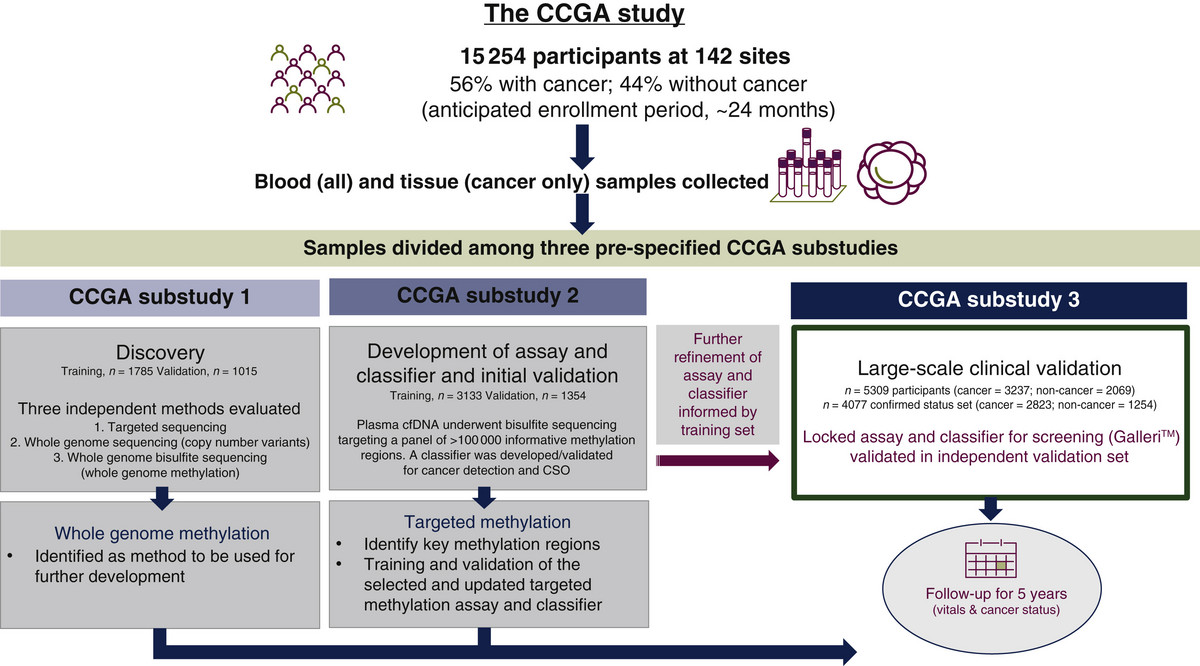 Figure 2: Design of Grail's seminal CCGA study assessing their Galleri test
The Galleri test had an overall sensitivity of 51.5%, which basically means they detected cancer in 51.5% of patients who actually had cancer. It had a specificity of 99.5%, meaning the test reported no cancer in 99.5% of patients who didn't have cancer. En face, this is fairly decent. However, it's essential to note the sensitivity for stage 1 disease was only 16.8% (figure 3), and the patient population studied (56% positive for cancer) isn't remotely representative of the general population that has a relatively low incidence of cancer.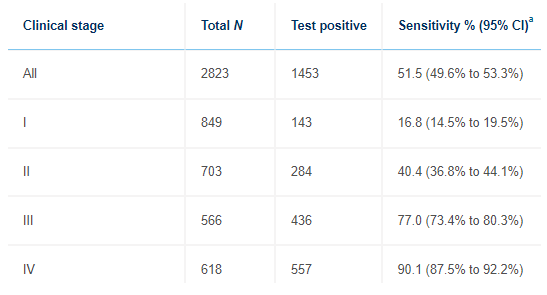 Figure 3: Sensitivity of Galleri for cancer detection by stage
Grail is quick to point out Galleri detects 40% of the twelve "most deadly" cancers, including anal, bladder, colorectal, esophageal, head and neck, liver/bile-duct, lung, lymphoma, ovary, pancreatic, plasma-cell neoplasm and stomach cancer, while they are stage 1. These cancers account for approximately 2/3 of all cancer deaths in the US, and only one of them (lung) is routinely screened for. We do perform annual imaging and AFP tumor marker assessments on patients with cirrhosis, who are at high risk for hepatocellular carcinoma. Some physicians screen for pancreatic cancer in high-risk patients (e.g., BRCA mutated) with annual imaging and CA 19-9 cancer marker assessments. Similarly, patients at high risk for ovarian cancer (e.g., BRCA mutated), who don't want a prophylactic bilateral oophorectomy may have annual imaging and CA 125 blood tests. Patients at high risk for gastric cancer (e.g., Lynch syndrome) are often subjected to periodic EGDs. Patients at high risk for bladder cancer (e.g., Lynch syndrome) often undergo annual urinalysis to assess for hematuria.  Regardless, these tests are not routinely performed in the general population, who certainly develop these cancers. In addition, the aforementioned screening tests for high-risk patients are largely suboptimal. Thus, Grail has a legitimate argument that their ability to screen for these cancers, even at a 40% sensitivity for stage 1 disease, is an improvement over a status quo that doesn't screen for them at all. Even more compelling is Grail's argument their sensitivity is much higher when patients have higher stage disease, which can often go undetected due to a lack of symptoms (figure 4).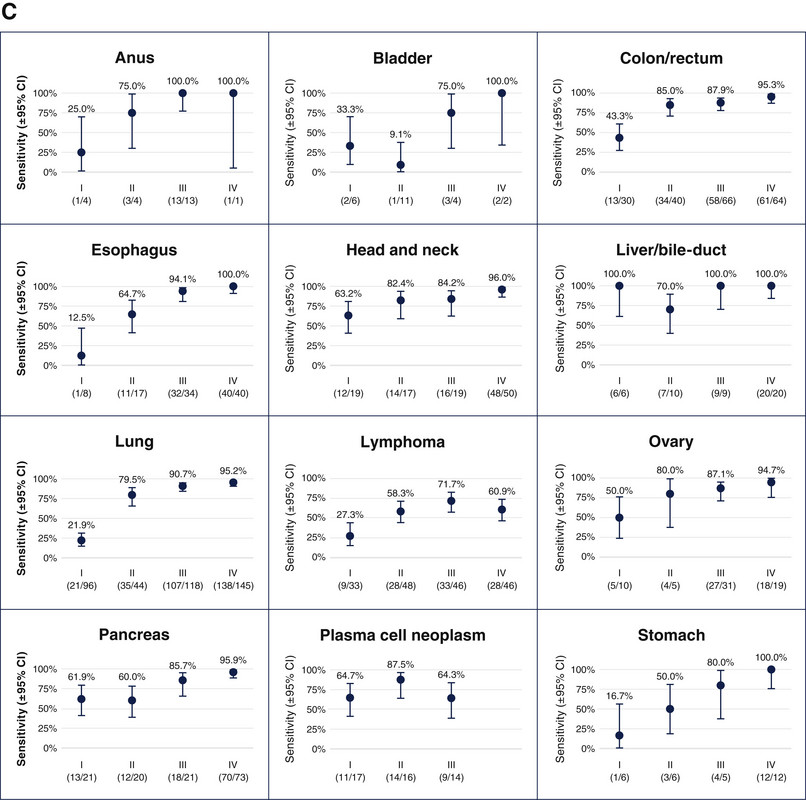 Continue reading
This content available exclusively for BPT Mebmers.