Democratizing Early Drug Discovery through Artificial Intelligence: Interview with Syntekabio CEO Jongsun Jung
Before the age of modern drug discovery, the pharmaceutical industry had been plagued with uncertainty and processing challenges, including the timescales, length, complexity and cost of drug discovery. So, what is transforming the biopharma industry and the future of our humanity? The answer lies in two words: artificial intelligence (AI).
Once an obscure concept when the term was coined in 1956, AI has become ubiquitous in 2023. It's been widely adopted to perceive, synthesize and infer information, retool processes, and restructure products. From Alexa to facial recognition, AI and machine learning are part of everyday life from here to Timbuktu. It is also central to driving three major factors most critical for companies: the ability to cut expenses, develop faster, and grow efficiently in less time.
Some 70 percent of organizations say their top priority is to develop and integrate AI techniques in the business operation or application. AI has become a paradigm shifting force in many global industries, including biopharmaceutical, manufacturing, finance, transportation and service industries.
AI in Healthcare
A trend to implant AI technology in various industries has been accelerated by investment by venture capitalists (VC). VC investment, especially in the application of AI in the biopharmaceutical industry, has brought noticeable changes to overall digital healthcare innovation. Therapeutic-based biotech companies received more than $52 billion globally from 2019 to 2021. $35 billion—about two-third of the fund—went into biotech companies with advanced platform technologies, including early start-ups.
The AI-based platforms became an instant savior for services requiring extensive research data and medical records analysis, including predicting the efficacy of newly found drug candidates. Utilizing technologies like machine learning and big data, AI in drug development has emerged with potential to curb costs and time – why more than 1,200 investors are eyeing on the next revolutionary AI invention.
For instance, it used to cost approximately $2.6 billion over 10 years on average to bring a new prescription drug for market approval in 2014, according to the Tufts Center for the Study of Drug Development (CSDD). Corrected for inflation, this would be a 145 percent increase from the same report published in 2003.
Pharmaceutical and healthcare artificial intelligence has proven to have immense potential to combat rising drug development costs and expedite developmental timeline. From determining the right therapy for patients, including personalized medicines and treatment, to therapeutic innovations and financial gain for the heavily regulated healthcare industry, AI has become truly indispensable. There is currently nothing better than AI to reduce processing time, which translates into profits.
There are around 600 biotech companies and 100 corporations worldwide that are leveraging groundbreaking AI-based ideas and technologies. They use AI for stable and efficient discovery and design of drugs and therapies, manufacturing process improvement, drug repurposing, rare diseases and side effects prediction, clinical trial support, processing biomedical and clinical data, and improving their marketing strategies and sales productivity.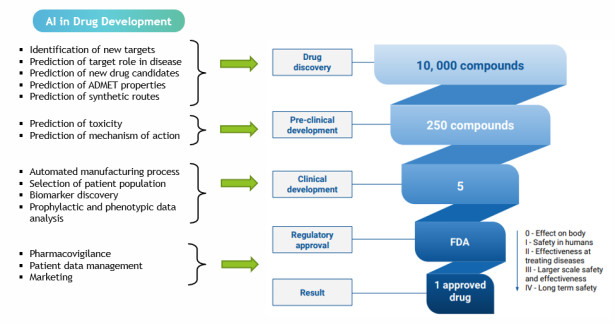 Fig 1. AI application in drug development, Deep Pharma Intelligence, 2020
The Koreans Are Coming
Innovation and technology have been at the center of spurring South Korea's economic development and high technology boom. In only a half-century, South Korea ranked second only to Germany in Bloomberg's 2020 Innovation Index based on its outstanding performance in research and development. How did they achieve this "Miracle on the Han River"? It was a strong R&D-focused economic development plan centered around the Korea Institute of Science and Technology (KIST), South Korea's national policy and development hub of R&D commitment. The Korean chaebols—large industrial groups like Samsung, LG, Hyundai, and Lotte—have also been integral to Korea's R&D success and nurtured by the proactive Korean government.
A digital pioneer, South Korea boasts some of the fastest internet speeds in the world. South Korea became the first country to launch a nationwide 5G network and commercialized 5G services in 2018 under government-led plans. By 2030, South Korea aims to be the third most digitally competitive nation in the world, and that includes a journey toward the next generation of supercomputers, the Exascale.
Scientists and engineers will see their expansive workloads better supported in the exascale supercomputing era where the scale and scope of networking, converged modeling, simulation, AI and analytics will be stretched beyond what we have known.
The investment in the AI future is continuing today at an accelerated pace. Technology and design-focused industries, where South Korea has comparative advantages, are thriving with new and innovative ideas. These areas—including space, carbon neutrality and biotechnology—are leading the next economic and societal changes. The AI-driven 'bio-health' industry is no exception.
In the fight against global pandemics, leveraging the power of supercomputers became a matter of life and death in a race to develop vaccinations. Supercomputing enables rapid in-silico screening through a vast number of chemical compounds within days. Otherwise, using PC would take months to complete. Using its own supercomputer Nurion, researchers at the Korea Institute of Science and Technology Information (KISTI) were able to find potential drug candidates among 19,168 drug molecules. Supercomputing has become an important asset in the search for a COVID-19 cure from massive data pools.
The national technological infrastructure and the Korean government's systematic support have been fundamental for cultivating a new generation of highly educated researchers, engineers, and entrepreneurs. They founded small to medium-sized businesses in biotechnology, artificial intelligence and cybersecurity, which began to emerge as a crucial factor in creating an innovative economy in the 2010s. The potential impact of AI in this framework was clear for Korean pharmaceutical companies. Biotech companies welcomed the opportunities to partner with them, turning ideas from laboratories into products and industries.
In 2022 alone, major pharmaceutical companies such as Yuhan Corporation, Daewoong Pharmaceutical, HK inno.N, JW Pharmaceutical and Dong-A ST have cooperated with AI platform companies for new AI drug discovery and development. Mid- to small-sized companies such as Samjin Pharmaceutical, Dongwha Pharmaceutical, Kyungdong Pharmaceutical, Arlico Pharmaceutical, PharmGen Science and Hyundai Pharmaceutical soon followed, embracing a new AI-based drug development process.
The drug discovery market has been on an exponential growth trajectory. The expected market value is poised to reach 71 billion U.S. dollars by 2025. Korean companies are on the beat to discover new drugs, fiercely competing to capture their market share in this colossal global market. Prioritization of AI in R&D is expected to produce a fully AI-based preclinical candidate in 2022-23. A widespread adaptation of AI in the pharmaceutical industry will continue to advance VR, digital twin and automated data analysis.
Among 645 artificial intelligence startups in South Korea, Syntekabio (226330:KS) is the only AI drug discovery biotech company listed on KOSDAQ. Following the 2022 launch of its U.S. operations based in New York, the company revealed its latest AI drug development platform. Creating a buzz in the competitive drug discovery industry, STB CLOUD cuts through vast swaths of data to speed the discovery and development of new drugs.
STB CLOUD – Syntekabio's Transformative Change Agent
Since its founding in 2009, Syntekabio is the first KOSDAQ listed AI drug discovery biotech company in South Korea. Its businesses are largely built on AI drug discovery technology, supercomputing infrastructure and genomic big database. Using deep learning algorithms, Syntekabio developed a proprietary small molecule drug discovery technology called DeepMatcher®. It applies advanced data parsing algorithms with its own database to provide new drug candidates with high probability of success rate. The company recently launched a fully automated one-stop AI drug discovery service STB CLOUD using DeepMatcher® to accelerate drug development feasibility and accurate prediction of drug candidates.
Syntekabio's CEO Jongsun Jung, Ph.D. is a biochemical computational scientist with extensive academic and industrial experience. Prior to founding Syntekabio, he served as postdoc fellow in bioinformatics at the U.S. National Institute of Health (NIH) and senior researcher at the Korea National Institute of Health. He led numerous Korean government projects in drug discovery research and development as a key influencer, including big genome sequencing data analysis projects. He has been instrumental in advancing Syntekabio's big genome data analysis technology, including the development of STB CLOUD to enable systematic small molecule and biomarker discovery. Here is a Q&A with Jung on the state of AI in the biopharma industry.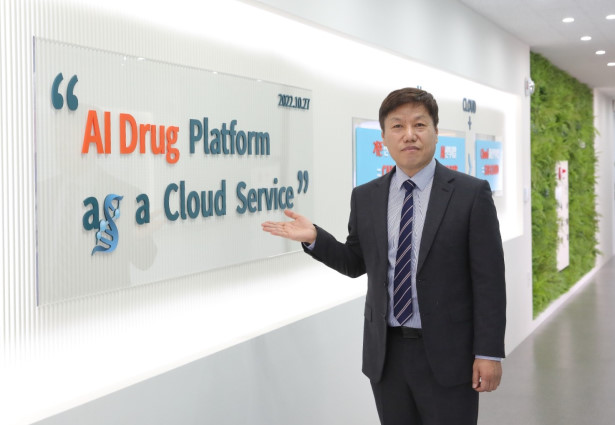 Fig 2. CEO Jongsun Jung stands by Syntekabio's company mission.
Q: What is the impact of AI in the biopharma industry?
One of the wildest transformations we've seen is the adaptation of AI in the acceleration of drug discovery and development. From bench to bedside, AI has transformed the industry beyond recognition. AI is at the center of rational drug design. It can discover and predict effective and safe drug candidates and assist in decision making to determine the right development pathway, including personalized medicine discovery. It's not efficient nor competitive to manage the clinical data without AI for better therapeutics development today.
To this end, biopharmaceutical companies are using AI developers' services or developing their own AI driven drug discovery technologies. Why? Because we need AI to provide access to new mechanisms of action hypothesis to offer improved or novel chemistry for new chemical entities. AI has been most effective in boosting success rates by addressing different challenges and constraints often found in traditional research and development. It's a no-brainer that the market is getting quickly saturated with these developers jostling for position to gain their market share.
Furthermore, it can cut down the direct development cost by about one third from the overall expense. Although the clinical trials are performed stepwise before commercialization, from Phase 1 through Phase 3 followed by the NDA application, AI driven computational technology can significantly shortens time on the process that conventionally takes 4-6 years.
Q: Tell us about Syntekabio's mission.
All of us at Syntekabio are dedicated to the mission of facilitating personal health and happiness. As a global biotech company, we are in the business of assisting therapeutics development using our most advanced AI driven drug discovery technology. It is our hope to support various R&D efforts, from disease biomarker discovery to producing precision medicine, and ultimately converging drug discovery technology and clinical support to create a synergistic effect.
Years of our accumulated experience in building AI drug discovery technology, supercomputing infrastructure and genomic big database at Syntekabio led to launching STB CLOUD, the fully automatic AI drug discovery platform. Our services benefit drug developers by helping them focus on up-end drug development processes, such as manufacturing, clinical studies and regulatory affairs. Unlike other cloud platforms, STB CLOUD can assist anybody to access and perform small molecules and biologics drug discovery processes with rapidity, accuracy and compliance on any device at anytime and anywhere.
Q: What is STB CLOUD?
STB CLOUD is a convergence technology that serves as the missing link between biotech and innovative IT tech, helping companies continuously secure new drug candidates with its one-click functionality.
A first-in-class drug development has traditionally been a field with high barriers to entry for companies with insufficient funding or experience due to the uncertainty of pre-clinical valuation and R&D. Most drug development companies find it more efficient to use so called "Me-Too strategy in drug design," focusing on scaffold-based recycling of already developed drugs. As a result, the first-in-class drug development market shrank.
However, AI platforms, Alphafold 3D structural models, and billions of open compounds have been developed along with advances in IT technology over the past decade, all of which seek to increase their practical contribution to drug development. STB CLOUD was born in this environment.
Q: What is your leadership vision?
Delivering simple, accessible and cost-effective first-in-class technology has always been my core vision. Drug development process has become easier with fully automated cloud platforms. STB CLOUD is the result of this vision for our global clients. Our collective efforts at Syntekabio have produced consistently higher success rates. By creating a cloud-based automatic drug discovery system, we have eliminated the need for localized computing and data storage while permitting non-expert driven drug discovery process.
What's exceptional about STB CLOUD is that it requires no special training. Even a non-expert can use STB CLOUD to perform drug discovery process remotely in real-time on any device, anytime and anywhere. This flexibility easily allows global collaborations through the cloud-based systems. It empowers places with little to no local resources to perform drug discovery without struggle. There are few restrictions on when and where a drug discovery process can be conducted. I'm proud of Syntekabio's technologies that are democratizing early drug discovery processes and expanding the parameters of precision medicine and biomarker discovery fields.
Q: What are the key drivers of value creation at Syntekabio?
Most AI drug discovery processes so far have been performed based on contract service or software that would require expert developers to purchase license, then use their own data servers and data library to process. In contrast, the key drivers of our value creation are built on the concept of fully automated cloud platform, STB CLOUD.
By integrating DeepMatcher®—Syntekabio's patented AI-driven small molecule drug discovery technology—STB CLOUD has automated AI computing function within its own supercomputing hardware environment and database into a single cloud system.
Delivering standardization, simplification and automation of the existing computer-aided drug discovery (CADD) process, it optimizes the drug discovery and development process far better in terms of time, cost, accuracy and resources. It generates a comprehensive automatic report, including active substance candidates, by inputting only the name of the target protein related to a disease of interest.
DeepMatcher® utilizes about 1 billion commercially available small molecule compound pool with about 1,700 target protein structure databases to enable self in silico validation, from hit level to lead-optimized drug candidates, ranked by its own scoring system.
Lastly, Syntekabio is building an additional supercomputing facility in South Korea to be completed in the first half of 2023. It has capacity up to 10,000 GPU/CPU units that will power innovative GPT chips to train large-scale transformer-style natural language processing (NLP) models for much faster computational capability than conventional GPU chips.
All of these are working together to support researchers to develop drug candidates with high probability of success rate. We have been able to reduce the drug discovery process time from about 4-6 years to 1-2 years, creating a huge saving to pharmaceutical companies as a result.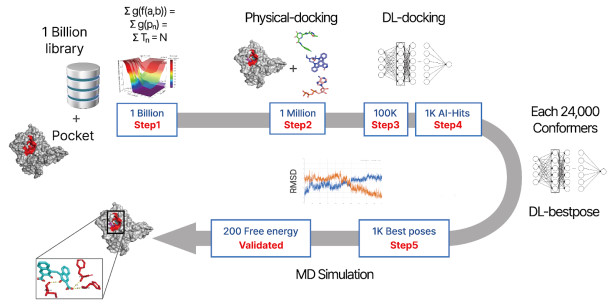 Fig 3. Hit Discovery by DeepMatcher® (source: www.cloud.syntekabio.com)
Q: How does Syntekabio's technology compare to SaaS?
The most common AI drug discovery platform is Software as a Service (SaaS), which does not require heavy localized resources. Developers can perform computational calculations to predict interactions between compound and target proteins through software provided by an AI drug discovery service provider. However, the SaaS platform still requires developer's expertise on drug design, software, data server and data library.
STB CLOUD outperforms other SaaS platforms in terms of convenience and accuracy, requiring little resources for software and hardware as long as internet is provided. Its post in vitro assays show 23 percent hit rates on multiple targets, compared to average five percent from hit candidates obtained from other computational technologies. It can be operated fully automatic anytime, remotely online.
Q: What makes Syntekabio stand out?
KOSDAQ listing of Syntekabio as the first and only AI drug discovery company in South Korea affirms the industry's undeniable stamp of approval for our superior technology. Most of the AI-based platform companies in South Korea, such as Standigm, currently remain pre-IPO.
Since the global launch of STB CLOUD in Dec. 2022, our users have the easiest access and processability for small molecule drug discovery process. Just by entering the target name, all calculations are performed automatically using DeepMatcher® before the final hit candidates appear in the report.
Contrary to Syntekabio's expedient platforms, companies like Schrödinger would require a drug discovery expert to download and operate the software on a local server or have their drug discovery process to be managed through a contract service, a rather cumbersome set up. Additionally, most Korean AI drug discovery companies have not published their own database usage details. We are open to sharing our operational details, including how DeepMatcher® is serviced through STB CLOUD by using one billion compound libraries and about 2000 target protein libraries.
DeepMatcher® has proven its high predictability for drug discovery of effective substances, recovering 15 percent of the positive controls from the hit discovery process through 10 full set target validation. Our cost-effective price tag and unprecedented refund policy are also appealing to many small to mid- sized pharmaceutical companies and budget-conscious research institutes.
Q: What are some of the promising drug leads?
Syntekabio has focused on developing its own pipelines in cancer therapy by combining information technology (IT), biotechnology (BT), data technology (DT) and healthcare technology (HT). Our AI technology and supercomputing power has generated exceptional capacity to analyze genomic data obtained from cancer patients' cell tissues.
Our pipelines in cancer therapy currently include three major candidates in the lead optimization process: STB-C070 (CLK2 inhibitor), STB-C017 (IDO/TDO dual inhibitor), and one FLT3 inhibitor (undisclosed at this time) discovered by DeepMatcher®. Potential drugs to treat multiple cancer diseases, including solid tumor and blood cancer, can be developed from these candidates. Test results from these projects will be announced in late 2023 after completion of in vivo pre-clinical studies following the lead optimization.
Syntekabio is leading several projects for drug repurposing and biomarker discovery, of which preclinical test will be concluded in 2023. This will increase the number of our own pipelines for multiple indications, including cancer immunotherapy. We anticipate high rate of success based on our validation results.
We believe STB CLOUD can give clinical stage pharmaceutical companies with limited drug discovery capability an ideal solution for fully automatic drug discovery. STB CLOUD creates their market advantage by increasing their asset from new pipeline projects for predicted drug candidates. We also welcome opportunities to join hands with other biotech companies and institutes interested in the initiation of new drug pipelines.
Fig 4. STB CLOUD service process (source: www.cloud.syntekabio.com)
Q: What's the company's next phase of innovation?
In tandem with STB CLOUD, our next effort will be focused on developing NEO-ARS™, a cloud platform for neoantigen prediction, to be fully automated. NEO-ARS™ can predict neoantigen candidates such as mutated peptides by analyzing genome sequencing data obtained from cancer patients' cell or blood samples.
Conventional neoantigen prediction algorithms calculate only the binding affinity between MHC proteins and predicted neoantigens. NEO-ARS™ additionally predicts immunogenicity to T cells by calculating the solvent accessibility of MHC-neoantigen complexes to T cell receptor contacting residues.
Furthermore, we are committed to evolve STB CLOUD by integrating PGM-ARS™ and NGS-ARS™ technologies to assist clinical studies along with precision medicine support and biomarker discovery in 2023. The future of innovation is bright for Syntekabio.
Topics: Emerging Technologies Industry Trends