The State of AI in the Biopharma Industry
Competitive Intelligence | Technology Scouting | Strategy | VC Deal Sourcing | Business Development | Consulting | Science Education
150-slides Report (PDF) + Business Intelligence Platform (SaaS) + Market Research AI Chatbot + Access to Human Consultants
What's Inside?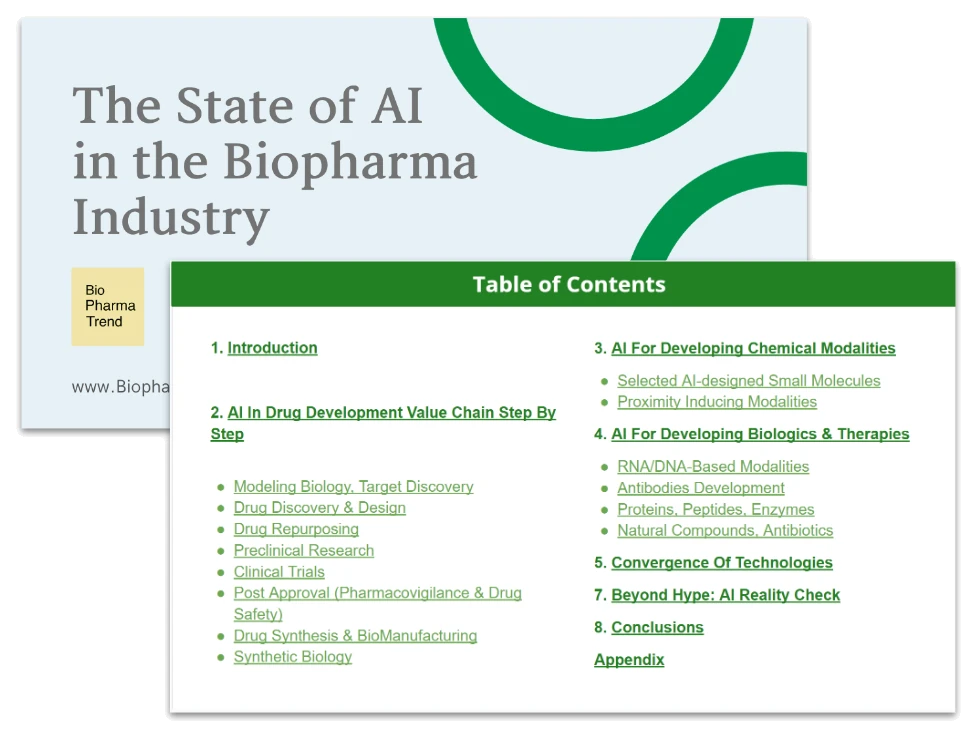 150-page PDF Report (+ Excel file)
Comprehensive overview of AI in Life Sciences
Key AI concepts, trends
450+ companies, dozens of tech case studies
AI across the drug R&D landscape
AI across therapeutics modalities: from small molecules and proximity inducing modalities, to biologics and therapies
AI in synthetic biology and biomanufacturing
Mapping opportunities and risks
AI-centered business models, strategy insights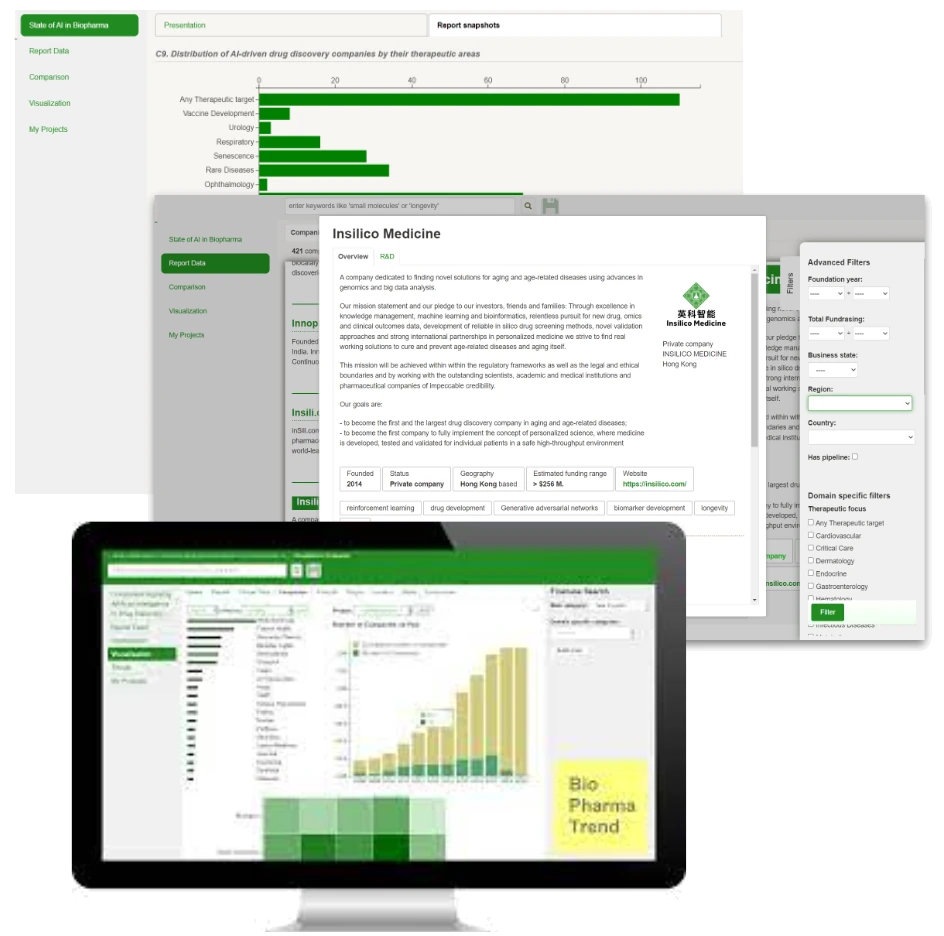 Access to Business Intelligence Platform (SaaS):
Searchable database of 450+ AI companies
Domain-specific filters
Company profiles with overview information
Clinical trials, papers, patents
R&D partnerships, investments
AI-driven SWOT Analysis
AI-driven market research tool
Latest news and company
Who Will Benefit?
Pharma & Biotech Organizations
Access data and analysis for strategic decision-making
Technology Scouts
Identify cutting edge innovations opportunities with relevant tech stacks
Life Sciences Investors
Make informed decisions using detailed market analyses
Life Sciences Consultants
Provide your clients with up-to-date, fact-based insights
DeepTech Keynote Speakers
Enhance your message with stellar case studies and tech insights
Corporate Centers of Excellence
Improve your staff's understanding of AI-driven technologies and market trends
Science Educators, Communicators
Empower your content with cutting edge examples and R&D trends
Life Science Executives
Make strong points to backup innovative initiatives
This report and platform provide a factual, in-depth look into the practical applications of AI in the life sciences sector. It is an essential tool for professionals who need to stay informed about the latest developments in this dynamic field, identify opportunities, or make an informed point for decision makers.
"The State of AI in the Biopharmaceutical Industry" is structured to deliver unique industry insights in one of the most complex areas of pharmaceutical and biotech innovation: artificial intelligence in drug discovery, clinical research, biotech, and biomanufacturing
Unlike typical reports available on the market in abundance, we do not deliver "10-year growth forecasts" or "AI is going to revolutionize medicine" kinds of insights.
We focus on the present and short-term future, a critical and realistic overview of AI's advantages and limitations, major research and business opportunities and risks, and case studies supported by published and scientifically sound conclusions and statistical evaluations.