A New Player In Drug Discovery Promises to "Democratize" AI Solutions, Brings Flexibility
Artificial Intelligence (AI) in drug discovery is now on a steep rise. A growing number of companies compete to develop new drugs faster, cheaper, and with a much higher success rate using AI tools at all crucial stages of the drug discovery pipeline.
Most of the players in this quickly expanding market are oriented towards big pharma, which is routinely investing billions into drug development. Such a partnership is tempting not only for startup companies but also for established leaders in the field of AI-based drug development, because it provides stable multi-year contracts backed up by financial resources and infrastructure of the pharmaceutical giants.
As a result, typical AI-based drug discovery services are tailored for these kind of large corporate customers. For example, confidentiality and security issues push big pharma to carry out the on-premise installation of the software with long-term on-site maintenance contracts. The need for integration into the complicated internal workflow of a large company reduces versatility and leads to interface bloat.
Somewhat paranoid fear of data leaks substantially limits the potential of cloud scaling and requires the usage of complex access rights management and advanced encryption schemes. All this makes such solutions much more expensive than their straightforward SaaS equivalents. The excessive price and complexity drive them out of reach for medium biotech and academic science.
RELATED: A New Breed of Biotechs is Taking a Lead
Although orientation on big pharma is very convenient and profitable for AI-based drug discovery companies, it largely overlooks the innovative potential of small and medium pharmaceutical companies. In 2020, 133 new drugs were approved by EU and US authorities, but only 37% of them were developed by pharmaceutical giants, while 63% originate from small and medium enterprises, often in collaboration with academic research institutions. The usage of AI drug discovery technologies in this sector is still insufficient and there is a strong demand for solutions, which are friendly to small companies and academic scientists.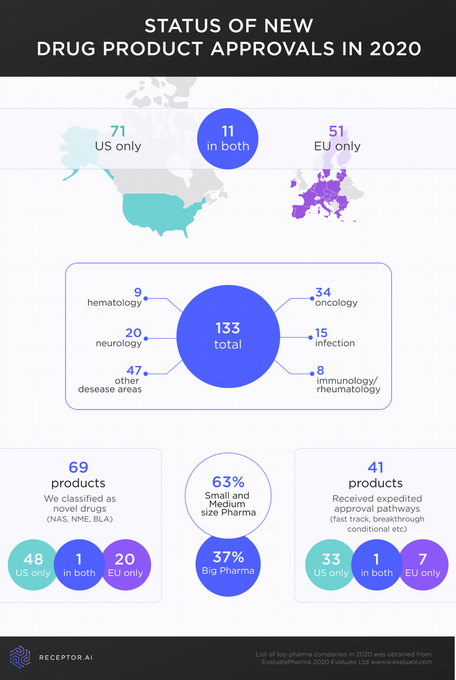 Image provided by RECEPTOR.AI
One of the new players in the field, intending to change this situation and make AI-based drug discovery services equally available for big pharma, medium enterprise, and academic researchers is Receptor.AI.
The company develops a scalable and modular drug discovery platform based on the synergy of AI, computational chemistry and biomimetic technologies, such as organs-on-a-chip. Such a platform will satisfy the needs of different categories of potential customers, including those which are currently overlooked by competitors.
The company's CEO, Dr. Alan Nafiiev, explains:
The end-to-end AI-based drug discovery pipeline could be very efficient, but rather expensive. Big pharma is concerned about the security of its intellectual property, preferring on-premise solutions, which make it difficult to provide high-quality, thorough drug discovery services that can be delivered using SaaS platforms that are more flexible, easily scalable, and integrable. This demonstrates a great demand for trustworthy cloud-based architectures with better security.

In contrast, mid-sized biotech companies prefer to combine cloud solutions with their own resources, employing specific AI-based services at certain stages of their pipeline. We believe that AI-based drug discovery solutions are essential for the industry and society, and have to be available for all categories of potential customers.
Receptor AI was founded in the beginning of 2021 in Delaware, USA, with a new representative office recently set up in Boston. The team currently employs 25 experts in machine learning, data science, bioinformatics, medicinal chemistry, biophysics and molecular modeling. Over eight months, it has developed a highly scalable and modular AI platform for generating molecules, assessing drug-target interactions, high-throughput virtual screening, predicting ADME-Tox, and repurposing drugs. The company claims that these solutions are on par or even superior to market leaders' products as far as synthetic benchmarks are concerned.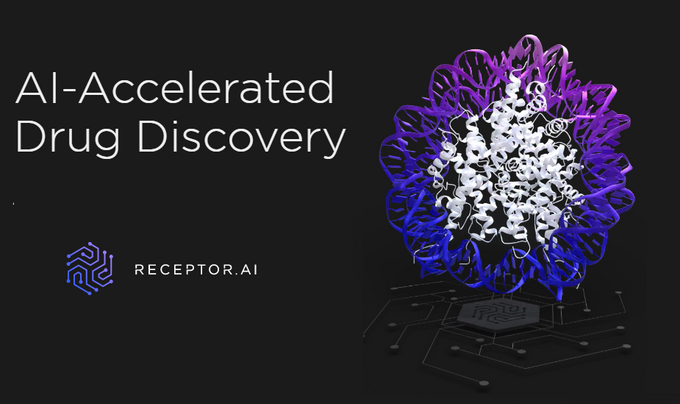 Due to orientation on several market segments at once, such a solution should cover all major stages of the drug discovery pipeline, including molecule generation, hit discovery, hit to lead development, lead validation and prediction of the clinical trials outcomes. Each of the stages is, in turn, flexible in terms of the inputs provided by the customers. For example, big chemical suppliers are interested in the ultra-fast screening of their huge compound databases, while pharmaceutical companies often prefer new molecules.
Specific drug-target interaction scenarios may also vary from simple inhibition of a particular protein to complex polypharmacology, discriminating between closely related protein isoforms or targeting receptors in specific membrane environments. An additional requirement for such complex cases is extensive cross-validation by several independent AI models, which significantly improve the reliability and robustness of obtained results. Creating such a platform is an ambitious technological challenge.
Sergii Starosyla, the CTO of Receptor.AI, mentions 40+ AI methodologies which are currently used, including known and trusted solutions, as well as proprietary developments:
"We are particularly proud of our fragment-based drug discovery system, which uses advanced AI for placing individual building blocks inside the binding pocket and stitching them together seamlessly into highly credible molecules. As a result we are capable of doing ultra-fast virtual screening in enormous chemical spaces corresponding to trillions of compounds. We also developed innovative drug-target interaction models, which encode 3D protein structure and its large-scale conformational dynamics into graph neural networks.
Validation of this complex technological stack on real-world drug discovery problems is vital. This is why the company is currently engaged in more than 10 scientific collaborations with research institutions worldwide, initiated by the basic scientific research of а particular disease and its molecular mechanisms.
Such collaboration has already yielded promising results. We have obtained promising hit compounds for several challenging proteins and successfully modeled several novel targets. Our average hit rate in this projects is over 10%, which is really encouraging. This gives us confidence that our approach works and is ready to be marketed, notes Receptor.AI CSO, Dr. Semen Yesylevskyy.
Currently, each drug discovery project still remains unique and requires a lot of human resources and customization of the tools, despite the power of AI under the hood. The drug discovery workflow itself is far from being automated. Big market players often hide this complexity under their expensive turnkey solutions and opaque long-term service plans. However, diversification of the customer base beyond big pharma requires a much higher level of automation, resulting in a cheaper and less laborious workflow.
The ultimate goal of Receptor.AI is to develop a fully automated drug discovery platform being driven by an advanced AI and combining computational discovery of new drug candidates with their experimental validation. The Receptor.AI envisions radical minimization of drug testing on animals and humans to drive transition to more innovative safety and efficiency drug assessment by combining advanced AI and novel organ-on-a-chip technologies. Subsequently, human intervention at all stages of the drug discovery process could be minimized.
RELATED: Democratizing Artificial Intelligence For Pharmaceutical Research
The emergence of companies which propose AI-based solutions for small and medium pharmaceutical companies and research collaborations is important for the global development of the healthcare industry. There is no doubt that AI and machine learning will eventually transform healthcare on different levels including drug discovery, but the pace of these changes depends on the availability of these technologies. Small and medium enterprises are currently the most productive and innovative players in the drug discovery field and it is important to give them access to the whole spectrum of modern AI technologies to make the world a healthier and happier place.