Toronto's Blossoming AI-driven Drug Discovery Scene
Canada has established itself as a rapidly growing global hub for artificial intelligence (AI) innovation and commercialization. This roots deep into the history of early programs and funding provided by Canadian Institute for Advanced Research (CIFAR) and the Natural Sciences and Engineering Research Council of Canada (NSERC) to such AI pioneers as Geoffrey Hinton, Yoshua Bengio, and Richard Sutton, as well as a tradition of focused government investment programs, private sector initiatives, a network of centers of excellence, and attractive immigration programs, aimed at catching top talent from overseas. Indeed, the government is quite active in pushing the Pan-Canadian Artificial Intelligence Strategy, aiming at supporting AI research and talent attraction and retention in Canada.
A city of Toronto appears to be a particularly busy area for AI-related business, with the city refereed as having "the densest cluster of AI startups in the world" according to a 2020 report by the University of Toronto. The area also appears to be a particularly sweet spot for AI companies focusing on pharmaceutical research, a birthplace for a plethora of top-notch players, including Atomwise (re-incorporated in the US), BenchSci, Cyclica, Deep Genomics, ProteinQure, and Phenomic AI, to name a few -- all trying to tackle some of the hardest challenges in modern drug discovery. Toronto's blossoming AI ecosystem is largely influenced by the presence of Vector Institute, one of the top three National AI Institutes of Canada.
Image credit: R.M. Nunes iStock
Advancing drug discovery with AI
Founded in 2013 in Toronto, Cyclica is a neo-biotech, developing a unique proteome-wide AI-enabled computational platform powered by two machine learning engines: MatchMaker and POEM. MatchMaker, Cyclica's core differentiator, is an AI-enabled deep learning engine that predicts the polypharmacology of small molecules as the foundation for small molecule drug discovery. POEM (Pareto Optimal Embedding Model) is a unique similarity-based property prediction model. In contrast to other AI prediction models, POEM uses multiple types of molecular fingerprints to describe molecules, providing a much richer measure of similarity that leads to greater accuracy.
The proteome-wide approach opens up a world of possibilities to drive the discovery of medicines for all diseases. By combining their AI-accelerated drug discovery platform, scalable technology flywheel, and a seasoned team of drug hunters, they're industrializing the discovery of better medicines to create and advance hundreds of drug discovery programs with an initial focus on CNS, Oncology and Inflammatory diseases.
In February 2022, Cyclica launched Perturba Therapeutics, a spin out from the University of Toronto, to focus on AI-enabled oncology drug design. Naheed Kurji, Co-Founder, CEO and President of Cyclica notes:
"More than half of all human disease-related proteins are considered undruggable using conventional approaches. As a result, patients suffering from life threatening diseases are left waiting for treatment. What others view as "undruggable", we see as potential. Perturba represents an important franchise in the pursuit of our cancer strategy. We're so excited to partner with Professor Stagljar and the world class Stagljar Lab in driving forward our shared vision."
Cyclica raised over $23 million in venture rounds and had partnerships with Merck, Bayer, Eurofarma, and a Chinese biopharmaceutical giant Wuxi AppTech, to name a few. Cyclica is also a founding member of the Alliance of Artificial Intelligence in Healthcare (AAIH), where Naheed Kurji is currently serving as Chair of the Board. AAIH is a global advocacy organization dedicated to advancing artificial intelligence research and practical implementation in the pharmaceutical industry.
Another notable company born in Toronto (later moved to California), is Atomwise, founded in 2012 out of the University of Toronto. Atomwise pioneered the application of convolutional neural networks for structure-based drug discovery. Its deep neural network AtomNet is a powerful tool for rapid prediction of small molecule binding affinities to a protein target of interest, allowing to screen millions of compounds in a fraction of time required for traditional methods, and with higher quality results, compared to non-AI methods.
The company secured a total of over $176 million in venture capital and grew an impressive portfolio of collaborations with "big pharma" players: Merck, Abbvie, Bayer, Eli Lilly and others.
A more biology-driven approach is in the core of Deep Genomics, an AI biotech founded in 2014 and well capitalized with over $236 million in raised capital. The company developed a sophisticated AI-driven platform for oligonucleotide design, AI Workbench. In 2019, the company announced a discovery of a new genetic target and what it claimed to be the "industry's first AI-discovered therapeutic candidate" -- a novel treatment for Wilson disease, a rare and potentially life-threatening genetic disorder.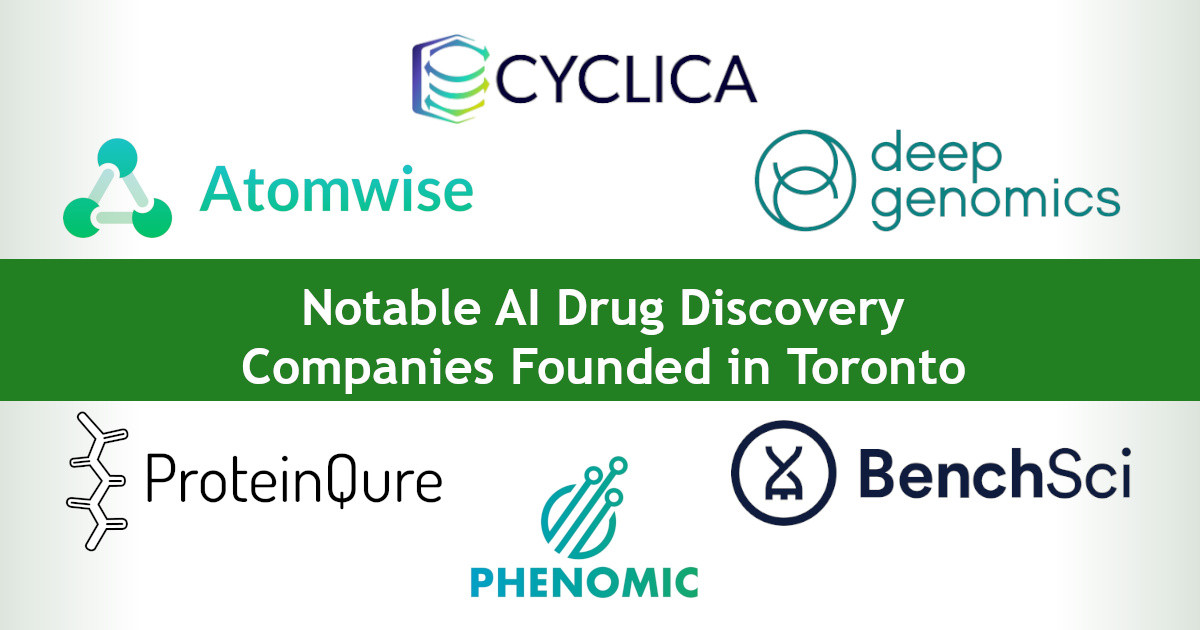 Other players in AI-driven target and drug discovery include ProteinQure (founded in 2017; raised a total of $4.6 million, focuses on AI-assisted de-novo design of protein-based drugs), and Phenomic AI (founded in 2017; raised a total of $11.4 million; develops a deep learning platform to analyze high content imaging readouts in phenotypic screening).
Finally, there is a rapidly growing Toronto-based AI company BenchSci, founded in 2015, which develops a state-of-the-art AI-driven reagent search engine for drug discovery professionals, originally started as antibody search platform. This is a new kind of research procurement solution (read: 19 Marketplaces for Life Sciences), which is providing intelligent way of getting information and ordering a wide range of reagent types, which now includes: antibodies, recombinant proteins, RNAi, cell lines, CRISPR, animal models, and PCRs. The company received backing from Google, via Gradient Ventures (together with other investors), and raised a total of $94.5 million for its platform expansion and operations.
Notably, the vibrant AI community of Toronto attracts other top-notch companies and researchers to move there. In July 2021, Recursion (NASDAQ: RXRX), a Utah-based clinical-stage biotechnology company, which is one of the leading players in AI-driven drug discovery and biology research robotization, announced it would expand into Toronto and hire up to 50 people.
In 2018, Dr. Alan Aspuru-Guzik, a former Harvard professor and a leading scientist in the area of computational chemistry, artificial intelligence, and quantum theory, moved to Toronto along with several members of his research group at Harvard, to start the Matter Lab. Notably, Alan Aspuru-Guzik is a co-founder and CSO of Zapata Computing, a notable quantum computing company (read: 12 Companies Using Quantum Theory To Accelerate Drug Discovery), he is currently serving as Professor of Chemistry and Computer Science at University of Toronto.
(This article was first published in 2019 and updated in August 2022)
Topics: Biotech Companies