2018: AI Is Surging In Drug Discovery Market
Updated: 10.01.2019. Newly added content is marked in the text with "Update" sign.
The idea of using artificial intelligence (AI) to accelerate drug discovery process and boost a success rate of pharmaceutical research programs has inspired a surge of activity in this area over the last several years. In 2018, things are getting even "hotter" with the increase in the amount of partnerships, investments and other important events, summarized and grouped below into "mini-trends".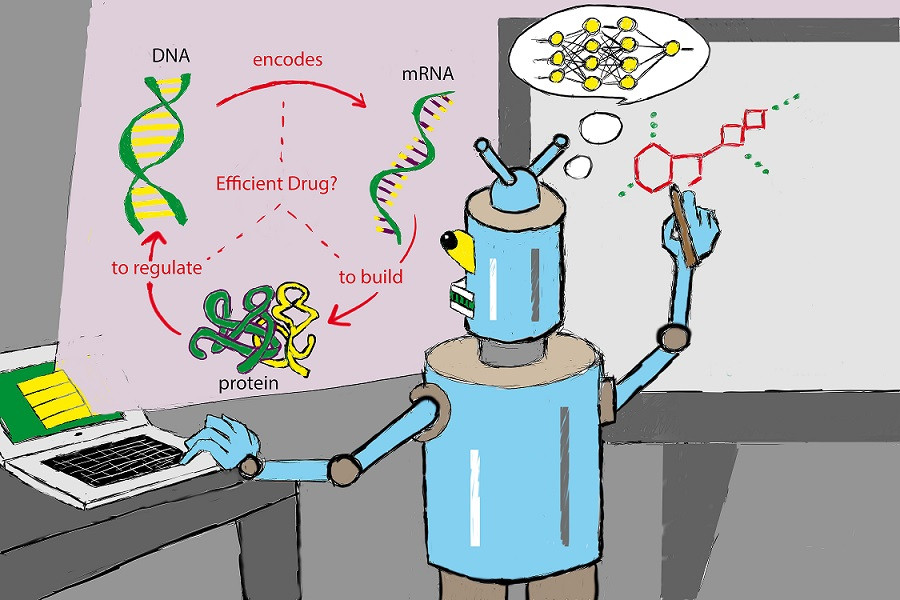 Illustration by Andrii Buvailo                          
1. Venture capital is pouring into AI-driven drug discovery startups
This year has been marked by an impressive number of fundraising deals among AI-driven drug discovery startups -- a clear indication of the "AI for drug discovery" space gaining some serious attractiveness for venture capitalists.
BenevolentAI
So far, a London-based BenevolentAI appears to be a leader of the year in terms of fundraising -- in April they closed a $115 M round, reaching a staggering $2 billion valuation mark. While met with certain degree of skepticism, this news and the current pace of research activity by the company undoubtedly puts BenevolentAI in a very strong position among competitors.   
Atomwise
Atomwise, which was founded in 2012 and pioneered the use of deep neural networks for structure-based drug design, raised $45 M round A investment to advance its AI-driven drug discovery technology AtomNet. The company says it screens 10 million small molecules each day and uses AtomNet, which is utilizing deep learning algorithms, to analyze molecules and predict their potency as medications, toxicity, and side effects.
Insilico Medicine
A quite unique company on the list -- a US-based Insilico Medicine, which is the only one startup among its closest competitors which develops a "full-stack" artificial intelligence system based on generative adversarial networks (GANs), allowing for an "end-to-end" drug discovery process -- from basic biological modeling and biomarker development, to hit-molecule generation, lead optimization and pre-clinical validation of drug-candidates. In June, Insilico Medicine received an undisclosed amount of strategic investment from WuXi AppTec, bringing totally raised capital up to $20 M (according to Crunchbase).
Verge Genomics
Notably, just a month later, WuXi AppTec participated in a $32 M investment round for another AI-driven startup -- Verge Genomics. The latter uses machine learning and AI to develop therapeutics against Alzheimer's and Parkinson's disease. Verge is also actively growing its database of patient genomic data -- allegedly, the company possesses one of the industry's largest resources in this therapeutic area.
Owkin
New York - Paris based Owkin, founded in 2016 to apply machine learning for optimizing drug discovery process via better comprehending the overabundant biological data, raised its Round A of $11M in January to scale its technology platform Owkin Socrates. The platform can integrate molecular and imaging libraries with patient data to reveal patterns of biomarkers causing a disease, and the company is applying transfer learning to improve model performance where properly labeled data is scarce.
XtalPi
Founded in 2014 by a group of quantum physicists at MIT, XtalPi is a U.S.- China biotech firm which has raised a Series B round of $15M in January from several investors, including Google and Sequoia China among the others. The company is claiming that it can quickly and accurately predict numerous important characteristics of small-molecule drugs and solid forms by combining artificial intelligence, quantum physics, and high-performance cloud computing. Using this sophisticated interplay of technologies, the company will be able to provide "time-saving insights into the safety, stability, and efficacy of drug candidates".
BenchSci
Continue reading
This content available exclusively for BPT Mebmers
Topics: Industry Trends