6 Promising RNA Biotech Companies To Watch in 2023
For many years the focus of therapeutic developments and scientific research was directed at the genome and proteins. Yet, there is a completely different level of cell regulation – transcriptome level, presented by Ribonucleic acids (RNAs). RNA molecules are not just intermediates between DNA and proteins, in fact, they also carry enzymatic functions, control gene expression, and perform other functionls in cells.
Major breakthroughs in transcriptomics have been made since the beginning of the century: the discovery of RNA interference blew up the industry and the Nobel Prize in Physiology or Medicine 2006 was awarded jointly to Andrew Z. Fire and Craig C. Mello "for their discovery of RNA interference - gene silencing by double-stranded RNA."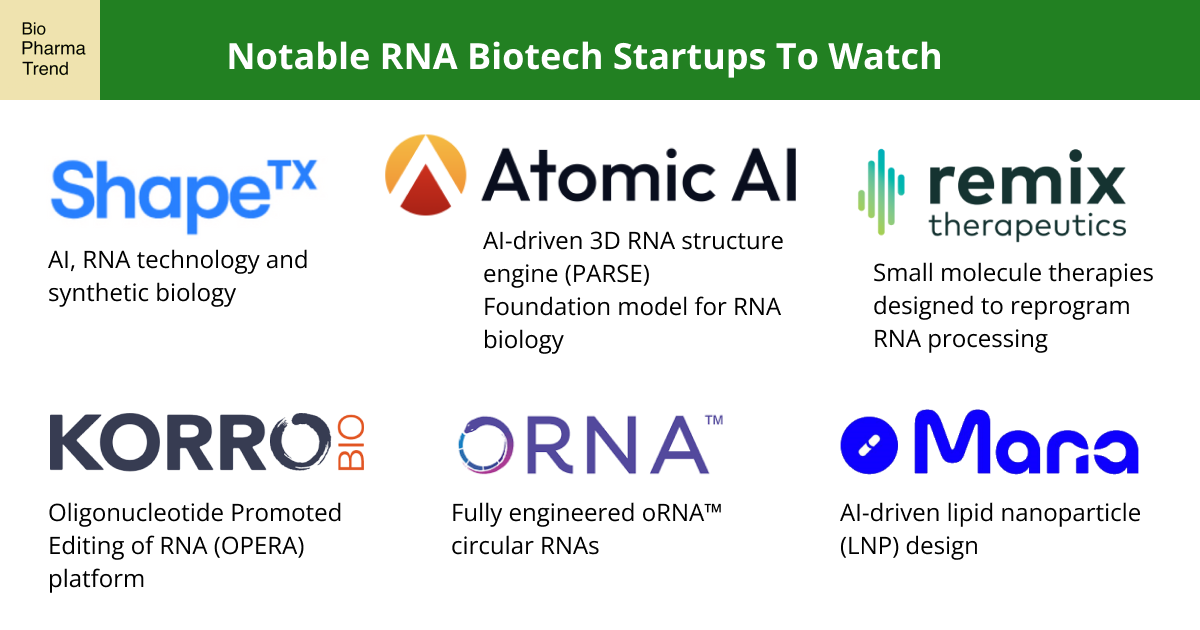 RNA interference is a gene silencing mechanism promoted by small siRNA molecules that are also exploited in patisiran and inotersen – first-in-class RNA therapeutics. Both drugs target transthyretin, a protein involved in the pathogenesis of transthyretin-mediated amyloidosis, and reduce the expression of its mutant version.
Today, RNA therapies can be categorized into 3 broad groups: RNAs that modulate DNA, RNAs that target proteins, RNAs that encode proteins, and hybrids of three listed approaches. Among existing modalities – ASOs, single-stranded antisense oligonucleotides that block mRNA translation, siRNAs and microRNAs that degrade protein-encoding mRNAs, RNA aptamers that tightly bind specific spots on proteins and regulate their functioning. In addition to that, last year showed a real boom in mRNA vaccines, with coronavirus vaccines and cancer vaccines being the most prominent representatives.
While there are numerous companies developing RNA-based therapeutics and vaccines, including major corporations like Pfizer, BioNtech, Moderna, etc, below we decided to list several biotech startups to keep an eye on.
Atomic AI, founded in May 2021, is headquartered in the San Francisco Bay Area and is focused on leveraging a fusion of machine learning and structural biology to advance RNA drug discovery​​. The company has developed a proprietary platform that utilizes deep learning foundation models to explore and design RNA-targeted small molecules, RNA-based medicines, and RNA tools​​.
Atomic AI raised a total of $42 million in funding over two investment rounds, with the latest funding being secured on January 2023, from a Series A round. The company has attracted investments from 14 investors, with Nat Friedman and Neal Khosla being the most recent backers​​.
In a notable personnel update, Atomic AI announced the appointment of Dr. Manjunath "Manju" Ramarao, a veteran from Bristol Myers Squibb with over 20 years of experience in the pharmaceutical industry, as its Chief Scientific Officer, showcasing the company's commitment to advancing its RNA drug discovery platform​
Mana.bio is a promising biotech startup that was established in 2021 and operates primarily out of the San Francisco Bay Area, though it also has a notable presence in Tel Aviv, Israel​​. The company uses artificial intelligence-based approach to improve the development of lipid nanoparticles (LNPs) for oligonucleotide therapies, which encompass DNA and RNA-based therapeutics as well as vaccines​​. As delivery is a crucial bottle-neck for RNA/DNA therapies in general, Mana.bio can potentially unlock new therapeutic horizons and contribut to the advancement of personalized medicine.
Financially, Mana.bio secured $19.5 million in a seed investment round from Andreessen Horowitz Bio + Health, Base4 Capital, NFX, LionBird, and Technio, underscoring a significant vote of confidence in the company's innovative approach.
Orna therapeutics is a Cambridge-based biotech startup founded in 2019 whose main focus lies in the novel field of circular RNAs (oRNAs) which is the next step in RNA-based therapies. The company's innovation relies on the groundbreaking results of Prof. Daniel Anderssons's group (MIT) that investigated oRNAs and found its superiority over linear analogs in terms of stability, protein expression, and synthetic availability. The potential applications of this technology are far-reaching, including Orna's initial focus on developing in situ CAR-T delivery system which avoids costly and complicated procedures of the current immunotherapies. The company already managed to close the Series A round in February 2021 raising $80 million from a group of prominent healthcare investors including F2 Ventures, Taiho Ventures, and MPM Capital.
In May, 2023, Orna Therapeutics disclosed advancements regarding its circular RNA platform​. Specifically, ORN-101, an optimized development-stage in situ CAR program, shows tumor eradication in a mouse model at doses far lower than previously reported results. Orna's FoRCE screening platform has enabled the identification of oRNAs that drive high protein expression, creating broad value across all of Orna's programs.
Financially, Orna secured a robust position with a successful Series B financing round on August, 2022, raising a staggering $221 million​. Additionally, the company has entered a partnership with Merck to discover, develop, and commercialize multiple programs, including vaccines and therapeutics in the areas of infectious disease and oncology.
A US-based startup Korro Bio has a smart approach to gene editing that relies on the natural RNA editing system, already present in all human cells. The company utilizes the short synthetic RNA strands to activate the ADAR (Adenosine Deaminases Acting on RNA) and guide it to make a specific fix in the messenger RNA. In comparison to CRISP technology when DNA gene material is altered directly, RNA editing only alters the genetic messenger and could be stopped at any time in case of adverse reactions. It also eliminates the need for an intrusive injection of a third-party enzyme, therefore decreasing the risk and optimizing the safety profile.
Although the company was founded in 2020 it has already raised a Series A in Sep 2020, attracting $91.5 million with Wu Capital as the lead investor.
In a pivotal move to harness the potential of RNA editing technology, Korro Bio and Frequency Therapeutics underwent a merger in July 2023. The merged company continues under the moniker of Korro Bio​.
In its pursuit of RNA-driven innovation, in March 2023 Korro Bio inked a collaboration and license agreement with Genevant Sciences, focusing on the development of lipid nanoparticles (LNP)-based RNA​​ therapies.
Shape therapeutics also leverages a natural ADAR RNA editing system and makes use of it in the number of their products, such as the RNA Fix™ system for single-mutation genetic diseases. They have also developed an RNA Skip™ to fix the mutations associated with premature stop codons and enable the production of fully corrected protein. In order to face the delivery challenges, they are developing an AAVid™ capsid delivery platform which through the screening between millions of possible AAV (Adeno Associated Viruses) selects the most suitable for specific disease tissues.
The company was founded in Seattle, USA in 2018 and gained attention from notable investors, including New Enterprise Associates, Tectonic Associates, Mission BioCapital who believed in the company's future and took part in Series A totaling $35.5 million.
At ASGCT 2023, the company announced seven presentations that spotlight its groundbreaking programmable medicine technology, enabled by artificial intelligence. This technology harnesses the power of AI and RNA to address genetic diseases​​. Shape's CEO, Francois Vigneault, shared some notable advances in CNS in vivo at the J.P. Morgan 41st Annual Healthcare Conference​​. Those included highlights across the ShapeTX technology platforms, including breakthrough results from ShapeTX's AI-driven AAVid™ capsid discovery platform and TruStable™ AAV manufacturing technology platform.
Moreover, in a lucrative move, Shape Therapeutics entered into a $1.5 billion deal with Otsuka. This collaboration is designed to develop gene therapies targeting eye diseases, intertwining Shape's AI-driven AAV platform with Otsuka's deep-rooted expertise in ophthalmology​13​.
The majority of the diseases are caused by protein malfunction and therefore are the main targets in the current pharmaceutical world. Remix Therapeutics, a company founded by former Atlas Venture Executive in Residence Peter Smith in 2019 in Cambridge USA, decided to get back to the origin of protein expression and alter at the level when the RNA sequences are produced.
They are using small molecule therapies which have advantages of simple dosage and increased stability inside the living organism. Their research team presented a REMaster technology for the development of new therapies which consists of three main parts, such as a database of RNA messengers, screenings techniques to validate the target and a custom library of small molecules.
After an initial seed round when Atlas Ventures and The Column group supported the company with $16 million in Jan 2019, they quickly attracted more investors and held Series A raising an additional $65 million led by Foresite Capital in Dec 2020.
In February 2022, the company parntnered with industry heavyweight Johnson & Johnson. Together, they aimed to develop small-molecule therapeutics with the capability to reprogram RNA processing, targeting up to three diseases in the realms of immunology and oncology​​.
Financially, Remix has accumulated $151 million over three funding rounds, with the most recent Series B round concluding in May 2022 -- $70 million​​.
---
Topics: Biotech Companies