Pharmaceutical Artificial Intelligence in 2020: The Sector is Heating Up For Investments
Table of Contents:
Introduction

The abundance of venture capital, major funding rounds

New AI-driven biotech startups founded in 2020

Notable AI-focused collaborations involving "big pharma" players

AI adoption by the contract research organizations (CROs)

AI-designed drug candidates in clinical trials

The emerging role of AI tech in fighting COVID-19
Introduction
Artificial Intelligence (AI) has been a top trend in many industries lately, attracting massive media attention and investments. Over the last decade, this complex area of research has rapidly progressed from being a "resurrected cool technology from the past" to a full-blown driver of nothing less than a new industrial revolution -- a digital one. As of today, AI is widely commercialized in such applications as manufacturing robots, smart assistants (e.g. Siri), automated financial investing systems, virtual travel booking agents, social media monitoring tools, conversational bots, surveillance systems, online security systems, language translators, self-driving cars, and much more. 
In some industries, AI (including its many technologies and sub-disciplines, such as deep learning, recommender systems, and natural language processing), is becoming a standardized component rather than a cutting-edge innovation it once was. 
This rapid progress in AI adoption is also seen in the pharmaceutical industry -- not without caveats, however. Unlike "mainstream" use cases, like image recognition or spam email filtering, drug discovery research appears to be a much harder case for several reasons. 
First, the amount of data, suitable for training, is way smaller in biology and biomedical research, than in languages, everyday images, or videos. 
Second, training itself is less straightforward. One can immediately assess a photography prediction by the AI system, and flag results with the "right" or "wrong" label to make the system learn. In the case of AI identifying patterns in complex omics data, or creates a hypothesis from the research literature, let's say, it takes time and experimentation to be able to interpret them and update the model. 
Notwithstanding all the above difficulties, the progress in the area of pharmaceutical AI is tremendous, with many proof-of-concept studies confirming that the technology is maturing and gaining a commercial level and apparent disrupting potential for healthcare innovation.  
The pharmaceutical artificial intelligence ecosystem is growing, including more and more AI-vendors, AI-driven biotech startups, and corporations that start building in-house capabilities and expand external partnerships with AI-labs and companies. The below image illustrates the key groups of organizations,.involved in the advancement and adoption of AI research and tech in drug discovery and medical R&D: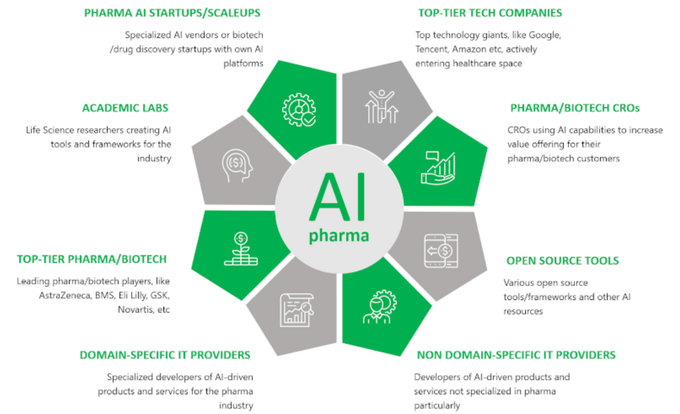 Next, let's review some of the notable industry developments in what relates to various artificial intelligence technologies, such as deep neural networks, and natural language processing being applied in drug discovery and clinical research. The focus here is on major investment rounds, important R&D partnerships between AI-vendors and big pharma/CROs, new AI-startups founded in 2020, and the important role of AI in tackling the COVID-19 pandemics. This is not meant to be a comprehensive overview, rather -- an illustrative list of developments and reflections on where things are moving forward.  
The abundance of venture capital, major funding rounds 
Biotech investors have been increasingly optimistic about the promise of AI in drug discovery, pouring more money into leading AI-driven biotech firms compared to previous periods. According to a report by Deep Pharma Intelligence, the total amount of VC funding in AI-biotech startups increased in 2020 (as of  November)  by around  23%,  compared to  2019, approaching a total of $1.9B, which is also more than in 2015, 2016 and 2017 combined. There is an increasing number of late-stage mega-rounds (e.g. B, C), including hundreds of millions of dollars. 
XtalPi
XtalPi, an American-Chinese biotech company, raised a formidable $319M in the financial round C, which was led by SoftBank's Vision Fund. The company, founded in 2014, is developing approaches in which quantum physics, AI and cloud computing are intersecting. Based on this, its Intelligent Digital Drug Discovery and Development (ID4) platform provides prediction of small molecules candidates properties, solid-form selection, and other services. 
Insitro
Insitro, a data-driven drug discovery company co-founded in 2018 by Prof. Daphne Koller, has recently raised $143M in Series B financing. The round was led by Andreessen Horowitz, CPP Investments, and others. The company differs from other AI companies as it has built its own cutting-edge laboratory that allows collecting massive amounts of data to train their ML engine. Additionally, Insitro entered a strategic collaboration with Gilead last year with the goal of developing new therapies for nonalcoholic steatohepatitis (NASH). 
Tempus
In March, Tempus announced it received $100M in Series G financing. The investors included Baillie Gifford, Franklin Templeton, NEA, Novo Holdings, and funds and accounts managed by T. Rowe Price. The company's main focus is advancing precision medicine and applying AI in healthcare. With the additional funding Tempus continues to expand its operations to various diseases areas, including diabetes, depression, and cardiology. Since its founding in 2015, the company has raised in total $620 M of financing.
BiopharmaTrend
Premium
This content is available to our premium users.
Get the following benefits by becoming premium member:
- unlock premium articles
- get access to our industry reports
- support our independent media
Topics: Industry Trends Startups AI and Big Data