The Overview of AI in Drug Discovery in 2019: The "Proof-of-concept Year"
The race for adopting new machine learning (ML), deep learning (DL) and related technologies (for simplicity -- "artificial intelligence"/"AI") keeps rapidly unfolding in the pharmaceutical industry, albeit with varying rate of progress across different use cases.
Let's review retrospectively some of the key developments in the drug discovery area in 2019 and see how they characterize the current state of AI in the pharmaceutical industry ("hype vs reality"). Note, that I do not cover the healthcare sector in this post (diagnostics, medical applications of AI, digital health etc) -- those will be discussed in one of the future posts.
1. Notable Venture Rounds, New AI Startups
According to BPT Analytics report, the overall number of new AI-startups per year has been declining since 2017, with only 9 newcomers in 2018, and only one notable new AI startup focusing on drug discovery in 2019, so far -- Acorn AI, a "big data"-driven AI-company founded by Medidata to accelerate drug discovery via optimizing clinical trials.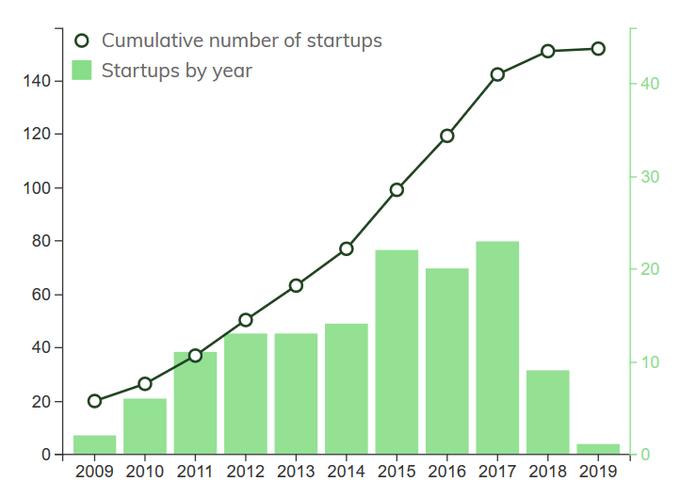 The total amount of disclosed venture capital raised for AI-driven drug discovery startups in 2019 is around $0.5B so far, the number likely increasing by the end of the year.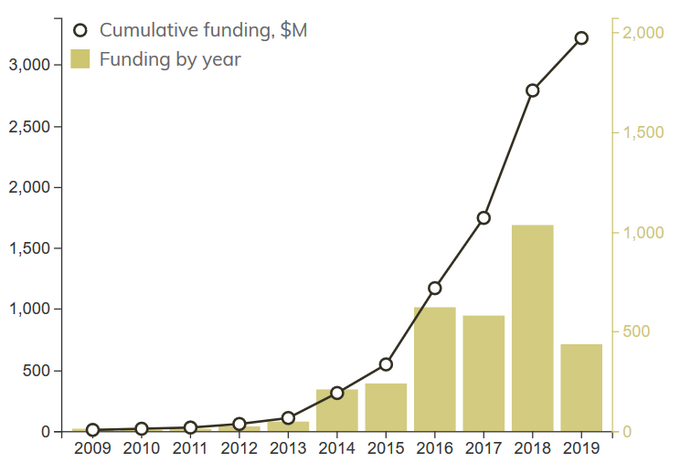 Below is a summary of some of the most important venture rounds in the "AI for drug discovery space" in 2019: 
BlackThorn Therapeutics
San Francisco based BlackThorn Therapeutics, a clinical-stage biotech company focusing on developing first-in-class drugs for neurobehavioral disorders, closed a $76 million Series B financing from multiple investors. The money will be used to further advance its drug discovery research efforts, including the application of AI-driven cloud-based platform PathFinder™ to generate objective neuromarkers, which support drug target identification, and improving the success of its drug candidates in clinical trials.
Exscientia
This British drug discovery company focusing on an "end-to-end" drug candidate development using its AI-driven platform Centaur Chemist™ raised $26 million in round B in January, to scale up collaborations with big pharma, as well as build own portfolio of small molecules.
Insilico Medicine
The Hong Kong-based company Insilico Medicine, a developer of a comprehensive drug discovery and biomarker development platform GENTRL, and a pioneer in the application of generative adversarial networks (GANs) to drug discovery use cases, raised a $37 million round B to commercialize its AI-driven "end-to-end" drug design platform GENTRL, and expand its business development team.
Continue reading
This content available exclusively for BPT Mebmers
Topics: Emerging Technologies Industry Trends