The Rising Role of AI-enabled Digital Pathology in Drug Discovery
The field of pathology has experienced a major shift over the past few decades. This evolution began as early as the 1960s with the pioneering efforts in telepathology. However, the concept of virtual microscopy, also known as Whole-Slide Imaging (WSI), only started gaining momentum in the life science research community during the 1990s.
What is digital pathology?
In contemporary terms, digital pathology is a specialized branch of pathology that harnesses the power of computer technology to manage data sourced from digitized specimen slides. This process transforms conventional glass slides into digital slides, facilitating more efficient analysis, management, sharing, and examination of data on computer screens. The rise in the adoption of this technology is primarily attributed to advancements in machine learning and artificial intelligence in healthcare, leading to more effective and economical diagnostic, prognostic, and disease predictive solutions.
Presently, digital pathology is a globally acknowledged term that signifies the digitization efforts within the pathology domain. Despite the technological constraints related to scanners, storage, and networks at the turn of the century, the global scientific community started showing an inclination towards digital pathology.
The integration of digital pathology in drug discovery and development
Moving to the present day, in 2023, a recent survey commissioned by Proscia®, a software firm spearheading the digital transformation of pathology, shows that digital pathology is no longer just a futuristic concept. It has arrived, and it's significantly impacting the pharmaceutical sector.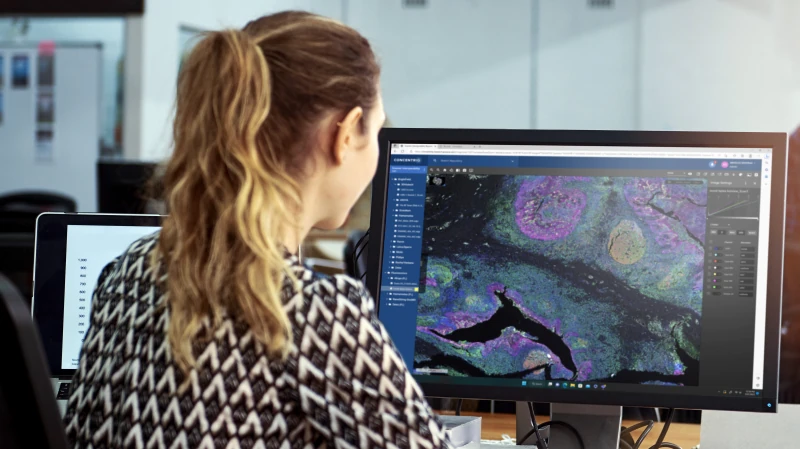 Image credit: Proscia
According to the survey, around 70% of significant pharmaceutical companies and contract research organizations (CROs) surveyed have embedded digital pathology within their research and development (R&D) operations. However, even with this extensive adoption, over half of these organizations continue to depend on outdated software systems. Though adequate for basic image viewing, these older systems might not be equipped to fully capitalize on the opportunities presented by AI-driven R&D.
Digital pathology is helping resolve some of the most formidable challenges in pharmaceutical R&D. The journey of new drug development can be extensive and costly, usually taking between 10-15 years and costing in excess of $2.6 billion. Digital pathology, by enhancing collaboration and optimizing operations, is paving the way towards more effective and economical drug development processes.
The role of AI in digital pathology
Besides, the survey emphasizes the integral role of AI in fuelling drug discovery and development. Organizations that have adopted digital pathology are already utilizing AI to uncover new insights through image analysis applications and promote efficiency through process automation solutions.
The move towards digital pathology also offers the chance to generate new data assets, with 55% of respondents identifying this as a primary motivator behind their investment in digital pathology. Given the substantial amount of information enclosed within each whole slide image, it's evident that digital pathology has a crucial part to play in shaping the future of pharmaceutical research.
In summation, digital pathology is revolutionizing the pharmaceutical industry, propelling a new era of efficiency and creativity. With its escalating incorporation of AI and digital tools, it is paving the way for enhanced patient care and progress in the medical field.
Topics: Emerging Technologies