CEPI and aVaxziPen Partner to Advance Needle-Free Vaccine Delivery Aiming for Equitable Global Access
Needle-free vaccine delivery has emerged as a promising solution to overcome the challenges associated with frozen storage requirements, thereby improving access to vaccines. In this context, the Coalition for Epidemic Preparedness Innovations (CEPI) has partnered with aVaxziPen Ltd, an Oxford-based biotech company specializing in developing a novel needle-free vaccine delivery platform. This collaboration aims to advance the development of two vaccine candidates, protein-based and mRNA-based, utilizing aVaxziPen's solid dose vaccine-delivery platform.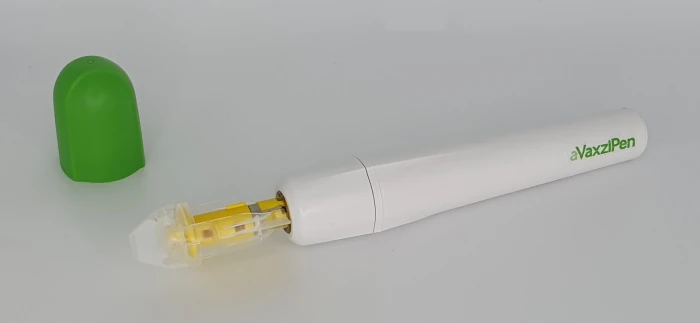 Image credit: CEPI
CEPI has initially allocated up to US$1.6 million to support aVaxziPen in establishing the proof-of-concept for their vaccine-delivery technology. This funding will facilitate the evaluation of stability, delivery efficiency, and preclinical immunogenicity of both mRNA and protein-based vaccines developed using aVaxziPen's platform.
aVaxziPen's Needle-Free Platform Aims to Eliminate Frozen Storage Challenges
One of the key challenges in vaccine distribution, especially to low-resource regions and underprivileged communities, has been the requirement for storing vaccines at low temperatures. mRNA vaccines, in particular, necessitate frozen storage due to the delicate nature of mRNA molecules. Another challenge associated with the distribution of mRNA vaccines is that they typically have a short shelf life once removed from the freezer. By eliminating the need for frozen storage, aVaxziPen's platform has the potential to simplify the shipping, storage, and distribution of mRNA vaccines, making them more accessible and cost-effective in low-resource settings. Additionally, protein-based vaccines, although not typically requiring frozen storage, often need to be stored at temperatures between 2-8°C. Developing a protein vaccine platform capable of withstanding temperatures of up to 40°C for extended periods, such as 1-2 months, would greatly facilitate the last-mile delivery of vaccines, even in remote areas.
aVaxziPen's solid-dose vaccine technology addresses these challenges through its pen applicator device and proprietary solid-dose formulation technology. This innovative approach protects the integrity of mRNA and proteins, eliminating the need for frozen storage for mRNA vaccines and cold-chain storage for protein-based vaccines. Moreover, the applicator device offers additional benefits such as ease of administration without specialized medical training and the potential for reuse up to 1,000 doses, reducing waste. Its lightweight and robust design also make it ideal for shipment and storage.
CEPI's involvement in this project is part of their broader strategic goal to harness innovative technologies for faster, scalable, and more accessible vaccine development and manufacturing in response to epidemic and pandemic threats. Both companies share a commitment to enable global equitable access to vaccines resulting from their partnership. The funding agreement stipulates that aVaxziPen will ensure supply for low- and middle-income countries, produce sufficient vaccine volumes to meet public health needs, establish affordable pricing for these regions, and potentially transfer the technology to manufacturers in those countries in line with CEPI's Equitable Access Policy.
CEPI's Impact in the Pandemic Response: Advancing Vaccine Accessibility and Development
CEPI, launched in 2017, is a unique partnership comprising public, private, philanthropic, and civil organizations. Its primary objective is to accelerate the development and accessibility of vaccines and other biologic countermeasures against epidemic and pandemic threats. Initially focused on vaccines for Ebola virus, Lassa virus, Middle East Respiratory Syndrome coronavirus, Nipah virus, Rift Valley Fever virus, and Chikungunya virus, CEPI has more than 20 vaccine candidates against these pathogens in various stages of development. The organization has also invested in platform technologies to expedite vaccine development against unknown pathogens (Disease X).
During the COVID-19 pandemic, CEPI played a central role by supporting the development of an extensive portfolio of vaccines against SARS-CoV-2 and its variants. CEPI prioritized speed, scale, and access in their initiatives and co-led COVAX, a global initiative aimed at ensuring fair and equitable access to COVID-19 vaccines. Currently CEPI is the world's leading funder of research and development for broadly protective coronavirus vaccines, which have the potential to safeguard against future variants of COVID-19 and other coronaviruses with epidemic and pandemic potential. Company's five-year plan CEPI 2.0 with a budget of US$3.5 billion aims to significantly reduce or eliminate the future risk of pandemics and epidemics. Key to this plan is the goal, supported by the G7 and G20, of developing safe, effective, and globally accessible vaccines against new threats within just 100 days.
Topics: Emerging Technologies