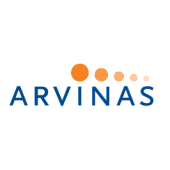 Founded
2013
Geography
United States of America based
Funding
$111.600 M
Arvinas is a pharmaceutical company focused on developing novel therapeutics to treat a variety of diseases including cancer, pro-inflammatory, autoimmune and rare diseases. Central to Arvinas' proprietary approach is the targeting of disease-causing proteins for degradation thus eliminating them from the body. This strategy of degradation versus protein inhibition holds several advantages including the potential to target proteins that are not currently 'druggable' using a small molecule approach.
Posts Mentioning This Company
Pipelines
ARV-110
Arvinas is developing ARV-110, a PROTAC® protein degrader that targets the androgen receptor (AR), for the potential treatment of men with metastatic castration resistant prostate cancer (mCRPC) and who have progressed on existing therapies.
Services
No services posted yet