How AI Enables Precision Oncology
Lantern Pharma's AI-driven drug discovery platform RADR® enables value creation across multiple dimensions of the oncology drug development process: from the expansion of therapeutic indications and the identification of drug combinations for use in precision oncology, as well the creation of patient response signatures or biomarker profiles that can be used to increase the success of a clinical trial.
The process of creating new cancer treatments is fraught with numerous roadblocks, significantly impacting its efficacy and slowing the roll-out of successful therapies. The sobering reality is that a staggering 97% of potential oncology drugs fall short of ever being introduced to the market, according to estimations by Wong, Siah and Lo, 2019. This failure rate is largely due to the intricate interplay of genetic targets, unexpected surges in patient drug resistance, and the predictive limitations of our current preclinical models. Further complicating matters, successful drugs often yield only marginal survival benefits for patients.
Clinical trial design is also problematic, often testing drugs indiscriminately across various cancer types, without considering the specific genetic implications of the drug. According to a 2021 study 'Does biomarker use in oncology improve clinical trial failure risk? A large‐scale analysis', clinical trials designed without integration of relevant and informative biomarkers are 12 times more likely to fail.
The Dire Need for Progress in Oncology Drug Discovery
The gambling-level failure rate of current oncology drug discovery programs in clinical trials can be attributed to multiple complex factors. A prominent challenge is misunderstanding a drug's efficacy, often due to unanticipated off-target effects, which obscure the drug's true mechanism of action (MOA). For instance, this confusion can result in the mischaracterization of target-specific inhibitors, a complication exemplified by the maternal embryonic leucine zipper kinase (MELK) inhibitor OST167. Despite MELK being identified as crucial in multiple cancer types, it was found to be nonessential for cancer cell fitness, which likely contributed to the misunderstanding. Further confusion arises from the misidentification of biomarkers, which hinders the determination of a drug's true target. Studies like Lin et al. (2019) have also demonstrated that certain proteins, including MELK, HDAC6, MAPK14, PAK4, PBK, and PIM1, initially thought to be essential for cancer, are in fact nonessential for cancer cell survival, thereby adding another layer of complexity to the drug discovery and approval process.
Indiscriminate approach to oncology clinical trials may dilute the effectiveness of the trials and miss potential opportunities. The drug sorafenib provides a vivid example of the surprises in cancer drug development. It was initially expected to work by inhibiting the BRAF gene, but tests in melanoma, where BRAF mutations are common, didn't yield a survival benefit. Instead, the drug exhibited potency in blocking VEGF, a molecule that regulates blood vessel growth. This led to its FDA approval for treating kidney, liver, and thyroid cancers.
The complexity and diversity of cancer's genetic landscape, along with the challenge of drug resistance, have a substantial impact on the progress of successful cancer therapies. Take, yet another example, the once-promising drug Avastin. Initially approved for metastatic breast cancer in 2008, it was later revoked by the FDA in 2011 due to a lack of evidence in extending patient survival and mitigating tumor growth.
These challenges highlight the pressing need for a more sophisticated strategy in cancer drug development and clinical trial design—one that is capable of intelligently addressing genetic diversity, anticipating drug resistance, and optimizing therapeutic allocation. This sophisticated strategy is at the heart of Lantern Pharma's mission, which leverages the power of artificial intelligence (AI) through their RADR® platform to meet these needs head-on.
Enabling Precision Oncology with RADR® AI Platform
Since its inception in 2014, a Dallas-based clinical-stage biotech Lantern Pharma has been committed to improving standards of care for cancer patients by expanding therapeutic indications space, identifying combination therapy opportunities, and designing better clinical trials with precision-based patient selection strategies.
In the face of the multifaceted challenges of cancer treatment development, Lantern Pharma is at the forefront with a ground-breaking tool: RADR®, an AI-driven platform that exploits machine learning for identifying mechanisms of action (MoA), driving preclinical development of oncology assets, identifying novel therapeutic indications, abd discerning and predicting patient responses to specific drugs. Engineered to deeply analyze genomic and transcriptomic data derived from both clinical and preclinical studies, RADR® is a solution that illuminates the complexities of genetic heterogeneity in cancers and patients.
Cancer's genetic diversity often complicates the identification of patient groups likely to respond favorably to a given drug in clinical trials, leading to endpoints that may lack statistical significance and hamper the demonstration of clinical benefit for regulatory approval. RADR® is designed to address this challenge heads-on, aiming to reveal the most suitable patient groups for specific therapies.
Utilizing transcriptomic, genomic, and drug sensitivity data from multiple sources, RADR® analyzes over 25 billion clinical data points, more than 154 drug-tumor interactions, and 130,000+ patient records across 17 databases. The platform embraces datasets from public resources, commercial clinical studies, and Lantern's ex vivo 3D tumor models to draw correlations between genetic biomarkers and drug activity. This end-to-end process transforms multi-omics data into an optimal model that predicts drug responses, generating candidate biomarkers and aiding in patient stratification for clinical trial design.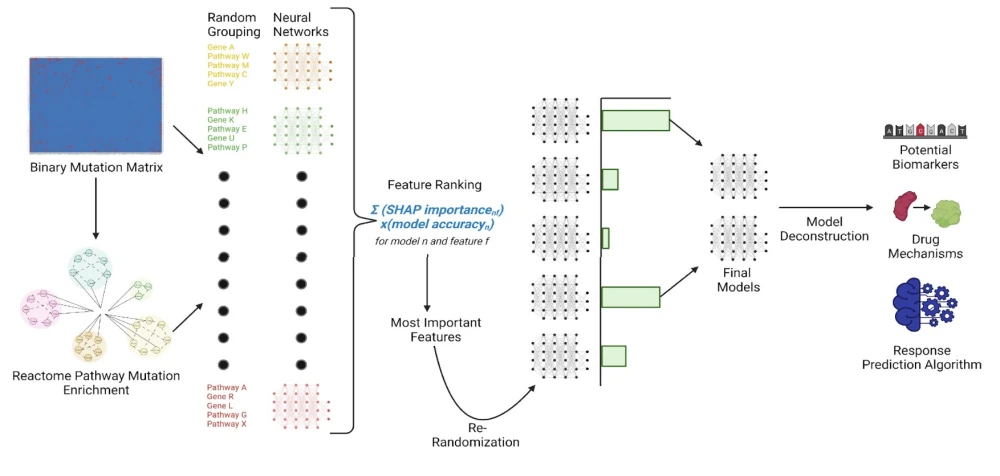 Image credit: Lantern Pharma. The company's AI-driven drug discovery platform RADR®.
Notably, RADR® platform isn't just about refining patient selection; it's also about risk mitigation and success optimization in drug development. By segregating patients into likely responders and non-responders for various oncology therapies, RADR® enhances the potential to de-risk clinical trials and augment the likelihood of FDA approval. This strategic patient enrichment not only streamlines clinical trials, potentially reducing research costs and hastening the delivery of crucial new therapies but also paves the way for personalizing cancer treatments and potentially improving patient outcomes.
Furthermore, RADR®'s operational workflow is flexibly adapted for a range of drug candidates: those in early stages to help define indications, combinations or targeted effective doses; late-stage or shelved clinical drug candidates to help identify the most likely to respond favorably; and currently marketed or generic drugs for a new or different cancer indication on a defined patient population.
A Battle-tested AI Platform for Precision Oncology
Speaking in terms of actual results, Lantern Pharmain just announced FDA clearance of investigational new drug (IND) application for LP-184, a novel, synthetically-lethal, small molecule that has been developed entirely internally -- using insights from Lantern's AI platform, RADR®. The first-in-human Phase 1A clinical trial of LP-184 is anticipated to launch this summer for multiple advanced solid tumors and brain and central nervous system (CNS) cancers.
Earlier in March 2023, Lantern Pharma has successfully dosed the first patient in the Phase 2 multi-center Harmonic™ clinical trial, signaling a significant milestone in oncology drug development. Leveraging its proprietary RADR® AI and machine learning platform, the company is transforming therapeutic strategies for underserved patient populations, such as never-smokers with advanced non-small cell lung cancer. Notably, in a previous Phase 3 trial, patients who received the company's LP-300 with chemotherapy showed increased survival rates, demonstrating the potential efficacy of Lantern's approach. With an estimated 24,000 to 30,000 never-smokers diagnosed with NSCLC in the US in 2021 alone, the necessity and potential impact of such treatments are considerable.
Earlier this year, Lantern also successfully garnered Orphan Drug Designation (ODD) from the FDA for LP-284, its novel drug candidate for treating mantle cell lymphoma (MCL). This AI-enabled advancement in oncology drug discovery and development was achieved in under two years, demonstrating the platform's ability to transform the pace and efficacy of bringing new treatments to market. LP-284 is the fourth ODD in Lantern Pharma's pipeline, earlier candidates reaching this milestone being in pancreatic cancer, glioblastoma, and atypical teratoid rhabdoid tumors (ATRT) for pediatric use (see the pipeline illustration below). The ODD status, which offers significant benefits like seven years of market exclusivity and expedited development programs, solidifies clinical development path and commercial prospects for Lantern Pharma's drug candidates LP-284, LP-184, and STAR-001.
In March, Lantern Pharma established a subsidiary, Starlight Therapeutics, dedicated to developing therapies for central nervous system (CNS) and brain cancers, aided by the transformative RADR® AI platform. The AI-powered platform facilitated the accelerated development of STAR-001, Starlight's leading drug candidate, which has demonstrated efficacy across various CNS and brain cancer models. Clinical trials for new adult and pediatric CNS cancer indications, identified and prioritized with insights from the RADR® AI platform, are slated for late 2023 and early 2024.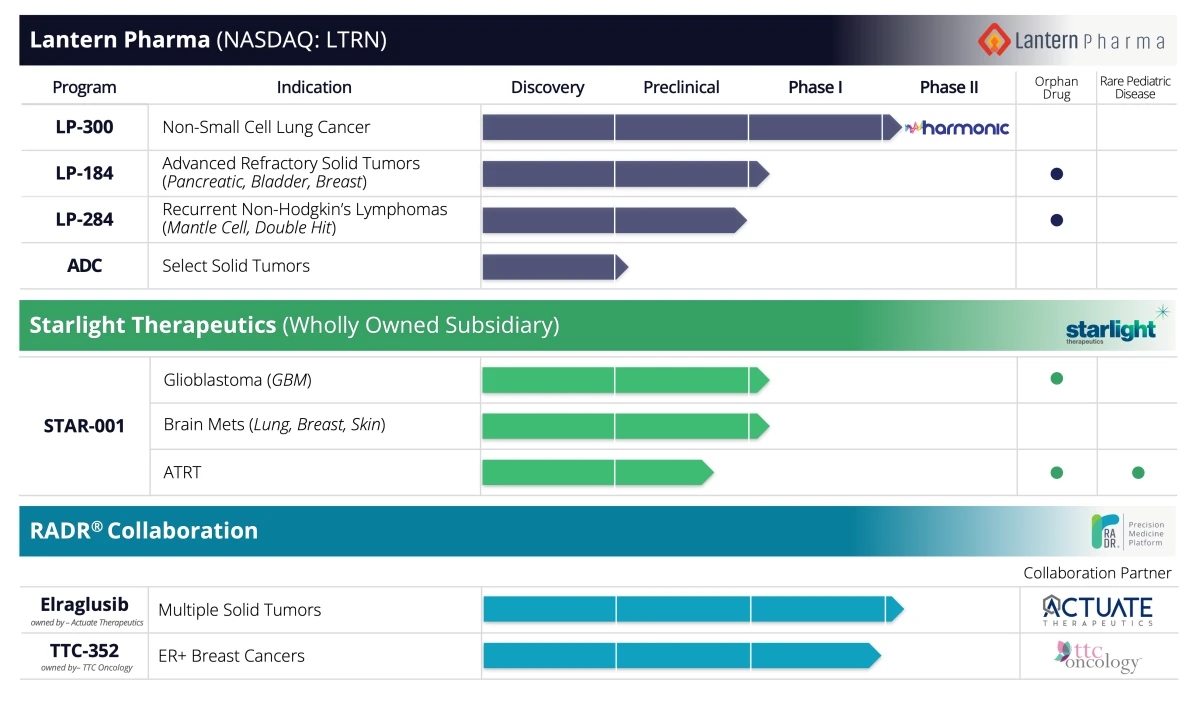 Image credit: Lantern Pharma. The company's oncology pipeline, enabled by AI-driven drug discovery platform RADR®.
Lantern Pharma's portfolio comprises four drug candidates, inclusive of two Phase 2 programs, an antibody-drug conjugate (ADC) program across 12 cancer indications, and a growing number of partner programs. Through effectively harnessing its AI-driven RADR® platform, the company presents a promising opportunity for industry stakeholders seeking to enhance their therapeutic pipelines.
Advancing Oncology Drug Discovery Through Partnerships
Lantern Pharma provides a novel solution to the often challenging landscape of oncology drug development. Their proprietary RADR® platform employs a sophisticated blend of genomics and artificial intelligence (AI) to repurpose and reinvigorate clinical-stage drugs that have been previously discontinued. By identifying and validating biomarkers for patient response, Lantern Pharma effectively enhances the potential value of these treatments, providing a lucrative opportunity for partners looking to optimize their oncology pipelines and potentially resurrect failed drug candidates.
Rather than originating drugs from the ground up, Lantern Pharma takes a strategic approach by focusing on late-stage clinical drugs that demonstrated efficacy in certain patient groups but were otherwise discontinued. Utilizing advanced genomics, data analytics, and AI, they 'rescue' these valuable drugs and reorient them towards the specific patient groups identified through molecular profiling. This process allows for stratified and efficient patient treatment within focused clinical trials, including Lantern Pharma's ongoing collaboration programs with Actuate Therapeutics (Elraglusib, in Phase 2), and TTC Oncology (TTC-352, in Phase 1).
For instance, Lantern Pharma's RADR® AI platform managed to predict Elraglusib's response to metastatic melanoma, resistant to checkpoint inhibitors, with 88% accuracy -- for a group of 26 patients.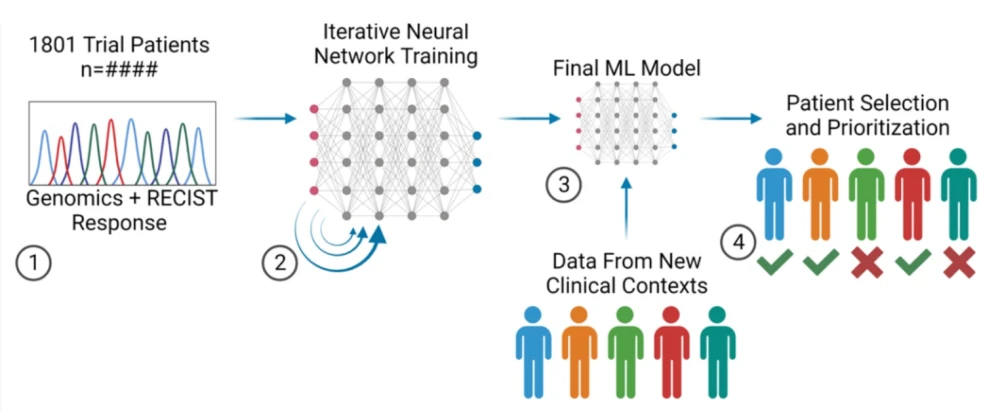 Development of a Machine Learning Model to Predict Patient Elraglusib Response with Genomics Input.
Image credit: From ASCO 2023 poster #3079.
Upon the successful repurposing of a drug and the identification of a diagnostic biomarker for drug response, Lantern Pharma opens up opportunities for licensing or partnerships. Their unique strategy fosters the development of precision therapies while simultaneously addressing significant unmet needs in the oncology market, positioning Lantern Pharma as an ideal partner for organizations looking to optimize their oncology development strategy.
In the oncology drug development sector, Lantern Pharma stands out with its AI-driven platform, RADR®, helping reveal novel mechanisms of action (MoAs) for oncology assets, enabling data-driven preclinical candidate development, identifying novel therapeutic indications, deriving novel biomarkers for precision oncology, and predicting patient responses to cancer therapies, RADR® refines clinical trials and can potentially increase chances in the journey towards FDA approval. But their innovation doesn't stop there. They also salvage shelved drug candidates, offering them a second lease on life.
One can't overlook the promise that Lantern Pharma's unique model holds for the broader scientific community. The company has a history of successful partnerships with leading organizations, including Actuate Therapeutics, TTC Oncology, John Hopkins, Fox Chase, UT Health San Antonio, Danish Cancer Society Research Center, Mayo Clinic, and others. For instance, in a recent collaboration with the National Cancer Institute (US), Lantern Pharma utilized its artificial intelligence platform, RADR®, to aid in the discovery of a DNA damaging agent for the ultra-rare cancer known as Atypical Teratoid Rhabdoid Tumors (ATRT), an advancement discussed in a newly published paper.
The company's journey points towards a future where cancer therapy becomes personalized and precision-led. For those vested in the fight against cancer, considering collaborations with AI in drug discovery pioneers like Lantern Pharma could potentially light the path to transformative solutions in oncology.
Topics: Biotech Companies