Collaboration Between Iktos and Curreio Harnesses AI and Cryo-EM for Drug Discovery
Iktos, a French AI-focused company specializing in new drug design, and Curreio, a Japanese cryo-electron microscopy (cryo-EM) expert, have recently entered into a collaboration agreement. The partnership aims to leverage the power of artificial intelligence (AI) and cryo-EM technology to expedite the discovery and design of novel preclinical drug candidates for an undisclosed therapeutic target.
Founded in October 2016, Iktos is developing artificial intelligence (AI) solutions for chemical research, with a particular focus on medicinal chemistry and new drug design. Iktos' core technology, Makya™, is a generative AI system that facilitates the design of virtual molecules with desired activities for the treatment of specific diseases. By utilizing existing data, Makya™ employs deep learning generative models to optimize small molecule discovery projects. The integration of Iktos' Spaya™ retrosynthesis AI technology further enhances the efficiency of the design process by providing insights into synthetic accessibility. This combination allows for the rapid identification of molecules that satisfy multiple parameters, including potency, selectivity, safety, and project-specific properties.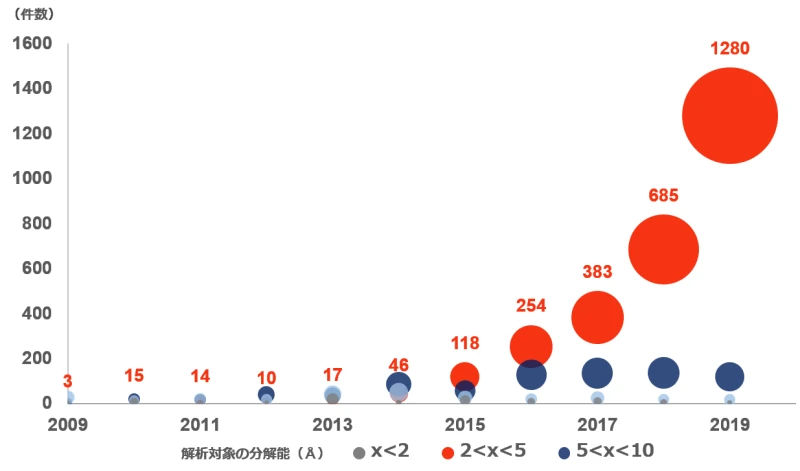 Changes in the number of protein analyzes by CryoEM
Source: Created by information from Protein Data Bank Japan
Curreio specializes in cryo-EM, a technique honored with the 2017 Nobel Prize in Chemistry. Cryo-electron microscopy (cryo-EM) is a powerful imaging technique that allows for the high-resolution structural analysis of biomolecules by preserving their native hydrated state, eliminating the need for crystallization and overcoming challenges associated with crystallization-resistant molecules. Therefore, cryo-EM is a valuable tool for studying challenging proteins and protein-supramolecular complexes. Curreio's expertise lies in various aspects of cryo-EM, such as protein production, purification, grid preparation, and 3D structural analysis. Their state-of-the-art cryo-EM platform enables the exploration of complex biomolecular structures, expanding the possibilities for drug discovery in these areas.
The collaboration between two companies capitalizes on the respective strengths of AI and cryo-EM technologies. By combining Iktos' generative AI technology with Curreio's cryo-EM platform, the partners aim to enhance structure-based drug discovery (SBDD). The generative AI technology will benefit from the insights gained through cryo-EM analysis, enabling the design of molecular structures that maximize protein-ligand interactions. This integration is expected to improve the accuracy of predicting molecules that meet the project's Target Product Profile (TPP), thereby accelerating the drug discovery process.
The application of deep learning algorithms, which are a subset of artificial intelligence (AI), has demonstrated remarkable efficacy in managing the extensive datasets generated by Cryo-EM. These algorithms excel in automating image analysis, enhancing particle picking, and enabling the reconstruction of high-resolution structures from noisy data. The utilization of AI empowers researchers to process and interpret Cryo-EM data with heightened efficiency and precision. If you are curious about the topic, you can find more information on the world of AI and Cryo-EM in our articles:
Topics: Emerging Technologies