First-of-its-kind AI-based Diagnostics Solutions Approved in Europe
According to the World Health Organisation, cancer is a leading cause of death worldwide, accounting for nearly 10 million deaths in 2020 - nearly every 6th death worldwide happens because of this disease. Among all cancer cases, the top 3 types of cancer by incidence were breast (2.26 million cases), lung (2.21 million cases), colon and rectum (1.93 million cases). With the drastic lifespan increase over the last semi-centenary, more and more people will be diagnosed with cancer. Based on 2015-2017 data National Cancer Institute of the United States concluded that 39.5% of men and women will become oncology patients at some point of their lives. And this number will only increase as NIH expects a trifold rise of cancer related deaths in 2040 compared to 2020.These appalling predictions leave no other choice than to address this problem, and major biotech companies and renowned research institutions all over the world are striving to offer solutions to this challenge for more than a century.
European regulators have approved two AI-based first-of-their-kind diagnostics solutions by a French-American company Owkin -- RlapsRisk BC and MSIntuit CRC. The company aim to help millions of breast and colorectal cancer patients receive personalised treatment sooner. By using AI on readily-available digital pathology slides, these two diagnostic solutions aim to democratise access to precision medicine by offering a rapid, cost-effective and efficient toolset for personalising treatment.
Owkin was founded in 2016 by Thomas Clozel MD, a former assistant professor in clinical onco-haematology, and Gilles Wainrib, a pioneer in the field of machine learning in biology. Since then, Owkin has raised over $300 million and became a unicorn through a $180 million investment from Sanofi in November 2021.
Owkin aims to develop more biomarker pre-screening and outcome prediction diagnostics across a range of disease areas.The company established its mission in connecting patient care with medical research to discover new mechanisms of diseases and developing better-tailored treatments for unmet medical needs.
According to Meriem Sefta, Chief Diagnostics Officer at Owkin, the mission of the company is apply AI to find the right treatment for every patient. "Novel drugs allow us to personalise treatments to patients' individual disease characteristics, promising a new era of precision medicine. But one roadblock that doctors face is finding these patients rapidly, accurately and efficiently." says Meriem.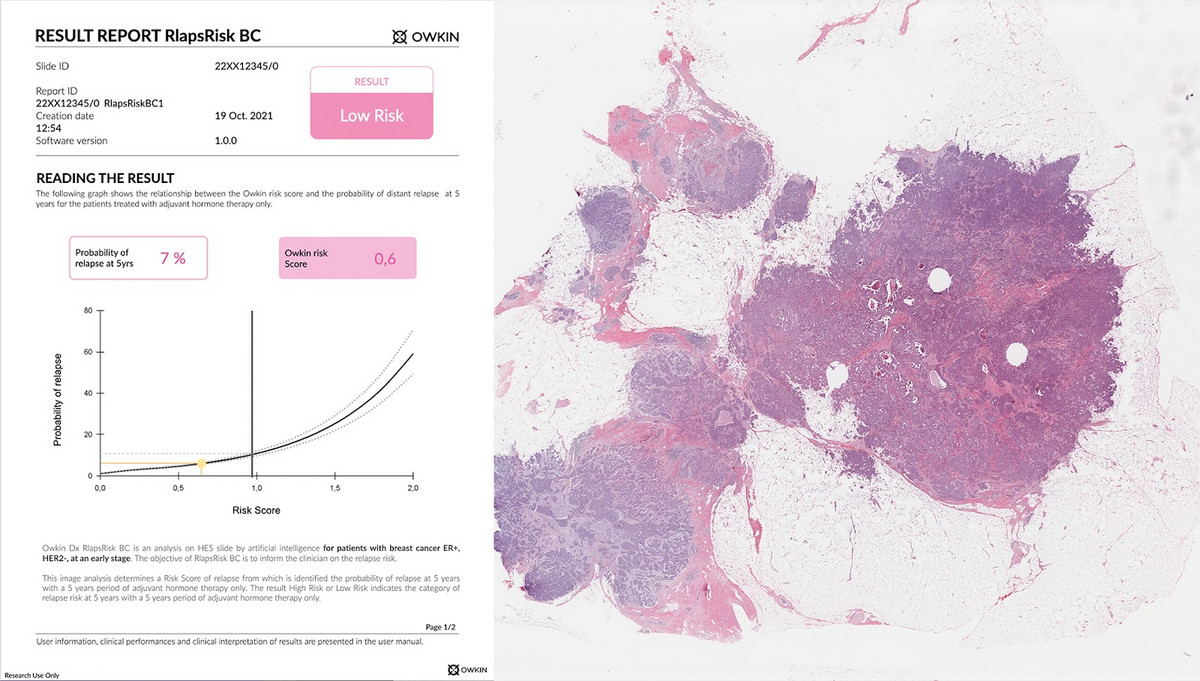 Caption: RlapsRisk BC provides an interpretability report to the pathologist with a risk score, derived from the most predictive regions of the histology slide. Image shown may represent the range of the product, or be for illustration purposes only and may not be an exact representation of the product.
With these goals in mind Owkin developed two diagnostics solutions RlapsRisk™ BC and MSIntuit™ CRC powered by AI designed to help oncologists to make precision medicine more accessible to patients at an earlier stage of their disease. Company's CDO Dr. Sefta believes that they could help millions of patients with breast or colorectal cancer to receive the therapies they need sooner. And today the company announced that these tools received CE-IVD (CE Marking for in vitro diagnostic (IVD)) approval for diagnostic use in the European Union. Let's have a closer look into these two solutions and what they may bring to the oncology field.
Owkin Dx RlapsRisk BC™ is the first digital pathology-based AI diagnostic approved for use in the EU that can predict the risk that early breast cancer patients will relapse after treatment. This information will help oncologists to decide which high-risk patients may benefit from targeted therapies and which low-risk patients could potentially avoid chemotherapy (and hardly pleasant side-effects of the treatment). The technology is powered by AI, which assesses the risk of relapse after treatment from digital images of tissue samples. Currently, breast cancer patients in the high risk group are identified through expensive, time-consuming molecular or genetic testing. And Owkin's technique offers doctors a way to identify patients at risk of relapsing by applying AI on digital pathology data that will already be held on nearly all breast cancer patients in around 15 minutes. An expert breast pathologist at Institut Gustave Roussy (Paris) Dr Magali Lacroix-Triki thinks that this would democratise access to precision medicine, unlocking a new era of treatment for patients across the world.
As for the second AI-driven solution, MSIntuit CRC™, it is also the first-in-class tool to get CE-IVD approval that enables the identification of microsatellite stable (MSS) patients from routine histology slides. The algorithm pre-screens for a biomarker in colorectal cancer tumours known as microsatellite instability (MSI) – a defect in a cell's ability to correct mistakes that occur when DNA is copied. This diagnostic rules out MSS phenotypes, allowing pathologists to concentrate their resources on confirming those patients who exhibit MSI. Use of an AI model to analyse digital images of tissue samples leads to more efficient screening of patients when compared to standard testing techniques, which include time and patient tissue sample-consuming polymerase chain reaction (PCR) testing or immunohistochemistry.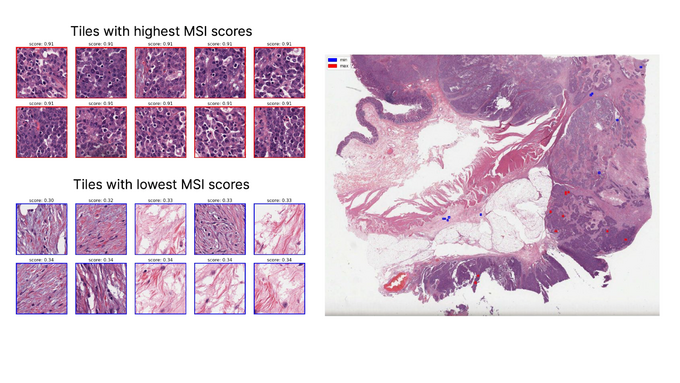 Caption: MSIntuit CRC provides an interpretability report to the pathologist, in which the most predictive regions found by the model on the histology slide are outlined.
As colorectal cancer is the third most common cancer in the world, it is crucial that doctors have the ability to screen patients for biomarkers that make them eligible for potentially lifesaving treatments. Sorbonne University professor at the Department of Pathology Magali Svrcek argues that screening should be performed on all colorectal cancer patients, but pathologists' time and resources are often too stretched. And Owkin's new AI diagnostic tool would be a vital solution to this, cutting out roughly half the number of cases requiring screening.
The innovative solutions by Owkin are a great illustration of how application of AI can revolutionise the field of oncology. And European Union CE-IVD approval of RlapsRisk and MSIntuit will make personalised medicine accessible to broader masses with help of these models.
Topics: Emerging Technologies