Ginkgo to Acquire Zymergen: Expansion of Automation, Data Science Tools and Beyond
Ginkgo Bioworks, the biotech firm with a platform for cell programming, recently entered into a definitive agreement to acquire a biotech company Zymergen, in an all-stock deal valued at about $300 million. This transaction will lead to the integration of Zymergen's automation, software, and data science tools, along with biological assets to enhance the opportunities of Ginkgo's platform.
Remarkably, both Ginkgo and Zymergen own a similar strategy: they combine biology and technology using cutting-edge genomics and automation approaches. According to Ginkgo, "biology is the best manufacturing technology on the planet", and Zymergen has an established platform, where they engineer microbes to make a wide range of compounds across a wide range of biological hosts. At the same time, both companies offer a list of lab automation solutions and the needed software.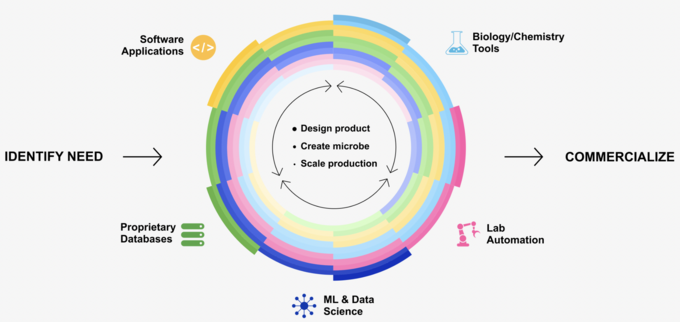 Image Credit: Zymergen
Through this deal, two firms who have a lot to offer each other and who believe that biology can revolutionize a variety of sectors, including manufacturing, agriculture and healthcare, will come together. Zymergen's machine learning and data science capabilities for examining both known and unknown genetic design space will be included by Ginkgo into its Foundry for scaling its strain engineering capacity. Ginkgo customers will also benefit from the expansion of Ginkgo's library of biological assets ("Codebase").
The announced agreement is the largest acquisition made by Ginkgo to date, and it is anticipated to greatly strengthen Ginkgo's platform by integrating automation and software capabilities. The shareholders of Zymergen will receive a fixed exchange ratio of 0.9179 Ginkgo shares for each Zymergen share, representing 5.25 percent pro forma ownership of Ginkgo. Another value, brought by Zymergen, is their experience across diverse biological engineering approaches, which is expected to complement the Ginkgo's expertise.
Ginkgo is a horizontal platform, serving customers across industries rather than producing its own products, and will support Zymergen's plans to evaluate strategic alternatives for their Advanced Materials and Drug Discovery businesses. Zymergen will also keep up its own cost restructuring measures, such as program and manpower optimization. Finally, as Ginkgo grows the platform, the inclusion of Zymergen staff is anticipated to assist in completing the projected employment plans. Ginkgo expects these actions to reduce incremental run-rate operational costs associated with the transaction.
"At Zymergen, our team has built a world class and innovative technology platform which will complement Ginkgo's cell programming capabilities" stated Jay Flatley, Chairman and Acting CEO of Zymergen.
Ginkgo Bioworks established a portfolio covering multiple industries, which allows them to keep their niche in the market space. At the same time, the very concept of bioreactors and manufacturing using the living cells, both bacteria and eukaryotic cells, was developed a long time ago and was already utilized at the beginning of the previous century.
Regardless of the "ancient roots" of the biomanufacturing principle itself, modern technology advances bring at least two sets of game-changing tools: firstly, gene engineering can be done in a faster and more effective manner, and, secondly, the whole process can be highly automated and optimized with the machine learning tools. The integration of machine learning approaches might become one of the main development directions for such industries for the upcoming decade.