AI Hunt for ALS Treatment Continues With 28 Novel Targets Revealed by Insilico Medicine
Insilico Medicine identified 28 new targets for the treatment of amyotrophic lateral sclerosis (ALS) using its proprietary AI-driven platform PandaOmics. Previously unreported 8 genes were shown to have functional connection with ALS and 64% of identified targets were successfully validated in a preclinical animal model. This gives a hope to solve an unmet need for ALS treatment.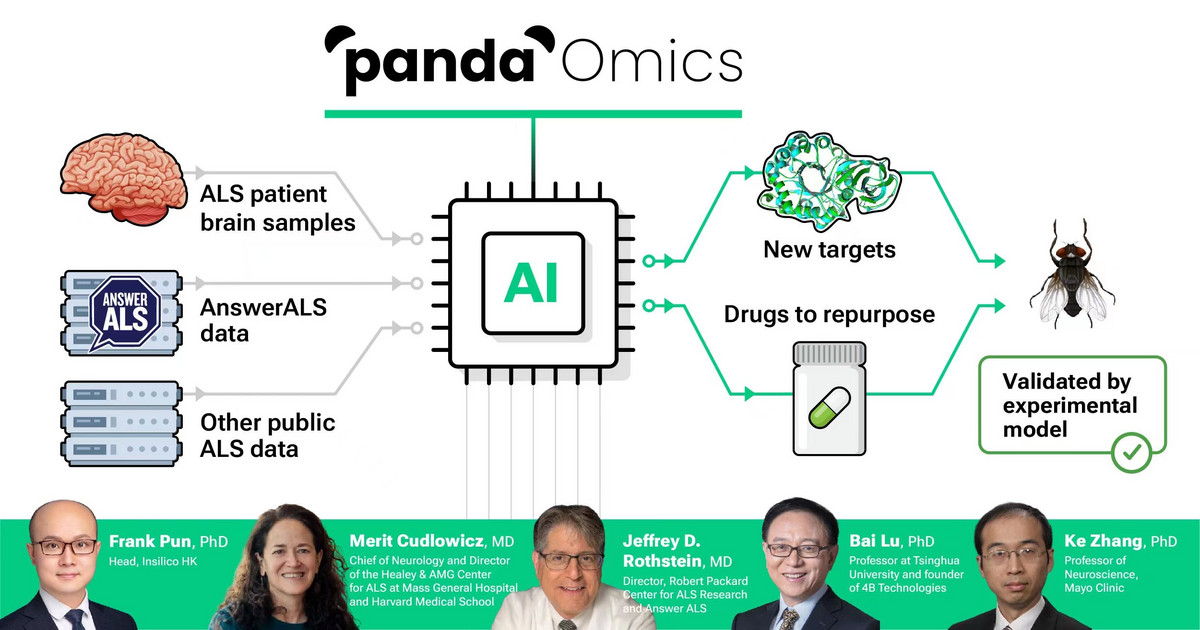 Image credit: Insilico Medicine
Amyotrophic lateral sclerosis (ALS), also known as Lou Gehrig's disease is a progressive neurodegenerative disease which affects nerve cells that control voluntary muscle movements. Affected patients gradually lose the ability to speak, swallow food and breathe, which is known to be irreversible. According to the ALS association, only in up to 10% of the ALS cases there is a family history of the disease, but for another 90% -- the reason stays unknown. It complicates both treatment and diagnosis of ALS, which is currently affecting more than 700,000 people globally.
There are generally two FDA approved treatments for ALS: edaravone and three different forms of riluzole. Riluzole was first approved in 1995 and later also presented in thickened and oral film forms; the drug acts as an inhibitor of glutamate release which helps to prolong the patient's life for approximately three months. On the other hand, approved in 2017 edaravone has an unknown exact mechanism of action in the treatment of ALS, but it was suggested that its therapeutic effect may be due to its antioxidant properties. It was originally approved to treat stroke – to protect the neurons from aggressive reactive oxygen species (ROS). To sum up, there are no approved drugs for ALS which would halt or reverse the loss of function, or target the exact mechanism or cause of the disease. That is why there is a remaining need in novel targets and drugs for ALS treatment.
The InsilicoMedicine's team recently leveraged massive datasets to find genes relevant to disease, which could serve as potential targets for new therapeutics. PandaOmics™, Insilico's proprietary AI-driven target discovery engine, helped analyze the expression profiles of central nervous system (CNS) samples from public datasets, and direct iPSC-derived motor neurons (diMN) from Answer ALS.
As a result of the study, 17 high-confidence and 11 novel therapeutic targets were identified, which were further tested in fruit flies animal model, mimicking the most common genetic cause of ALS. As a result of this study, 18 targets (64%) have been shown to have a moderate to strong effect on neurodegeneration. Notably, eight genes were reported for the first time as connected to the pathophysiology of ALS. Some of the genes were already tested for other neurological diseases and have available drugs. Generally, the identified therapeutic targets were mainly associated with the two fundamental cellular processes in the pathogenesis of ALS – proteostasis dysfunction and neuronal death, which is also linked with oxidative stress and inflammation. The discovery pipeline and target validation were described in Frontiers in Aging Neuroscience.
"It is exciting to see the power of AI to help understand ALS biology," said Merit Cudkowicz, MD, Chief of Neurology and Director of the Healey & AMG Center for ALS at Mass General Hospital and Harvard Medical School and corresponding author. "We immediately saw the potential to connect the Insilico team with the multidisciplinary Answer ALS team"
The study was led by Frank Pun, Ph.D., head of Insilico's Greater Bay Area team. Researchers from Mayo Clinic, University of Zurich, Tsinghua University, 4B Technologies, Johns Hopkins School of Medicine, Harvard Medical School and Buck Institute for Research on Aging also contributed to this study.
"The results of this collaborative research effort show what is possible when we bring together human expertise with AI tools to discover new targets for diseases where there is a high unmet need," said Alex Zhavoronkov, PhD, Founder and CEO of Insilico Medicine. "This is only the beginning."
Feng Ren, Ph.D., Co-CEO and CSO of Insilico Medicine mentioned "We are working with collaborators to progress some targets toward clinical trials for ALS. At the same time, we are also further expanding the utilization of PandaOmics™ to discover novel targets for other disease areas including oncology, immunology, and fibrosis."
The hunt for novel targets in ALS treatment started a while ago and significantly accelerated over the last 5 years. AI-driven drug discovery platforms which involve machine learning became the main "booster" in this field. Insilico Medicine is standing on a line together with other companies that use AI for ALS drug discovery, such as BenevolentAI. They claim to ​​apply their platform to identify additional targets to treat ALS and other neurodegenerative diseases, such as Parkinson's disease. At the same time, it is becoming more common to establish collaborations between big pharmaceutical companies, such as GSK, Sanofi and Merck with start-up and biotech companies which use AI for drug discovery. For example, a year ago Eli Lilly entered a three-year partnership with biotech company Verge Genomics to discover new therapies for ALS. So far, the results shown by AI-driven drug discovery platforms seem promising for the ALS patients, and hopefully with the AI-optimized drug design, improved understanding of the disease mechanisms, and improved clinical trials the market will meet a new drug for ALS treatment soon.
Topics: Novel Therapeutics