12 Notable AI-powered Biotech Companies Founded in 2021
Ever since the early 2000s, Artificial Intelligence (AI) has become a useful tool in various fields, from game design and speech recognition to powering driving cars and military applications. No wonder that big pharma companies are striving to keep up with technological progress and implementing AI in their internal R&D and business workflows.
Pharmaceutical giants are actively recruiting machine learning and AI experts: for instance, from January 2020 to June 2021 AstraZeneca had 676 job vacancies for AI tech specialists, being followed by Johnson & Johnson and Takeda Pharmaceuticals with 616 and 545 positions respectively. Another source of technological and artificial intelligence expertise comes from external vendors by collaborating with AI-powered startups and more established companies. The cumulative number of such collaborations has increased significantly over the 2016-2022 timeframe, from 29 to 314, and continues to grow. For instance, in January 2023 BioNTech announced its acquisition of InstaDeep, a leading global technology company specializing in AI and machine learning, in a deal worth approximately £362 million in cash and BioNTech shares.
Below is a chart illustrating the increasing number of R&D collaborations involving "big pharma" and AI-driven drug discovery companies (mostly startups and scaleups) from 2012 until 2022.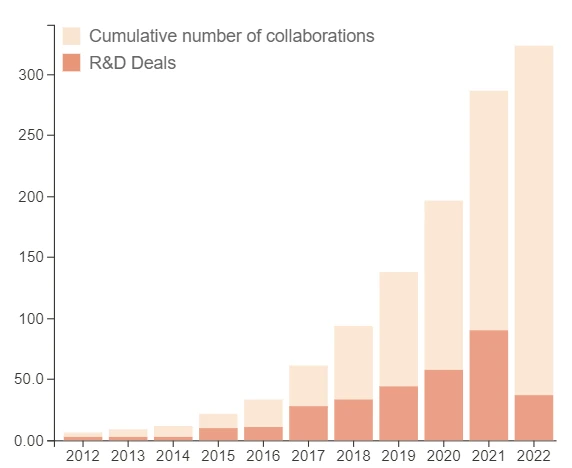 The world of AI-driven startups in biotech is rapidly evolving, according to "The Landscape of Artificial Intelligence (AI) in Pharmaceutical R&D" the number of AI-driven companies in drug discovery and development increased from 62 in 2011 to 400 firms in 2022. Some companies in this list offer AI-driven computational tools and services for the key stages of a drug discovery pipeline — from finding consumables and reagents for chemical synthesis to clinical development and biomarker discovery. Others are building internal drug discovery pipelines using advanced AI-driven drug design platforms.
In this post we have summarized an alphabetically-ordered list of 9 biotech companies that were founded in 2021-2023 and are developing innovative AI-powered solutions either for internal use or as a part of service offering to clients.
ArrePath is a dedicated company that has a clear mission of combatting antimicrobial resistance (AMR) by discovering new and unique classes of anti-infectives. Through the application of advanced imaging and AI/ML technologies, ArrePath aims to identify and develop novel drugs efficiently. Their drug discovery platform, driven by machine learning (ML) and imaging, enables the rapid identification of new drug classes with desired activity profiles and clinical utility. A significant focus of ArrePath's work is to gain a deep understanding of the mechanism of action at the early stages of the discovery process.
According to recent analysis from The Lancet and The GRAM Report, drug-resistant infections lead to a minimum of 1.27 million deaths each year. To address this global health challenge, ArrePath leverages a novel technology platform that decodes the complex behavior of bacteria when exposed to new chemical entities, a process known as 'bacterial autopsies.' This enables the efficient elucidation of biological mechanisms of action. With their proprietary machine learning and imaging technologies, ArrePath's platform empowers them to identify, optimize, and rapidly develop new classes of anti-infectives with distinct mechanisms of action compared to existing drugs.
In 2022 ArrePath secured a $20 million seed financing round. This investment will fuel the advancement of their machine learning-based platform for the discovery of novel anti-infectives, specifically targeting antimicrobial resistance.
This Austria-based company is designing novel proximity-inducing compounds (PICs™) that give scientists a unique opportunity to control biological function, to treat diseases with high unmet medical need. Their patent-filed approach uses active machine learning (ML) to predict biomolecular interactions and generate new chemical entities.
The wholly-owned pipeline is focused on degrader development in oncology and central nervous system disorders. The company has raised a total of €16.5M in funding over 5 rounds. For instance, in October 2022 the company received a total of EUR 12.5 million through the EIC Accelerator from European Comission, including EUR 2.5 million as a grant and EUR 10 million in financing.
This biotech startup with Clarissa Desjardins as a CEO, who was the founder and former chief executive of Montreal-based Clementia Pharmaceuticals. is working at the interface of computational and experimental drug discovery to design novel small molecules for diseases of protein misfolding.Combining the power of structural bioinformatics, computational chemistry, and machine learning, the company deploys an in silico platform that enables the design of new pharmacological stabilizers, a validated class of small molecules, at an unprecedented speed and scale.
In February 2022 Congruence Therapeutics succeeded to secure $50M in the Series A round of funding led by Amplitude Ventures and Fonds de solidarité FTQ to stabilize misfolded proteins, with an extension of series A in March 2023 acquiring additional $65M.
This startup is a subsidiary of Alphabet Inc. created in November 2021. According to the founder and CEO of Isomorphic Labs (and DeepMind) Demmis Hassabis, this commercial venture has a mission to "reimagine the entire drug discovery process from first principles with an AI-first approach and, ultimately, to model and understand some of the fundamental mechanisms of life".
In 2023 the company expanded its operations with the opening of a new office in Lausanne, Switzerland. The office is situated at EPFL's Innovation Park, a vibrant hub that accommodates 250 startups, scale-ups, and 30 innovation cells of large companies. With a diverse range of technologies represented, including AI, cyber security, nanotech, robotics, and life sciences, the location offers a dynamic environment for Isomorphic Labs to collaborate and thrive.
This US-headquartered startup aims to diagnose and cure diseases emanating from the NonExome. Company's researchers have identified mutations in nonexomal regions that are strongly associated with poorly diagnosed, poorly treated, or currently deemed incurable diseases. Integrating proteomics, transcriptomics and genomics data in the firm's platform, NonExomics has identified nonexomic disease-specific targets for 150 rare diseases, schizophrenia and bipolar neuropsychiatry disorders, and 22 types of cancer.
One year after its founding date in 2022, NonExomics has introduced a new technology aimed at exploring the "dark genome," a significant portion of human DNA that does not conform to traditional parameters and does not code for proteins. This dark genome, which accounts for up to 98% of human DNA, was not fully elucidated during the extensive Human Genome Project that spanned from 1990 to 2003. Despite the project's success in identifying over 1,400 disease genes, a comprehensive understanding of human DNA remained incomplete. The dark genome harbors hidden potential, including the presence of novel proteins that could potentially impact the activity of thousands of genes and influence diseases such as cancer, heart disease, bipolar disorder, and schizophrenia. Currently, therapeutic interventions primarily target the 2% of the human genome that codes for proteins. NonExomics aims to leverage their new technology to unlock the mysteries of the dark genome, enabling rapid diagnosis and treatment of various common diseases.
Omnia Biosystems' is a London-based biotech startup whose goal is to create a smart peptide therapeutics discovery system driven by neural networks to optimize time & financial spends. Inspired by computer-aided drug design, Omnia develops AI-based molecular drug design and currently has four candidates in the pipeline — three of them against various types of cancer and one designed to activate T cells. Company's platform BioPATH AI™ leverages the power of enabling technologies such as artificial intelligence and machine learning to improve prediction accuracy on therapeutic outcomes, and offer Omnia's partners the opportunity to diversify drug pipelines using a cost-effective model.
In September 2022, NGen, the industry-led organization responsible for Canada's Global Innovation Cluster for Advanced Manufacturing, has disclosed its commitment of $10.5 million towards a $34.8 million project led by OmniaBio Inc., along with collaborative partners ExCellThera, MorphoCell Technologies, Aspect Biosystems, and CATTI.The project consortium will collaboratively work on the development of technologies with a specific focus on automated and closed-system manufacturing.
Germany-based company Perspix Biotech is radically changing the development of multi-functional biotherapeutics bridging end-to-end automation of lab unit operations with AI driven protein engineering. The proprietary Perspix Platform accelerates the development and optimization of novel biomolecular drug candidates to several months instead of years. In the process, massive data sets are created and are used to train Perspix's AI core. It is this combination of in-silico solutions with fully automated wet lab processes which leads to heavily increased efficiencies and which delivers substantial reductions in development cost and time.
Profluent is an innovative company from Califorthat has recently emerged in the field of protein design. With a successful $9 million seed round led by Insight Partners and contributions from Air Street Capital, AIX Ventures, and Phoenix Venture Partners, Profluent is poised to make a significant impact. The company is revolutionizing protein design by harnessing the potential of deep generative models to understand the intricate language of biology. The objective of protein design is to develop novel and improved proteins tailored for specific applications. This could pave the way for groundbreaking advancements such as long-lasting disease cures that are not bound by patent restrictions or the creation of enzymes capable of breaking down non-recyclable plastics. Traditionally, protein design has relied on time-consuming searches for existing proteins in nature or the trial-and-error approach of introducing small modifications to achieve desired outcomes. Profluent, however, leverages the power of generative artificial intelligence models to tackle this challenge. Similar to language models used for text, Profluent's models are trained on extensive datasets and learn from sophisticated and creative objective functions. Rather than learning adjectives and nouns, these models learn the language of the genetic code, opening up exciting possibilities in the realm of biomolecular design.
The startup company has created an AI-priven drug discovery platform for pharma, biotech and academia that covers the whole drug discovery pipeline in a flexible and scalable manner. Our AI solutions are tailored to discover novel drug candidates for the most challenging diseases with high success rates in clinical trials.Receptor.AI's mission is to create superior drugs, which are safe, efficient and successful in clinical trials by developing a next generation drug discovery platform based on the synergy of AI, computational chemistry and biomimetic technologies, such as organs-on-a-chip.
This year Receptor.AI introduced its flagship AI model for structure-based drug discovery, called 3DProtDTA. This model utilizes advanced ML techniques to accurately predict drug-target interactions, offering valuable insights into affinity and related biological activity. The model incorporates a unique graph-based representation of both proteins and ligands, capturing essential connectivity and spatial arrangement information without imposing excessive computational burden. By leveraging AlphaFold's predicted protein structures, 3DProtDTA covers a significant portion of the protein universe, allowing comprehensive analysis of the human proteome. The model has been extensively validated and outperforms several state-of-the-art methods in benchmark datasets. Receptor.AI continues to enhance its technologies, offering customers the latest advancements in the field of drug discovery.
TandemAI is an advanced technology company dedicated to reinventing drug discovery infrastructure. To deliver turnkey drug discovery solutions, the company is integrating proprietary AI-powered, high-performance computation with its efficient, large-scale in-house wet lab operations. TandemAI has built its networked platform from the ground up in the United States and China to increase the speed of drug discovery and deliver cost-effective opportunities to its partners and to the global scientific community.
In March 2023, TandemAI, a technology company dedicated to revolutionizing drug discovery infrastructure, revealed that it has secured $35 million in Series A financing. The funds will be used to enhance and expand TandemAI's drug discovery service platform, which seamlessly integrates cutting-edge computational tools with wet lab biophysics, medicinal chemistry, and biology. The financing round was led by Qiming Venture Partners.
Unlike traditional methods that rely on random screening and chance discoveries, Vilya's computational design platform leverages cutting-edge machine learning and other computational approaches to explore a significantly larger chemical space. This allows the company to design novel molecular structures, ranging in size between small molecules and antibodies, with critical drug-like properties. These custom-designed molecules possess the ability to move through biological membranes, disrupt protein-protein interactions, and exhibit high selectivity for their protein targets. As a result, Vilya can target previously challenging-to-drug therapeutic targets across a broad range of indications.
With $50 million in committed Series A financing led by ARCH Venture Partners, Vilya has assembled a team of accomplished scientific members and advisors spanning data science, synthetic chemistry, drug development, and company building. Their goal is to leverage their advanced machine learning platform to precisely target disease biology and develop medicines with enhanced drug-like properties.
Zephyr AI is a high-growth healthcare technology company committed to radically rebuilding drug discovery and precision medicine from the ground up. By harnessing the power of next-generation artificial intelligence and machine learning to sort through massive data sets, Zephyr AI empowers the healthcare system with the advanced analytical tools to redefine drug development, streamline clinical trials, and revolutionize the treatment of cancer, diabetes and other diseases.
And the company continues working towards their goals in 2022, as Zephyr AI has already raised $18.5 M in seed funding and announced a strategic partnership in oncology with Next-Immune this year.
In February 2023 the company started a collaboration with M2GEN, a bioinformatics company specializing in oncology research. This collaboration aims to accelerate drug discovery efforts and broaden investigations into the use of cancer treatments. By leveraging M2GEN's industry-leading data and analytics capabilities and Zephyr AI's innovative AI technologies, the partnership seeks to advance research in oncology and ultimately improve the lives of patients through more effective and personalized cancer therapies.
References:
https://www.pharmaceutical-technology.com/features/which-companies-are-leading-the-way-for-artificial-intelligence-in-the-pharma-sector/
Topics: Biotech Companies