Top Companies At The Forefront Of RNA Therapeutics Development
Alongside the topic of gene editing technologies that keeps making headlines these days, there is also a wave of breakthroughs in the field of RNA-targeting medicines, primarily falling into the following two categories: antisense oligonucleotides (ASO), and RNA interference (RNAi) technologies. (another promising approach, dealing with editing RNA itself by ADAR enzymes, is not covered in this post).
Let's start with the first approval of antisense drug for treating Spinal Muscular Atrophy (SMA), Spinraza, announced in 2016. SMA is a fatal neurodegenerative disease caused by a malfunctioning of SMN2 protein -- it affects on average 1 in every 10.000 people globally. Researchers from Ionis and Biogen managed to reverse the effect of the genetic error at the stage of RNA splicing. The drug works through binding to the target mRNA sequence forcing exon, which is being skipped by an error in the genome, to be translated into a full-length protein. Approval of Spinraza has changed the situation with RNA-targeted therapies, resurging the field which was largely abandoned by investors in the mid-2000s. In 2016 the market was also replenished with Exondys 51, a drug by Sarepta Therapeutics, targeting Duchenne Muscular Dystrophy (DMD).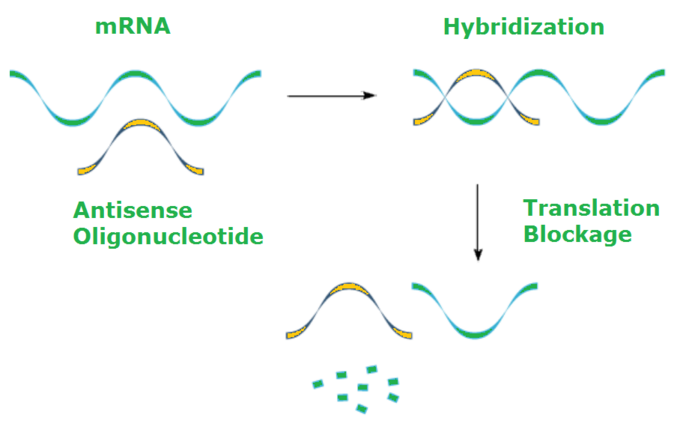 Currently, biotech companies are interested in addressing rare genetic disorders. One of them is Triplet Therapeutics, which has raised $59 Million at the end of 2019 for development of transformative treatment for Huntington's Chorea along with other triplet repeat disorders. Another biotech start-up Neubase Therapeutics, founded in 2018, is also worth noting here, as their Janus Base technology was recognized in The Scientist as a Top 10 Innovation of 2019. "Janus" nucleobases enable targeting double-stranded DNA and secondary structures of RNA, making the drug delivery and manufacturing more convenient. GeneTx, Ultragenyx and ProQR also ride an emerging wave of biotech startups targeting rare diseases, moreover, all eight ASO therapies that have been approved to date are for treating rare disorders.
ASO technology has proved its capability to empower personalized medicine as was illustrated by a fascinating story of Mila's treatment case. Mila, a 7-year-old born girl, carries a previously unknown unique mutation in her genome causing the progression of Batten disease. Strikingly, it took only eight months for Timothy Yu to develop a tailor-made medicine for Mila (so-called Milasen), saving her from deadly disease. Dr. Yu used the same morpholino backbone as in the earlier antisense drug that took Ionis decades to advance to clinical trials and marketing stage. This illustrates that once a technology is optimized, creating antisense therapies for new targets in a short time period may become a common practice. As Eric Topol, a founder and director of Scripps Research Translational Institute, recently tweeted about antisense technology: "The era of hyper-personalized drugs is upon us".
The RNA interference (RNAi) is a conceptually similar but mechanistically different approach, that was discovered in 1998 and won Andrew Fire and Craig Mello the Nobel Prize in 2006. RNAi is a process by which cells regulate the expression of proteins at the stage of translation using complementary silencing of mRNA. Diser is the enzyme that cuts double-stranded RNA into short siRNA or miRNA with 20-25 oligonucleotides long. These small RNA molecules then bind Aro protein and form RISC (RNA induced silencing complex) disrupting mRNA or inhibiting translation.
First RNAi drug, Onpattro, intended to cure hereditary transthyretin amyloidosis (hATTR), was approved in 2018, followed by second approval of Alnylam's medicine Givlaari in 2019, and the third their drug is anticipated to be in the market soon. Alnylam also developed Inclisiran, the cholesterol-lowering drug, which is currently a lead product of The Medicines Co., acquired by Novartis for around $9.7B.
The discovery of the GalNAc delivery system was groundbreaking, as this amino sugar moiety can easily penetrate liver cells, hepatocytes -- a frequent target for many clinical candidates. Dicerna Pharmaceuticals has three clinical candidates delivered using GalNAc, however, targeting organs outside the liver is still a challenge for RNAi-focused companies. Arrowhead has ambitious plans to start testing RNAi-based therapies in solid tumors, lung and muscle diseases by the end of 2020. Arrowhead CEO Christopher Anzalone believes it will raise the company's market valuation to nearly $6 billion.
About a hundred investigational RNA-targeted therapies are in the pipelines today. A series of events, including the approval of RNAi drug Patisiran (Onpatto) and antisense oligonucleotide Nusinersen (Spinraza), and especially development of Milasen drug -- all have marked the point when RNA targeted therapies are taking off. The RNA medicines are an alluring technology for several reasons: the potential possibility of shortening the drug development time down to months instead of years; it could be applied for intractable diseases that are hardly treatable with conventional therapies; and in opposite to gene editing, the action of RNA targeted therapies are reversible that largely mitigates potential risks of side effects.
Topics: Industry Trends Biotech Startups