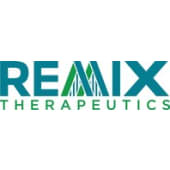 Founded
2019
Geography
United States of America based
Funding
$81 M
Remix Therapeutics is a biotechnology company developing novel small molecule therapies designed to reprogram RNA processing and treat disease in entirely new ways.
Posts Mentioning This Company
R&D Platform
For decades, drug discovery has centered on targeting proteins to treat disease. While we've made great strides with this approach, we are quickly reaching the limits of what is easily druggable. It's time for a new set of tools to not only treat disease in new ways, but treat diseases more effectively.
Pipelines
No pipelines published yet
Services
No services posted yet