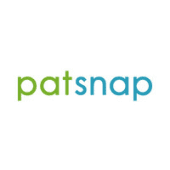 Founded
2007
Geography
Singapore based
Funding
$351.602 M
PatSnap has brought together the world's most comprehensive R&D dataset in one easy to use platform to help innovation leaders analyse tech trends, assess new opportunities, conduct competitor intelligence and maximise return on IP assets. By combining millions of data points from patents, licensing, litigation and company information with non-patent literature, PatSnap provides the world's most innovative organisations with a new intuitive source of information to accelerate their R&D.
Intellectual Property Management Competitive intelligence IP consulting Patent search
R&D Platform
Our connected innovation intelligence platform allows users to quickly filter through data, extract key insights, identify market opportunities and make better business decisions.
Pipelines
No pipelines published yet