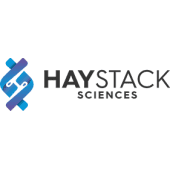 Founded
2015
Geography
United States of America based
Funding
$4.200 M
Haystack declares that synthesized some of the most diverse and drug-like chemical libraries on earth. Haystack utilizes the nDexer™ platform for compound ranking and provides a rapid refinement of compounds libraries. Haystack applies machine learning to develop a model of ligand-protein interactions. With their proprietary methods, Haystack discovers drugs for difficult-to-treat disorders.
Posts Mentioning This Company
R&D Platform
Haystack's approach focuses on synthesizing, breeding and analyzing large, diverse combinatorial chemical libraries encoded by unique DNA sequences called DNA-encoded libraries, or DELs.
Pipelines
No pipelines published yet
Services
No services posted yet