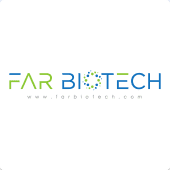 Founded
2016
Geography
United States of America based
Owner and operator of a biotechnology research company intended to accelerate drug discovery in areas with high unmet clinical need. The company's research services utilize proprietary quantum bio-chemistry platform to discover compounds that are active against novel, unrelated therapeutic targets associated with various cancers, neurodegeneration conditions and some rare and neglected diseases, enabling doctors to treat liver-stage malaria and African sleeping sickness.
Quantum biomodeling
Posts Mentioning This Company
R&D Platform
FAR Biotech's novel drug discovery technology blends existing empirical lab data with powerful machine learning algorithms to deliver a significantly faster discovery cycle at a fraction of the cost of typical drug development.
While most start-ups are typically single target ventures, FAR Biotech has developed a portfolio of diverse therapeutic targets and novel bio-active compounds that could be monetized on a stand-alone basis or as a pipeline.
Pipelines
No pipelines published yet
Services
No services posted yet