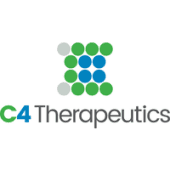 C4 is building on the knowledge with synthetic chemical compounds which it calls Degronimids. These compounds can be engineered and linked together to bind with many molecular targets that today's drugs can't bind with, Cohen said. The key insight, he said, is that the scientific founders have discovered a way to bind with select disease-causing proteins, and flag them as cellular trash, so that the ordinary proteasome garbage disposal system can get rid of them. Selecting the precise disease-related proteins to send to the trash is obviously critical, because any drug like this could cause serious side effects if it sent healthy proteins involved in normal cell processes to the trash.
C4 Therapeutics is developing a new class of targeted protein degradation (TPD) therapeutics for the treatment of a broad range of diseases. Our Degronimid™ platform incorporates highly selective small molecule binders to target disease-causing proteins and facilitate their rapid destruction and clearance from the cell through the natural ubiquitin/proteasome system (UPS). Because of this distinctive mechanism, Degronimids are capable of hitting many more targets, including those previously thought to be undruggable, while reducing the potential for drug resistance. The broad applicability of Degronimids, and our chemical biology platform designed for accelerated validation, have the potential to make an unprecedented impact across many diseases through multiple industry collaborations as well as proprietary programs.
The Company has received an exclusive worldwide license to the Degronimid platform and related IP from Dana-Farber.
Targeted Protein Degradation