Black Diamond Therapeutics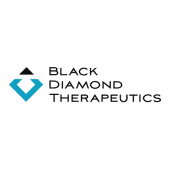 Founded
2014
Geography
United States of America based
Funding
$197.100 M
Black Diamond Therapeutics Inc. is a venture-backed biotechnology company focused on the discovery and development of precision medicines for cancer that are directed against a novel class of allosteric mutant oncogenes.
precision oncology
Posts Mentioning This Company
R&D Platform
The Company's proprietary technology platform, Mutation-Allostery-Pharmacology, or MAP, platform, is designed to allow Black Diamond to analyze population-level genetic sequencing data to identify oncogenic mutations that promote cancer across tumor types, group these mutations into families and develop a single small molecule therapy in a tumor-agnostic manner that targets a specific family of mutations.
Pipelines
None
These include extracellular domain allosteric mutations of HER2, as well as EGFR and HER2 kinase domain exon 20 insertions, and additional activating oncogenic drivers of EGFR/HER2. The EGFR/HER2 receptors are a group of receptor tyrosine kinases involved in key cellular functions, including cell growth and survival. These mutations are prevalent across a range of tumor types and cancers including in bladder, breast, colon, endometrial, gastric, and non-small cell lung cancer.
Currently, there are no medicines approved by the U.S. Food and Drug Administration (FDA) to target all of these oncogenic mutations with a single therapy. Black Diamond is enrolling and dosing patients in the MasterKey-01 Phase 1/2 clinical trial. The Phase 1 portion of the trial is evaluating escalating doses of BDTX-189 and is designed to determine the recommended Phase 2 dose and schedule. The Phase 2 portion will determine the objective response rate (ORR) and duration of response in patients with solid tumors that have an allosteric HER2 mutation or EGFR or HER2 exon 20 insertion mutation using next-generation sequencing (NGS).
BDTX-1535
Glioblastoma (GBM) is a difficult-to-treat, aggressive type of cancer that can occur in the brain or spinal cord. Current therapy consists primarily of surgical resection of the tumor, followed by radiation and chemotherapy.
Almost 50 percent of GBM tumors express one or more allosteric EGFR mutations that affect the extracellular region of the receptor tyrosine kinase, consequently promoting oncogenic activation. Although the disease appears to be genetically defined, there are no precision oncology medicines approved to treat these patients. We believe that current targeted therapies have been unsuccessful in treating GBM due to (i) the concurrent expression of these allosteric EGFR mutations within individual patients, (ii) insufficient drug potency for allosteric EGFR mutations, and (iii) low levels of brain penetration. BDTX-1535 is designed to be potent, allosteric EGFR selective and to be brain penetrant. We have observed measurable brain exposure in animal models.
Services
No services posted yet