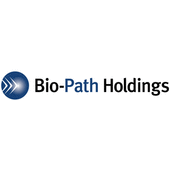 Founded
2011
Patents
6
Clinical Trials
6
Publications
2
The Company's initial focus is on cancer. Bio-Path's lead product candidate, Liposomal Grb-2, is in a Phase I study for blood cancers. Bio-Path's second drug candidate, also a liposomal antisense drug, is ready for the clinic where it will be evaluated in lymphoma and solid tumors.
Much progress has been made in the development of nucleic acid drugs, however, delivering these molecules directly to target cells, without side effects, continues to be a challenge for pharmaceutical developers. Bio-Path's proprietary neutral-lipid delivery technology confronts this challenge and has the potential to revolutionize the treatment of cancer and other diseases where the disease targets are well characterized.
Bio-Path was founded with technology licensed from The University of Texas MD Anderson Cancer Center and maintains a strong working relationship with the Cancer Center. Intellectual property includes composition of matter for antisense that enables systemic delivery of antisense drug substance through a patient's vascular system.