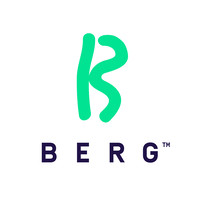 Founded
2006
Geography
United States of America based
Funding
$1.300 M
BERG is a Boston-based biopharma company focused on taking a bold "back to biology" approach to therapeutic discovery using its unique AI-based Interrogative Biology® platform.
This platform combines patient biology and artificial intelligence-based analytics to engage the differences between healthy and disease environments. The patient's own biology drives the platform's results and guides us in the discovery and development of drugs, diagnostics and healthcare applications. Our platform utilizes patient population health data to bring actionable Patient IntelligenceTM to precision medicine applications. This means faster discovery and development of treatments, more effective precision treatments for individuals as well as a reduction in costs to our healthcare systems.
Posts Mentioning This Company
R&D Platform
Analyze data from patient samples in both healthy and diseased states to generate novel biomarkers and therapeutic targets. Allows researchers to: Generate therapeutic targets from biological data in an unbiased way, and implement personalized medicine at scale.
Pipelines
BPM31510
BPM31510 (ubidecarenone) is BERG's leading product candidate. BPM31510 works by correcting cancer cell metabolism, thereby reactivating apoptosis.
BPM31510 is currently progressing through clinical trials for the treatment of a number of solid tumors. Early phase trials have appeared to demonstrate anti-tumor activity with an acceptable safety profile.
The U.S. Food and Drug Administration (FDA) granted Orphan Drug Designation to BPM31350 for the treatment of pancreatic cancer and epidermolysis bullosa in January 2018 and May 2018, respectively.
BPM31510 is also being tested in a type of brain tumor called glioblastoma multiforme, a type of skin cancer called squamous cell carcinoma, a number of other solid tumors and a skin disorder called epidermolysis bullosa.
BPM31543
BPM31543 (calcitrol) is a first-in-class topical compound currently in clinical development for the treatment of chemotherapy-induced hair loss (alopecia).
BPM31543 manipulates gene expression in hair follicles, keeping cells in the growth phase and making them resistant to chemotoxic agents.
BPM31543 has appeared to show promising results in an early phase study.
None
BERG's Interrogative Biology® platform identifies novel disease drivers and actionable targets. The preclinical and drug discovery programs that follow are focused on using fragment-based ligand discovery campaigns to identify hit fragments. Using a combination of structure-guided drug design and pharmacophore-based approach, the team develops lead molecules that are subjected to proof of concept studies in appropriate in vivo models, extensive optimization for metabolism, pharmacokinetics, and elimination of toxicophoric liabilities. The use of the fragment-based discovery has enabled efficient hit to lead programs for novel targets that were hitherto considered to be not druggable.
Services
No services posted yet