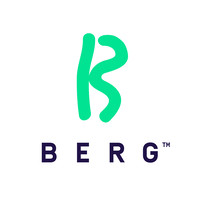 Founded
2006
Geography
United States of America based
Funding
$1.300 M
BERG is a Boston-based biopharma company focused on taking a bold "back to biology" approach to therapeutic discovery using its unique AI-based Interrogative Biology® platform.
This platform combines patient biology and artificial intelligence-based analytics to engage the differences between healthy and disease environments. The patient's own biology drives the platform's results and guides us in the discovery and development of drugs, diagnostics and healthcare applications. Our platform utilizes patient population health data to bring actionable Patient IntelligenceTM to precision medicine applications. This means faster discovery and development of treatments, more effective precision treatments for individuals as well as a reduction in costs to our healthcare systems.
Posts Mentioning This Company
R&D Platform
Analyze data from patient samples in both healthy and diseased states to generate novel biomarkers and therapeutic targets. Allows researchers to: Generate therapeutic targets from biological data in an unbiased way, and implement personalized medicine at scale.
Pipelines
No pipelines published yet
Services
No services posted yet