How Lithuania's Deep Tech Ecosystem Is Fueling the Country's Life Sciences Boom
From gene editing and artificial intelligence (AI)-driven protein design, to cutting-edge 3D bioprinting, tissue engineering and microfluidics – Lithuania appears to be a home for a vibrant ecosystem of companies bridging deeptech and biology research. According to Invest Lithuania, a government-owned non-profit agency, the country is home to more than 600 life science companies, including large R&D centers of some global enterprises like Thermo Fisher Scientific and Teva.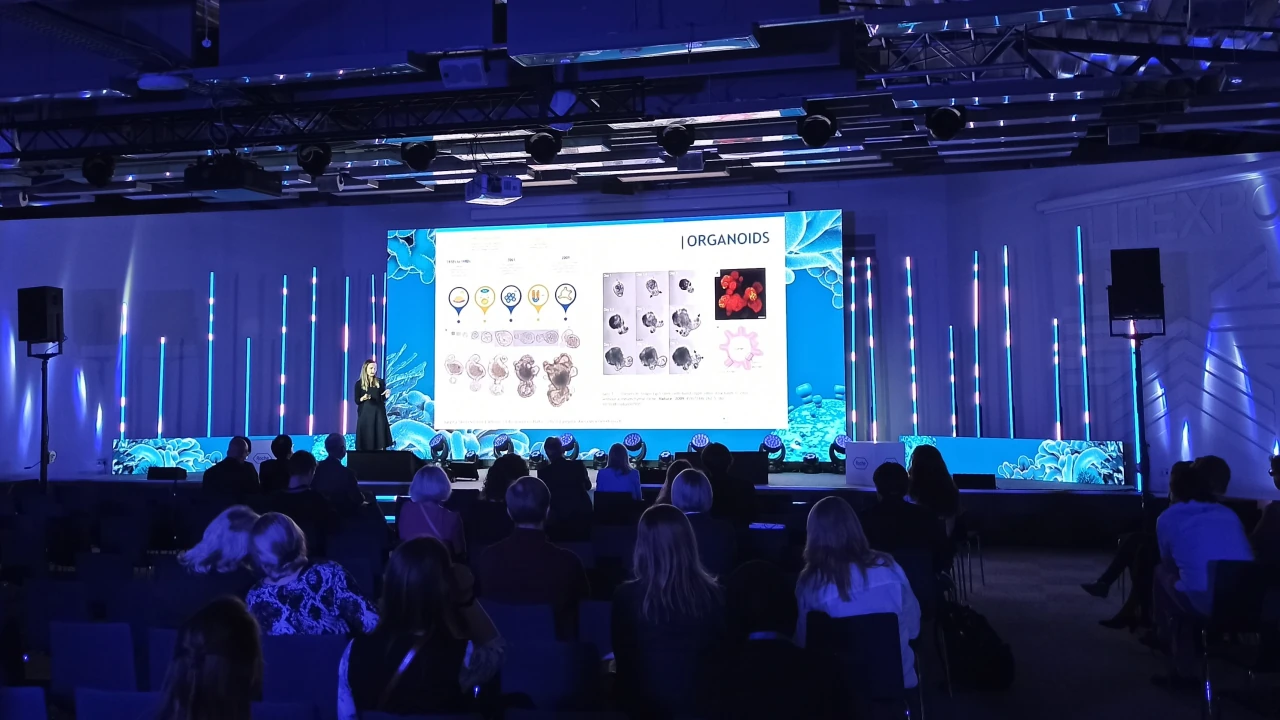 Prof. Jurgita Skiecevičienė, Chief Researcher at Lithuanian University of Health Sciences, Institute for Digestive System Research talks about innovations in developing intestinal organoids at the Life Sciences Baltics 2023. Image credit: Andrii Buvailo/BiopharmaTrend.
During a recent Life Sciences Baltics 2023 conference, a gathering of more than 800 attendees from 40 countries, BiopharmaTrend met with Lithuania's industry leaders and government-led organizations to find out about the blossoming local healthcare deeptech ecosystem and a secret sauce of the country's boom in life sciences. According to Innovation Agency Lithuania, a government-founded public consultancy, the country is Europe's fastest-growing life sciences hub – reaching already close to 3% of country's GDP.
Biotech ecosystem builders
As BiopharmaTrend learned from Innovation Agency, one of the catalyzing factors transforming Lithuania's life sciences landscape can be attributed to Thermo Fisher Scientific's foray into the country. The US life sciences behemoth, boasting a 2023 market cap exceeding $200 billion, made its Lithuanian debut in 2010 by purchasing the biotech firm Fermentas International for $260 million. The acquired firm was initially established in 1975 as an enzymology institute during the era of the Soviet Union, but the Vilnius location transitioned into Fermentas International, a producer of restriction enzymes, in 1994.
Now, Thermo Fisher operates a significant hub in Vilnius, the capital, which underwent expansion in 2020. This facility employs more than 1,800 professionals dedicated to biotech R&D and protein manufacturing, as well as qPCR, next generation sequencing, genotyping, and cell therapies. Historical focus on protein research and manufacturing largely influenced Lithuania's unique ecosystem of talent and companies.
For instance, one of the Lithuanian deeptech startups, Biomatter, applies generative AI in combination with Physics to design novel proteins for healthcare and sustainable manufacturing. Biomatter (formerly Biomatter Designs) applies their Intelligent Architecture™ platform for reengineering protein sequences or designing structures from scratch, able to reach sub-angstrom precision and targeting multiple properties at once.
Biomatter is riding a growing trend in biotech industry, as some 71% of biodevelopers are actively working on or expressing interest in protein engineering, according to one survey recently published on BiopharmaTrend. This interest spans a diverse range of applications, including enzymes, antibodies, short peptides, and gene regulatory proteins.
In a conversation with Dr. Monika Paule, co-founder and CEO of Caszyme – one of Lithuania's biotech 'success stories' – she explained that Lithuania's history in protein production paved the way for advancements like CRISPR-based gene editing. The country, via Fermentas, became a global supplier of restriction enzymes, equipping Lithuanian researchers with vital protein production skills.
Kavli Prize laureate Prof. Virginijus Šikšnys, Lithuania's renowned scientist from Vilnius University, is recognized for his contributions to the groundbreaking CRISPR-Cas9 gene-editing technology – alongside other CRISPR luminaries like Jennifer Doudna, Emmanuelle Charpentier, Feng Zhang and Francisco Mojica. In 2017, Šikšnys co-founded Caszyme together with Paule and their colleague Dr. Giedrius Gasiūnas. The company develops CRISPR/Cas-based tools for various applications, having a library of more than ninety Cas9 orthologs. Caszyme is also venturing into CRISPR-Cas12 proteins, differing from Cas9 in DNA interaction and potential applications.
According to Dr. Paule, applications of Caszyme's CRISPR-based tools range from diagnostics and therapeutics development to agriculture, synbio and even helping deal with climate change. Besides running Caszyme, Dr. Paule is also sitting on the board of Association LithuaniaBIO, a non-government organization actively promoting the wider application of life sciences and biotechnology in the Lithuanian economy, and representing more than 40 local companies and 8 leading academic institutions in the country.
On a broader scale, a combination of factors and historical events led to formation of a unique life science ecosystem with a lot of talent to chose from. Based on data from Invest Lithuania, 56% of Lithuanians possess a higher education degree, placing them second in the EU. Moreover, a quarter of students gravitate towards STEM disciplines. This small country is home to some 15,000 researchers and scientists, with around half being in life sciences.
One of the important factors favoring the growing dynamics of the Lithuanian life science sector is the country's government which seems to go a long way making life easier for business, especially with a scientific focus. For instance, Lithuania has seven Free Economic Zones (FEZs) offering businesses a 10-year corporate tax exemption, then a 7.5% rate for six years. Until 2045, these companies avoid real estate tax, and foreign investors in FEZs are exempt from dividend tax. State support for major investments includes a 20-year tax relief and expedited processes. The "patent box" initiative grants a 5% IP profit tax rate. Notably, zones like KTU Santaka Valley in Kaunas and Vilnius' science valleys cater to pharma and life sciences.
Tech meets bio in Lithuania
Favorable conditions for starting and running business, availability of local life science talent with skills in biotech, medtech and digital technologies, and a generally entrepreneurial vibe in the country -- all these factors stimulated a growing vanguard of companies merging cutting edge technologies with basic biology research.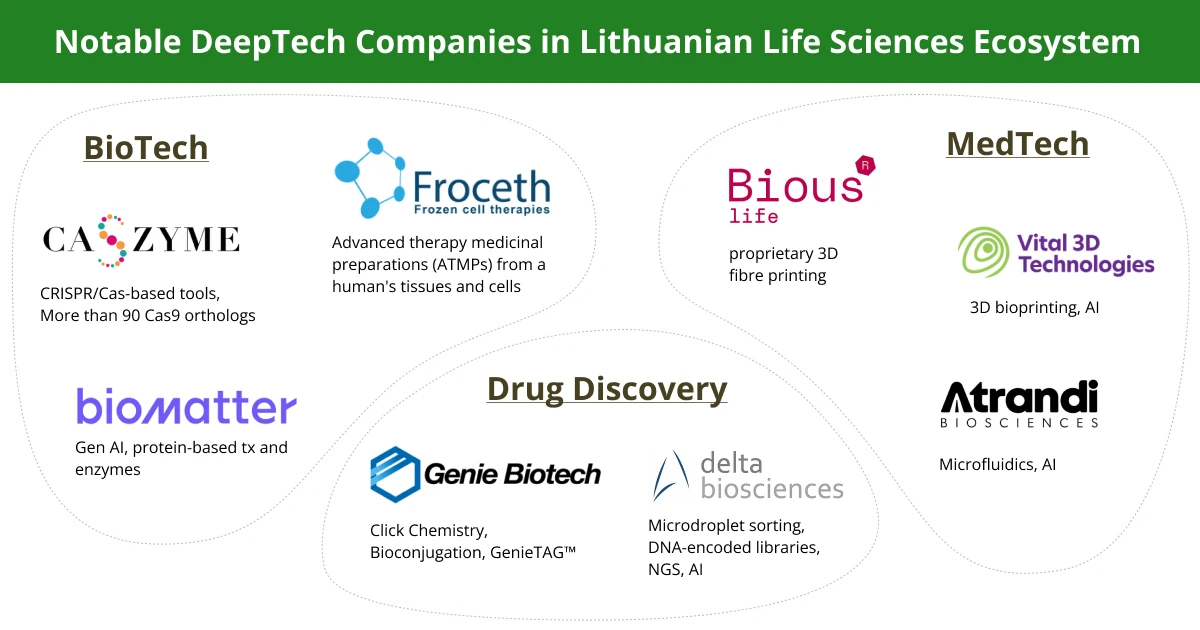 Here is a BiopharmaTrend's pick of several notable deeptech companies in Lithuania, among many others showcasing at Life Sciences Baltics 2023. Image credit: BiopharmaTrend.
As BiopharmaTrend talked to at least a dozen such companies during Life Science Baltics 2023, it became clear the country's life sciences sector is constantly fueled by a growing ecosystem of deeptech startups with scalable innovations in biotech, drug discovery, medtech and digital health.
For instance, Vilnius-based Delta Biosciences, a rising star in Lithuania's startup scene, leverages microfluidics, DNA tags, and artificial intelligence to expedite drug screening.
Genie Biotech is a biotechnology company located in the UK, and Vilnius, Lithuania, that specializes in novel bioconjugation platform technologies to create novel biologic drugs. The startup's patent pending technology GenieTAG™ is based on click chemistry.
Vilnius-based Atrandi Biosciences offers innovations in high-throughput analysis technologies, focusing on droplet microfluidics. This core technology compartmentalizes molecular reactions into millions of pico-liter droplets, allowing detailed study at the single-cell and molecule level. Their approach integrates life sciences, engineering, and machine learning. The company raised a total of $4.8 million in a Series A, and employs more than fifty people.
Kaunas-based Bious Life Sciences offers innovative technology that merges solvent-free and solvent-based electrospinning with 3D printing to create unique 3D cell culture scaffolds.
Kaunas, the Lithuania's second-largest city, is a medtech epicenter, fueled by the engineering talent emerging from Kaunas University of Technology. The institution consistently produces engineering graduates skilled in medical device development.
Topics: Biotech Companies