MIMETAS' Recent Milestones in Advancing Drug Discovery Through Organ-on-a-Chip Technology
As the pharmaceutical industry seeks innovative solutions for preclinical development, organ-on-a-chip technology has gained significant traction in recent years. This groundbreaking approach, which emerged in the early 2000s, involves the creation of miniaturized, three-dimensional cell cultures that replicate human organ function within microfluidic devices. These devices, composed of intricate networks of tiny channels and chambers, facilitate the precise control of cellular microenvironments and fluid flow. By simulating the complex biochemical and mechanical interactions between cells, tissues, and vasculature, organ-on-a-chip technology provides a more accurate and physiologically relevant model for drug testing and disease modeling. By providing more accurate and physiologically relevant models for drug testing, this technology holds the promise of streamlining the drug discovery process, reducing the reliance on animal testing, and ultimately improving patient outcomes.
Netherlands-based MIMETAS, a leader in human disease modeling and organ-on-a-chip technology, announced a strategic partnership with Astellas Pharma Inc, where the latter aims to utilize MIMETAS' comprehensive tumor models to support the development of next-generation immuno-oncological therapies, leveraging the potential of organ-on-a-chip technology.
MIMETAS is at the forefront of disease modeling using organ-on-a-chip technologies. The company's proprietary OrganoPlate® platform enables the development and high-throughput screening of physiologically relevant disease models for drug discovery and development. Offering its technology and expertise in therapy co-development projects, services, and off-the-shelf products, MIMETAS collaborates with leading pharmaceutical and biotech companies worldwide to develop novel therapies against unsolved diseases. Since its establishment in 2013, MIMETAS has expanded into a multinational company with operations in Europe, Asia, and the USA.
MIMETAS and Astellas have a history of successful collaboration. Astellas is known for its ambitious cancer cell therapy programs and bispecific immune cell engagers. Combining MIMETAS' expertise in capturing the complexity of tumors and their microenvironments with organ-on-a-chip technology, this partnership is poised to deepen the understanding of tumor biology. Consequently, the collaboration aims to enhance the response rate to immuno-oncological treatments substantially.
As part of the partnership, Astellas will gain access to MIMETAS' immune oncological disease assays, while MIMETAS stands to receive upfront and milestone payments. The alliance showcases how organ-on-a-chip companies like MIMETAS can contribute to the pharmaceutical industry by offering innovative solutions.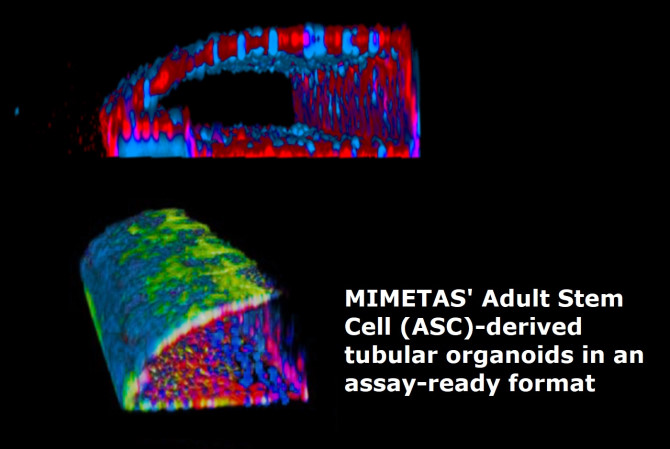 Earlier this year, MIMETAS expanded its offerings in the field of organ-on-a-chip-based disease models by launching its Adult Stem Cell (ASC)-derived tubular organoids in an assay-ready format. As part of its OrganoReady® product line, MIMETAS introduced two organoid-based products: ASC-derived Colon1 and Kidney2 Organoid tubules.
Jos Joore, co-CEO of MIMETAS, expressed enthusiasm for bringing this technology to the research community. After several years of optimization, the OrganoReady® organoid products now provide early-access users with license-free access to ready-to-use, donor-relevant organoid tubules of consistent quality.
MIMETAS has been collaborating with HUB Organoid Technology (HUB) since October 2019 to develop organoid models on a chip. HUB Organoids are derived directly from ASCs without the need for reprogramming or transforming stem cells, thus maintaining donor-specific properties. By combining the OrganoPlate®, MIMETAS' proprietary microfluidic platform, with HUB organoid technology, organoids are grown as perfused 3D tubular structures that can be accessed on both apical and basal sides. The fully optimized OrganoReady® Colon Organoid and OrganoReady® Kidney Organoid products are well-suited for applications such as mechanistic toxicology and drug-induced organ injury. With 64 organoids on a single plate, the models can accommodate medium- to high-throughput screening. Additionally, MIMETAS can develop any type of organoid model in the OrganoPlate® upon request.
The launch of these organoid products is timely, given the recent signing of the FDA Modernization Act 2.0 by US President Joe Biden. This act encourages the use of innovative technologies, such as organoids and organ-on-a-chip, as alternatives to animal testing. The strategic moves by MIMETAS, including the partnership with Astellas Pharma and the launch of ASC-derived tubular organoids, highlight the increasing relevance of organ-on-a-chip technology and its potential applications in various aspects of the pharmaceutical industry.