How "Big Tech" is Slowly Winning Pharmaceutical Markets
Recent news by Business Insider point to Amazon's ambition to expand its focus into Life Sciences and drug discovery, leveraging its artificial intelligence (AI) capabilities, cloud infrastructures, and other "high-tech" assets. As per data obtained by Business Insider from an internal AI conference, Amazon executives discuss using machine learning to revolutionize drug discovery, genomics, clinical trials, and more.
It is impossible to deny the increasing impact that "big tech" giants, like Google, Microsoft, Tencent, and others, have on the Life Sciences industry. All of us have heard of DeepMind's success in solving protein structures with AlphaFold, and this technology developed by Alphabet's subsidiary has become a game changer for the pharmaceutical industry, at least conceptually -- illustrating what is possible and where the application of high-tech to fundamental biology problems, may lead us at some point.
And just days ago, Meta (formerly Facebook) did just that -- researchers from this California-based social media giant have used AI to predict the structures of some 600 million proteins from bacteria, viruses, and other microorganisms that haven't been characterized. They used a 'large language model,' a type of AI that can predict text from just a few letters or words.
So, what attracts technological giants into the Life Sciences market?
First of all, the pharmaceutical industry is being disrupted by artificial intelligence, cloud technologies, and IoT, as well as novel business models such technologies enable. Therefore data, software, and AI expertise of leading tech companies is practically and strategically valuable for developing solutions across the pharmaceutical value chain. Another factor driving big tech into pharma is a drastic decline in return of investment for drug R&D. According to a CBInsight report, pharma's R&D returns have dropped by 65% over the past six years. To mitigate the effects of this, biotech firms are partnering with big tech companies to improve drug discovery, enable faster clinical trials, and improve distribution models. And lastly, the amount of patient data grew by nearly 500% from 2016 to 2020, which is particularly valuable as "real-world evidence" (RWE) for drug discovery and clinical trials. So by leveraging the power of machine learning and artificial intelligence, big tech companies can use this data to identify drug targets and candidates, predict real-time medication demand, and build patient monitoring and health records technology.
Big Tech can provide solutions for biotech at various stages, from empowering R&D with drug target identification to creating digital pharmacies. Let's look closer at the activity the leading tech giants and their subsidiaries pursued in the biotech field in 2022.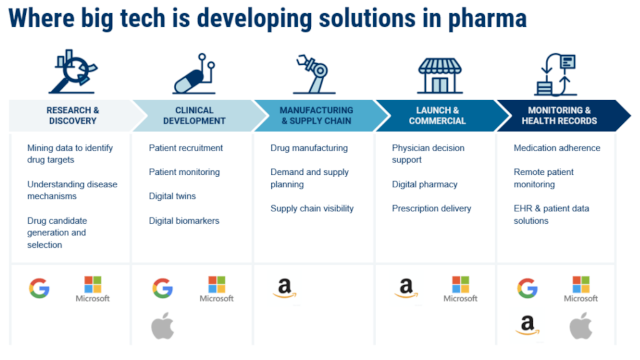 Source: CBInsight report
A particularly active company in this context is a producer of GPU chips for gaming, NVIDIA. Tech company has launched Clara Discovery, which is a collection of frameworks, applications, and AI models enabling GPU-accelerated drug discovery, with support for research in genomics, proteomics, microscopy, virtual screening, computational chemistry, visualization, clinical imaging, and natural language processing (NLP). And in March 2022, the company introduced Clara Holoscan MGX™, a platform for the medical device industry to develop and deploy real-time AI applications at the edge, specifically designed to meet required regulatory standards. Clara Holoscan aims for an all-in-one, medical-grade reference architecture, as well as long-term software support, to accelerate innovation in the medical device industry.
On September 12th, Alphabet's life science offshoot Verily announced it had raised $1B in an investment round led by its parent company alongside a shakeup of its executive team. Launched in 2015 by Alphabet's R&D arm, then called Google X, the company offers initiatives such as a clinical trial platform Project Baseline, chronic condition management service Onduo, health system analytics tool Verily Value Suite and its Immune Profiler for drug discovery. The company has already entered into several partnerships to develop health tech tools. In July, cardiac remote monitoring company iRhythm Technologies announced it had received another FDA 510(k) clearance for its ZEUS System for monitoring atrial fibrillation patients, which was developed in partnership with Verily. As for the recent massive investment, the company intends to use it to expand its precision healthcare initiatives, including real-world evidence generation and healthcare data platforms.
Another notable event of this autumn is a collaboration between Danish diabetes giant Novo Nordisk and Microsoft for faster and scaled use of AI in drug discovery. In terms of the partnership agreement, Microsoft will be providing expertise in artificial intelligence and foundational science models to help Novo Nordisk's data science professionals accelerate the company's R&D. AI models arising from the collaboration will be applied to automated summarization and analysis of information coming from literature, patents, scientific reports, and discussion forums to gain novel scientific insights. Moreover, the partners aim to develop models predicting a person's risk of developing atherosclerosis, a cardiovascular disease caused by a build-up of fats, cholesterol, and other substances in and on the artery walls.
In June 2022, Bio Farma, the parent company of Indonesia's pharmaceutical state-owned enterprises announced a collaboration with Google Cloud, Fitbit, and ConnectedLife on a new digital health initiative called "Preventive Care Medwell," in support of the government's "Healthy Indonesia" blueprint and vision. Under this initiative, the organizations have developed "ConnectedLife with Fitbit," a personalized wellness and population health virtual platform―the first of its kind locally―to empower Indonesians to take decisive steps toward healthier living and chronic disease prevention.
Bio Farma was not the only company using the cloud service this year. In March, League, a platform technology company in healthcare, announced a strategic partnership with Google Cloud aiming to accelerate and enable successful digital transformation for healthcare providers, payers, pharmacy retailers, and employers. The recent collaboration with Google will allow clients to purchase League via the Google Marketplace and configure their applications with League's modular capabilities in a secure, interoperable, and scalable cloud environment. The platform technology pioneer has raised over $205 M in VC, with their most recent round being led by TDM Growth Partners, the backers of Square, Twilio, and Slack.
In March, Microsoft announced the acquisition of Nuance Communication, a speech recognition company and leading provider of conversational artificial intelligence to enhance healthcare artificial intelligence. Companies have worked as partners for several years, sharing a vision of outcomes-based AI development. Through this acquisition, Microsoft aims to use the cloud-based solution embedded with optimized AI to address a range of healthcare challenges, from enhancing early detection and treatment of disease in healthcare to improving patient, clinician, and employee experiences.
Collaborations between pharma and big tech companies have great potential. The possibilities that Apple, Google, and Microsoft are bringing to the field are immense, reshaping the ways clinical data are collected and drug targets are identified, enabling more efficient healthcare on multiple levels.
The above post touches upon a small part of the technological tranformation of the Life Sciences industry. To delve deep into the matter, contact us to learn more about strategy consulting services and market research reports: info@biopharmatrend.com.