A Running List Of Covid-19 Treatments In Development
Disclaimer: This post is not medical advice, it is only for informational purposes. In case of need, consult your doctor at all times to make decisions about your health.
Coronavirus disease 2019 (COVID-19) is an infectious disease caused by severe acute respiratory syndrome coronavirus 2 (SARS-CoV-2), which is a positive sense, single-stranded RNA beta coronavirus, a member of Beta-CoV lineage B (subgenus Sarbecovirus).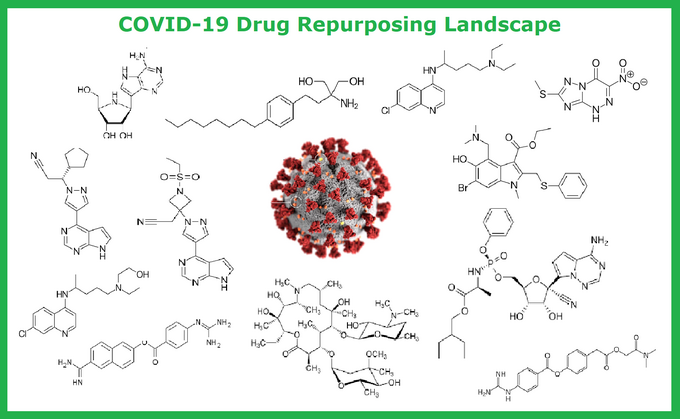 COVID-19 represents a global health threat and it is a serious driver of possible economic crisis, so curbing the current ongoing outbreak is the matter of top priority for most health organizations and biotech companies.
In order to follow the quick pace of progress in the area of coronavirus treatments, we decided to create and maintain a list of key programs and projects, with data about companies and specific clinical trials where available. Suggest missing programs and molecules in the comments below.
The majority of molecules in the below list represent the case of drug repurposing when a molecule has prior known activity against some other indication. Drug repurposing is the most efficient option to come up with a new cure quickly -- a lot of safety data and other study results are already available for the molecule which allows to substantially accelerate the drug development process.
Most of the potential treatments against the coronavirus Covid-19 fall within two categories: treatments for the respiratory symptoms, and inhibitors of viral growth.
Table1. A Running List Of Covid-19 Treatments In Development (Antivirals)
Candidate
MoA / indication
Status/clinical trials
Sponsor/Producer
Kaletra (lopinavir/ritonavir)

Combinational therapy
HIV protease inhibitor

HIV-1 infection
> 10 latest stages clinical studies (Including combinations with other drugs)
NCT04321174
NCT04255017
NCT04307693
AbbVie
COVID-19 antibody therapy
antibody
Development stage
AbCellera
Eli Lilly
LAM-002A (Apilimod)


Block cellular entry and trafficking of the SARS-CoV-2 virus

Autoimmune diseases and follicular lymphoma
Phase II clinical trials
NCT04446377
AI Therapeutics,
Yale University
AN01 (rhsACE2)
Recombinant human angiotensin-converting enzyme 2
Blocks the spike protein, can protect the lung, blood vessels or the heart from injury via its enzyme function.
Phase II clinical trials
NCT04335136
Apeiron Biologics
TMC-310911 (ASC-09)


Novel investigational protease inhibitor (structurally similar to darunavir)
Clinical Studies of Combinational Therapies

NCT04261907
NCT04261270
Ascletis,
First Affiliated Hospital of Zhejiang University, Tongji Hospital
Ganovo (Danoprevir)


Hepatitis C virus protease inhibitor
Hepatitis C
Phase 4 Clinical Study
In combination with other drugs
NCT04291729
Ascletis,
The Ninth Hospital of Nanchang
BGE-175
a potent oral inhibitor ofthe prostaglandin D2 (PGD2) DP1 pathway
Phase 2
NCT04705597
BioAge Labs, Inc.
HFB30132A
Monoclonal Antibody Directed Against SARS-CoV-2,
Phase 1
NCT04590430
HiFiBiO Therapeutics
Itolizumab (Alzumab)

Humanized IgG1 monoclonal antibody
Inhibits CD6 to shut down the activation and trafficking of pathogenic T cells that drive auto-immune response.

Indication: Chronic plaque psoriasis
Completed Phase II clinical trials in India.
NCT04475588
Equillium, Biocon
Galidesivir (BCX4430)


Nucleoside RNA polymerase inhibitor
Yellow Fever
Advanced development stage
BioCryst Pharmaceuticals
Bemcentinib


AXL kinase inhibitor.
Indication: therapy resistant cancers.
Phase II Clinical Trials
2020-001736-95
BerGenBio
University Hospital Southampton NHS Foundation Trust, UK
BOLD-100
Inhibit stress-induced upregulation of GRP78

Cancer drug
Suggested
Bold Therapeutics
Leronlimab (PRO 140)
Humanized monoclonal antibody
Binds to CCR5

HIV, cancer
Initiation of Phase 2 Clinical Study
CytoDyn Inc.
Ivermectin


Anti-parasitic drug
Preclinical study

Doherty Institute

Monash University in Australia
Fingolimod


Sphingosine 1-phosphate receptor modulator
Multiple sclerosis
Phase 2 Clinical Study in China

NCT04280588
First Affiliated Hospital of Fujian Medical University
Thalidomide


MoA is not fully understood
Phase 2 Clinical Trials in China
NCT04273581
NCT04273529
First Affiliated Hospital of Wenzhou Medical University
Remdesivir (GS - 5734)


Block RNA polymerase
Ebola
Orphan Drug Designation for Gilead

9 clinical studies worldwide
NCT04323761
NCT04257656
NCT04315948
Gilead Sciences
Truvada (emtricitabine + tenofovir)
Combinational therapy
Non-nucleoside reverse transcriptase inhibitors
HIV infection
In preparation
Gilead Sciences
Triazavirin


inhibits RNA synthesis
Phase 3 Clinical Study in China

ChiCTR2000030001
Health commission of Heilongjiang province

Baricitinib



COV-BARRIER (LY3009104) baricitinib

JAK/NAK inhibitor

Rheumatic Disease

COVID-19

Phase 3 Clinical Study in Italy

NCT04320277

Phase 3 Clinical Study

Hospital of Prato

Prezista/ Prezcobix (darunavir + cobicistat)
Combinational therapy
Protease inhibitor
HIV infection
Phase 3 Clinical Studies
NCT04304053 in Spain

3Cclinical tStudies in China
NCT04252274
ChiCTR2000030259
ChiCTR2000029541
Janssen Pharmaceuticals
Fundacio Lluita Contra la SIDA,
Medical Institutions in China
Chloroquine


Endosomal acidification fusion inhibitor
Anti-malarial
> 10 studies worldwide
> 10 Clinical Studies in China
ChiCTR2000029609
NCT04261517
Medical institutions worldwide
Azithromycin


Antibiotic
> 10 trials in combination with other drugs
NCT04322396
NCT04321278
NCT04322123
Medical institutions worldwide
Remestemcel-L
Mesenchymal stromal cell (MSC)
Migrate to the site of inflammation to reduce the production of pro-inflammatory cytokines.

Indication: Acute Graft versus Host Disease
Phase III Clinical Trials

NCT04371393
Mesoblast, Inc. / Icahn School of Medicine at Mount Sinai
Aviptadil (RLF-100)
Vasoactive Intestinal Polypeptide VIP
Block replication of the SARS-CoV-2 virus in human lung cells and monocytes
Phase 2/3 Clinical Trials
NCT04311697
NCT04360096
NCT04536350
NeuroRx, Relief Therapeutics
Favipiravir (T-705)


Block RNA polymerase
Flu drug
Approved in China

Clinical studies in China, Japan, and Italy
ChiCTR2000029996
ChiCTR2000030894
Produced by Fujifilm Toyama Chemical
Kevzara (sarilumab)

Monoclonal antibody
Anti - IL-6

Rheumatoid arthritis
Phase 2, 3 Clinical Study
NCT04315298
Regeneron Pharmaceuticals,
Sanofi
EIDD-2801


Block RNA polymerase
Suggested
Ridgeback Biotherapeutics

Developed by Emory University
Activase
Tissue plasminogen activator

Stroke drug
Suggested
Roche
(Genentech)
Actemra (tocilizumab)

Monoclonal antibody
anti-IL-6R


Rheumatoid arthritis
Approved in China

5 Clinical Studies in Denmark, Italy, China
NCT04317092
NCT04331795
Roche,
Medical institutions worldwide
Umifenovir (Arbidol)


Membrane fusion inhibitor
Latest stages clinical studies in China
(Including combinations with other drugs)
ChiCTR2000029621
NCT04260594
Ruijin Hospital,
Other institutions in China
318H

Monoclonal antibody
Selectively targets cells having an abnormally high level of glycolysis and oxidative stress

Aggressive cancers.
Preclinical Development
SIWA Therapeutics
TAK-888
(Plasma-derived antibodies)
Polyclonal
hyperimmune globulin (H-IG)
Development stage
Takeda
Ruxolitinib (Jakafi, Jakavi)


Inhibitor of Janus-associated kinases (JAK1 and JAK2)
Myelofibrosis
Clinical Study in China
Ruxolitinib combined with stem cell therapy
ChiCTR2000029580
Tongji Hospital, Hubei, China
Tongji Hospital, Hubei, China
Manufacturer - Incyte Corporation
Camostat mesylate (Foypan)


inhibit SARS-CoV-2 Spike protein-initiated membrane fusion
Phase 1, 2 Clinical Study in Germany
NCT04321096
University of Aarhus
Manufactured in Japan
Nafamostat mesylate (Fusan)


inhibit SARS-CoV-2 Spike protein-initiated membrane fusion
Acute pancreatitis
Completed preclinical study in Japan
University of Tokyo
Hydroxychloroquine
(Plaquenil)


Endosomal acidification fusion inhibitor
Anti-malarial
Rheumatoid arthritis treatment
> 10 Clinical Studies worldwide
10 Clinical Studies in China
NCT04321278
NCT04261517
ChiCTR2000029868
VIR-7831, VIR-7832 (sotrovimab)
Immunoglobulin Intravenous (Human) Monoclonal Antibody Directed Against SARS-CoV-2
phase II/III NCT04779879 NCT04913675
Vir Biotechnology
in collaboration with GSK
COVID-HIGIV
Monoclonal Antibody Directed Against SARS-CoV-2,
Phase I NCT04661839
Emergent BioSolutions