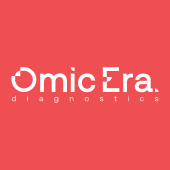 Founded
2019
Geography
Germany based
OmicEra is a leading proteomics and artificial intelligence (AI) startup, dedicated to revolutionize medical diagnostics using high-end mass spectrometry-based proteomics and improve human health. Transparency, reproducible results and open-source software development are deeply integrated into the culture. Their goal is to unravel the secrets fromthe proteome to digitalize a person's health state.
Proteomics Mass Spectrometry Biomarker Discovery
R&D Platform
OmicEra offers cutting-edge MS-based proteome analyses of human samples: ranging from plasma, CSF or urine to any type of FFPE and frozen tissue collection. Powered by innovative AI technology, our results maximize the insight from samples. This helps our clients to improve their research pipelines and discover more reliable and valuable biomarkers.
Pipelines
No pipelines published yet
Services
No services posted yet