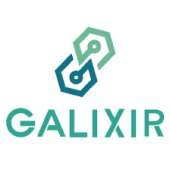 Founded
2019
Geography
China based
Funding
$10 M
Founded in 2019, Galixir aspires to be an engine to fuel up the whole pharmaceutical industry leveraging our world-leading AI technologies.
We offer pharmaceutical companies with accesses to faster and better drug discovery methods, as well as strong patent protections on drugs. Our technologies are based on cutting-edge artificial intelligence, chemical engineering, computational biology and cloud computing. With the help of Galixir AI, time and cost associated with discoveries of new medical treatments would be greatly reduced, and new solutions to originally-incurable diseases could come to patients early than ever.
drug discovery
R&D Platform
Pyxir™,our interdisciplinary AI drug design platform,can search for new scaffolds in the vast universe of compounds, offering new ideas for drug discovery. Galixir tries to make AI explainable to drug R&D professionals. With the help of Pyxir™, we cover all preclinical stages from target to IND. The platform integrates different modules including molecule design, virtual screening, property prediction and targeted optimization, among others. We deploy hundreds of models integrating our latest algorithms to make innovative medicines accessible.
Pipelines
No pipelines published yet
Services
No services posted yet