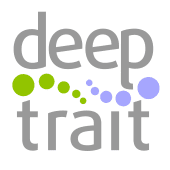 Founded
2018
Geography
Germany based
Funding
$0.300 M
DeepTrait approach relies on the unique, proprietary deep neural network architectures and training practices capable of working with full genomes of billions of base pair long, understanding genetic patterns and revealing hidden genomic structures.
biomarkers genetic analysis
R&D Platform
DeepTrait next-generation markers (NGM) is an artificial intelligence technology for learning perfect genetic markers by analyzing genomic data.
It uses full genome sequences, contigs, or long reads with contrast phenotypes as an input and outputs unique k-mers.
These k-mers are the next-generation genetic markers. They highlight the genetic mechanisms of the origin, control, or suppression of the trait.
Pipelines
No pipelines published yet
Services
No services posted yet