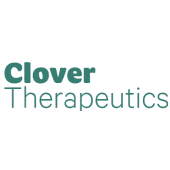 Founded
2019
Geography
United States of America based
Funding
$3.500 M
Clover Therapeutics is a young life science startup active in the field of nanobiotechnologies.
Clover's mission is to develop smart solutions for critical unmet medical needs, improving the efficacy of medical treatments and patients' quality of life.
We are now developing an innovative technology platform, based on drug delivery and biomimicry, whose first application will be the urological oncology.
aging research
Pipelines
None
Genetics R&D
We generate and analyze detailed clinico-genomic data to discover drug targets and select patients for treatment. Our clinical pipeline consists of two observational genetics studies which will genotype and sequence >5,000 AMD patients.
In the DIVERSITY study, whole genome sequences of AMD cases and controls of non-caucasians will be analyzed to discover novel genetic variants that affect AMD risk.
In the PROGRESSION study, the genotypes of patients with opposing genetic risk and disease progression are analyzed for novel genetic variants that modify disease progression.
Data obtained from studies will be used to inform novel drug target discovery and genetics-based patient selection for clinical development.
Services
No services posted yet