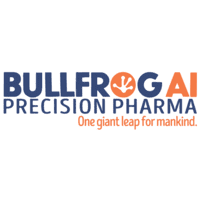 Founded
2017
Geography
United States of America based
Funding
$0.200 M
BullFrog AI utilizes a proprietary deep machine learning/AI platform to harness valuable clinical data to solve challenges with patient targeting in clinical development. The platform is based on a graph analytics tool designed to discover patterns and relationships in large scale and complex data sets. The technology has been in development for seven years at The Johns Hopkins University Applied Physics Laboratory and has proven to be incredibly robust, scalable, and precise.
BullFrog AI is led by founder and CEO Vin Singh. The company is strategically positioned to be a key enabler for the biopharma industry. Mr. Singh is a dynamic visionary and experienced professional executive from the broader life sciences industry. He has extensive start-up experience having founded and built companies in the life sciences, consumer healthcare, biotechnology, medical device, and pharmacy industries. Learn more about Bullfrog AI at www.bullfrogai.com.
R&D Platform
BullFrog AI IP is focused on uncovering novel insights for late-stage drug candidates in the pipelines of the leading biopharmaceutical companies of the world.
Pipelines
No pipelines published yet
Services
No services posted yet