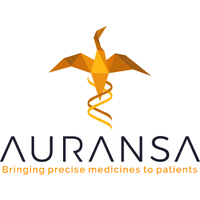 Founded
2014
Geography
United States of America based
Funding
$2.810 M
Auransa Inc. is an AI-driven pharmaceutical startup focusing on developing precise medicines for cancer, aging-related diseases and other disorders. We are a group of veteran drug developers, data scientists, biologists, chemists, and more, who share the common purpose of developing treatments for serious human diseases in order to save lives and relieve suffering.
Auransa's innovative approach to developing precise medicine for patients is based on two core proprietary technologies developed over the past four years.
SMarTR™ Engine is an artificial intelligence (AI)-driven platform for discovering patient subpopulations, novel targets, unique mechanisms of action and precise therapies.
CTSeek™ Liquid Biopsy is a companion liquid biopsy technology that will ensure we are identifying the appropriate patients for our clinical trials and enable us to monitor their responses to our treatments.
Pipelines
None
Our specialty is working on highly intractable disease problems, with poorly understood biology and a lack of well-studied patient populations. Using the SMarTR Engine, we have created a pipeline of novel compounds that work uniquely, from drugging DNA such that there is specificity without damaging its structure, to finding a Goldilocks compound that can protect the heart from anthracycline-induced cardiotoxicity without impacting its efficacy.
Services
No services posted yet