RNA Leaders USA 2023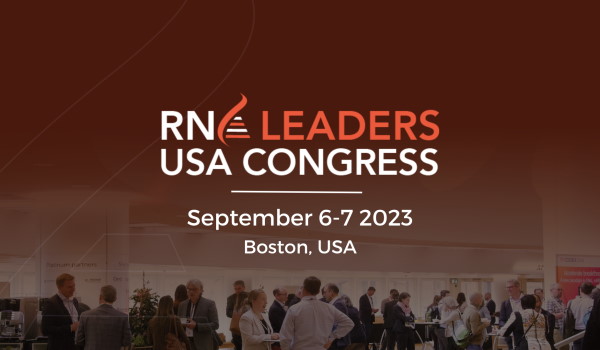 Event Date: Sept. 6, 2023 - Sept. 7, 2023
Location: United States of America, Boston
Website: RNA Leaders USA website
Promo Code: BT15
Join us at RNA Leaders USA to learn about the latest, discovery, clinical, manufacturing and commercially viable developments across mRNA, RNAi, oligos, microRNAs, genome editing, small molecules and next-gen RNA therapeutics.
You'll deep dive into how the industry is developing multiple targets to treat chronic and acute conditions including treat cancer, infectious, respiratory and rare diseases.
Speakers include:
Tamar Grossman, VP, Global Head of RNA, Gene Therapy and Delivery, Janssen
Andreas Kuhn, SVP RNA Biochemistry & Manufacturing, BioNTech SE
Matthew Hawryluk, EVP, CBO, Gritstone
Malgorzata Gonciarz, AVP, Genetic Medicine, Eli Lilly
Annette Bak, Head of Advanced Drug Delivery, AstraZeneca
Pierre Cote, Head of Strategic Partnership & Innovation, mRNA, Sanofi
Eric Swayze, EVP of Research, Ionis
Nina Kjellson, General Partner, Canaan Partners
If you're passionate about all things RNA join us, and 400+ senior biotech, pharmaceutical, investment, regulatory and scientific professionals at the RNA Leaders Europe.

About the event
RNA Leaders is a high-quality therapeutic conference, focusing on the development of mRNA, RNAi, ASOs, oligonucleotides, vaccines, microRNAs, genome editing, wider nucleic acids & RNA targets.
For investors and pharma, it offers the chance to peruse the science and meet biotechs working on a variety of different product types within an emerging space.
For biotechs, it offers the chance to learn how others are meeting field-wide challenges like regulation and delivery and hear about the work being done beyond their immediate space.
You can save an extra 15% using the code: BT15