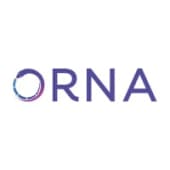 Founded
2019
Geography
United States of America based
Funding
$80 M
Orna Therapeutics is a biotechnology company dedicated to designing and delivering a new class of fully engineered circular RNA (oRNA) therapeutics with the potential to change the way we treat disease. Orna's proprietary platform combines novel technology to create oRNAs that drive protein expression with validated and unique delivery solutions.
Posts Mentioning This Company
R&D Platform
Built on groundbreaking research from Prof. Daniel Anderson's lab at MIT, oRNA is the next revolution in RNA therapeutics: synthetic circular RNA efficiently generated by an elegant and proprietary molecular platform. oRNAs lack caps and tails and are always full-length, and are made by combining nature-driven insights with rational design. They are easily made, well-tolerated, and are engineered to express therapeutic proteins through original and proprietary mechanisms.
Pipelines
No pipelines published yet
Services
No services posted yet