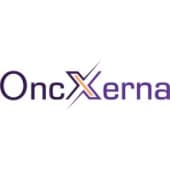 Founded
2018
Geography
United States of America based
Funding
$96.500 M
OncXerna Therapeutics offers precision medicine using an innovative RNA-based biomarker platform.
OncXerna Therapeutics is aiming to deliver next-generation precision medicine for a larger group of cancer patients by leveraging the company's deep understanding of how to prospectively identify patients based on the dominant biology of their tumormicroenvironments. This allows OncXerna to pair those patients with OncXerna's clinical-stage therapies with known mechanisms of action that directly address these biologies, to dramatically improve patient outcomes.
The company was founded in 2018 and was formerly known as Oncologie.
R&D Platform
XERNA™️ PLATFORM
We believe that to truly advance precision medicine, it is critical to understand the dominant biology, or the underlying biological drivers of a cancer. Unlike DNA mutations that reflect historical events in the cancer's evolution that may no longer be driving the cancer, messenger RNA (mRNA) expression reflects the biological processes that are in action at the time of biopsy. We believe that using RNA expression signatures to describe tumor biology offers scientists and clinicians a more real-time synopsis of the patient's cancer than DNA mutational analysis.
Pipelines
No pipelines published yet
Services
No services posted yet