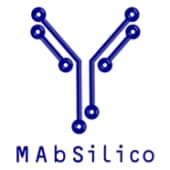 Founded
2017
Geography
France based
Funding
$1.110 M
MAbSilico is a deeptech company from French academic research labs. Founded in 2017, MAbSilico is a software editor with the vision to accelerate the development of therapeutic antibody focusing on the early stage development to provide leads in a few years today to a few weeks.
MAbSilico is developing a software suite combining algorithms and databases based on 20 years of proven research and protected by patent. Our Artificial Intelligence and machine learning -driven tools cover two key steps of the early-stage antibody development; the lead identification and the lead characterization.
therapeutic antibody protein interaction target identification
R&D Platform
MAbSilico's technology is based on 20 years of academic research performed by highly competent scientists. Each methods are calibrated using parameters set up from proprietary databases during the R&D stage, and they are all validated with state-of-the-art experimental assays. Thanks to this combined approaches (computational and biology), MAbSilico can show that the predictive data always converge towards the biological truth.
Pipelines
No pipelines published yet
Services
No services posted yet