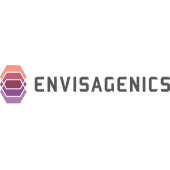 Founded
2014
Geography
United States of America based
Funding
$5.575 M
RNA Splicing Analytics + Artificial Intelligence for Drug Discovery.
Our mission is to reduce the complexity of biomedical data to accelerate the development of innovative therapeutic solutions through RNA splicing analytics and artificial intelligence. Envisagenics is Cold Spring Harbor Laboratory spinout company.
Drug Discovery RNA splicing RNA therapuetics
Posts Mentioning This Company
R&D Platform
Analyze RNA data from patients to identify new biomarkers and drug targets. Allows researchers to: Accelerate discovery of RNA therapeutics.
SpliceCore
Artificial Intelligence Platform for Drug Discovery
Pipelines
ENV-0205
Based on SpliceCore, Envisagenics identifies potential targets for in-house therapeutic development. The company is currently preclinically developing ENV-0205 for the treatment of triple negative breast cancer (TNBC). A critical unmet need remains for TNBC patients since there is no effective targeted therapy for this aggressive type of breast cancer.
Services
No services posted yet