Healthcare Information Technology (IT) Market to See 15.4% Growth to Hit US$441.8 Billion by 2025
According to a new research report by the market research and strategy consulting firm, Global Market Insights, Inc, the Healthcare Information Technology (IT) Market worth over $441.8bn by 2025. Favorable government initiatives for encouraging adoption of information technology in healthcare services will boost industry growth in the future. For instance, the U.S. government passed the Health Information Technology for Economic and Clinical Health (HITECH) Act, providing funds worth USD 20 billion for setting up electronic health records. Such government initiatives should propel the Healthcare IT market growth.
Increasing demand for lowering cost of healthcare services by the implementation of healthcare IT network will foster industry growth in the future. Inefficient processes in healthcare settings lead to a loss of about 50% of the revenue earned by healthcare providers, ultimately leading to high healthcare cost. Implementation of healthcare IT services reduces errors in processes and manages the data efficiently, thereby lowering overall healthcare service cost. Aforementioned factors will propel healthcare IT market growth in the future.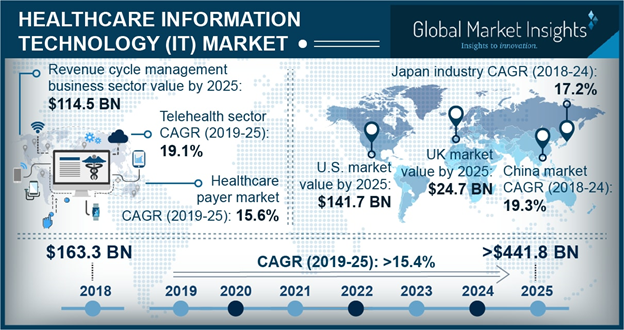 Electronic health record market is expected to reach USD 97.8 billion by 2025. The high growth rate is attributable to increasing healthcare expenditure and the development of healthcare infrastructure. For instance, in 2014, the UK government announced additional healthcare IT investment of USD 5.4 billion during the five-year period. High spending on healthcare information technology will stimulate the adoption of electronic healthcare records market in the upcoming period.
Healthcare payer market is estimated to grow at 15.6% CAGR across the forecast timeframe. Healthcare payers are focusing on innovative digital healthcare technology. Also, payers are emphasizing on the implementation of value-based care models to meet specific needs of patients. Increasing focus on collaboration and development of patient-friendly service models will boost healthcare payer market growth in the future.
UK healthcare IT market is estimated to reach USD 24.7 billion by 2025. Rapid adoption of healthcare IT services in the UK along with superior accessibility of information technology infrastructure will render a positive effect on the UK healthcare IT market. A rising number of chronic diseases and technological advancements in the country will favor market growth in the upcoming years.
China healthcare IT market presents a lucrative growth opportunity at a robust CAGR of 19.3%. The Chinese government is undertaking initiatives to support eHealth and address long-standing inefficiencies along with unmet needs for the health care system in the country. Also, presence of a large patient pool, untapped growth opportunities, rapidly growing healthcare system, high economic growth and increasing technological advancement in healthcare services will be some of the major factors responsible for the growth of China healthcare IT business in the future.
Prominent industry players in healthcare IT market include McKesson Corporation, GE Healthcare, Siemens Healthcare, Oracle Corporation, Hewlett-Packard, Athenahealth, Allscripts Healthcare Solutions, eClinicalWorks, Experian Health, Agfa Healthcare, and Carestream Health. The industry players focus on strategies such as merger and acquisition, new product launch and geographical expansion in order to enhance their market presence across the world.