Microsurgery Robot Market to Amass Considerable Returns from Hospital & Clinical Pursuits, Global Industry to be Characterized by Cutting-edge Technological Advancements
The deployment of robotics in healthcare to perform complex surgeries with more precision and accuracy has indeed propelled microsurgery robot market trends. Over the last few years robotics is being incorporated prominently in gastrointestinal, gynecological, and urological surgeries, owing to the growing awareness among the healthcare service providers and patients about minimally invasive treatments. Many patients with terminal disorders such as endometrial cancer have also found to be inclined toward robotic techniques. The increasing use of such innovative and minimally invasive medical treatment facilities is slated to fuel microsurgery robot industry size.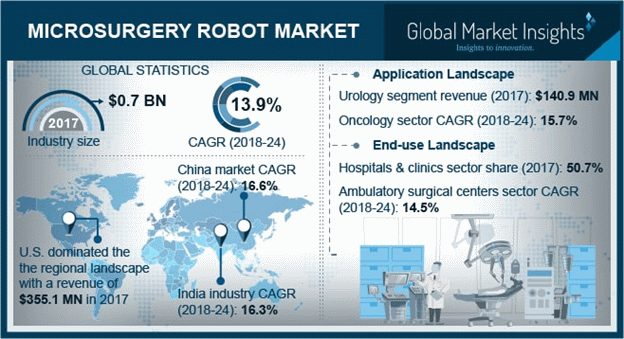 With the advent of new technologies, the healthcare sector has indeed undergone a tremendous change. Most hospitals have adopted the latest technological developments to enable better treatment and enhanced patient care. Robotic surgery in this regard is certainly considered to be one of the notable breakthroughs in the history of healthcare, which incidentally, had been used to perform needle placements for a brain biopsy in the initial stages. Later on, post its successful implementation, robotics has come to be used prominently by various clinical centers for making surgeries less complicated, easier, and of lesser duration.
In the year 2017, hospitals and clinics accounted for more than 50% share of microsurgery robots market, pertaining to the increasing use of robots for improving healthcare outcomes. The segment has also experienced commendable momentum on account of the fact that hospitals have nonchalantly embraced the spate of technological advancements that the healthcare space is currently characterized by.
In 2017, one of the Netherlands based hospitals, Maastricht UMC+ successfully carried out a surgical procedure with the assistance of a microrobot which joined sub-millimeter vessels in the arm of the patients with lymphedema disorder. With the help of the microrobot, physicians at the Maastricht UMC+ hospital joined 0.3 and 0.8 mm lymphatic vessels with blood vessels, assuaging painful and critical swelling. In order to carry out such surgeries, maintaining steadiness sans trembling is the most crucial factor, necessitating the requirement of a robot.
It is thus rather overt from this instance that to perform such critical surgeries, healthcare service providers have been giving preference for robots that can treat the patients precisely. The growing preference for robotic technologies for maintaining an unprecedented level of dexterity during surgery will have a considerable influence on microsurgery robot market outlook over the years ahead.
In the U.S, with the rise in per capita income, the requirement of microsurgery robots for conducting minimally invasive surgeries has been increasing remarkably. In 2017, the U.S. became a major revenue pocket for North America microsurgery robot market with a share of approximately USD 355 million. In order to tap the developments across this highly developed topography, many industry giants have been vying with one another to extend their horizon in the region. Accordingly, many players in microsurgery robot industry have been introducing new range of advanced surgical equipment (strictly approved by regulatory bodies).
Taking into account the stringency in the approval process of the U.S. Food and Drug Administration, many companies have been striving to adhere sincerely to the norms laid out by the regulatory bodies. For instance, in 2016, Auris Surgical Robotics had received approval from the FDA for its machine that can be used to diagnose bronchoscopy issues. In 2018, after securing license from the FDA, Auris unveiled a next-generation surgical robot which can be used for diagnosing lung cancer.
Though many surgeons and healthcare laboratories have already adopted robotic technologies, the surging need for more advanced clinical equipment has led to healthcare companies investing in the development of advanced robotic platforms. For instance, recently, an Italian company dedicated toward bringing forth enhanced clinical outcomes, Medical Microinstruments S.p.A. received USD 24.5 million to accelerate the development of a robotic platform for microsurgery. The company is aiming to develop outstanding clinical products that will perform complex and critical microsurgeries with highly precise motion and dexterity.
The strategic approach of players in the microsurgery robot industry to invent new technologies for reducing the complexity of surgeries is slated to enhance the product demand over the years ahead. The increasing importance for quality, efficiency, and patient safety will also have a favorable impact on microsurgery robot market size, not to mention, so will the emergence of smart technologies such as artificial intelligence (AI) and augmented reality (AR). All in all, powered by the increasing importance for minimally invasive surgeries along with surging acceptance of robotic technologies by the hospitals, microsurgery robot market will generate revenue of more than USD 1.7 billion by the end of 2024.