The Revolution Cancer International Molecular Tumor Board
Date: 16th July 2022
Location: online, via Zoom
Website: rcimtb.com
Hosted by Basem Goueli, MD, PhD, MBA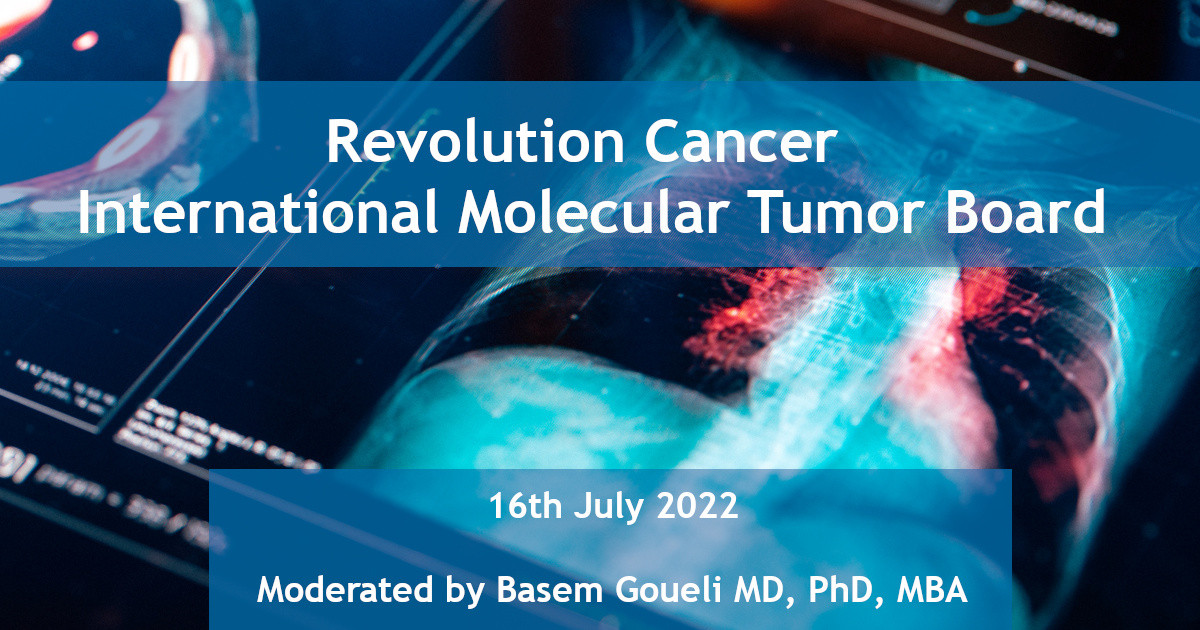 The Revolution Cancer International Molecular Tumor Board (RCIMTB) starts this Saturday, July 16, 2022, at 11 AM Eastern. Now that preparation is nearly complete I can reveal some of the UNPRECEDENTED things you will see.
We will begin with an honest and transparent discussion of the AMAZING Daiichi Sankyo pipeline. The company was kind enough to furnish me with a REMARKABLE pipeline slide deck that I will draw from.
Part 2 of the tumor board will involve an UNPARALLELED discussion of stage 4 hepatocellular cancer (HCC). We are presenting NINE patients simultaneously.
I will be reviewing ALL CURRENTLY APPROVED HCC DRUGS AND THE DATA UNDERLYING THEIR APPROVALS. In addition, I will be presenting a summary of ALL 152 ONGOING STAGE 4 HCC TRIALS THAT I HAVE PERSONALLY REVIEWED.
All of this will be done in the context of the molecular profiles of the aforementioned nine patients as we use the COMET algorithm in treatment cartography to develop ideal treatment maps for these patients in REAL-TIME, something that should be done in molecular tumor boards EVERYWHERE.
We will conclude the HCC discussion with 2 features:
The CANCER CLARITY UNMET NEED FEATURE for drug developers and pharmaceutical companies outlining where to position their assets in stage 4 HCC
The CANCER CLARITY TRIALS WE'D LIKE TO SEE FEATURE: We will reveal FOUR clinical trial ideas that are not currently underway in HCC for anyone to run with as they see fit.
A genetic counseling discussion will round out the case.
If that's not enough, we will finish by presenting a patient with stage 4, estrogen receptor-positive, progesterone receptor positive, low HER2, breast cancer with an incredibly unique molecular profile. Unique among molecular tumor boards, we will show her imaging and pathology.
We will discuss the COMET algorithm and treatment cartography for her case while providing viewers with a COMPLETE review of FDA-approved drugs in this space and underlying data. I will also reveal my conclusions after looking at ALL 900 PLUS ongoing stage 4 breast cancer trials.
We will conclude with the CANCER CLARITY UNMET NEED AND TRIAL WE'D LIKE TO SEE FEATURES, along with exploring the role of genetic counseling in the patient's case.
This tumor board will be VERY HIGH-LEVEL. WE HELD NOTHING BACK. It's intended for pharmaceuticals, providers, drug developers, pharmacists, investors, etc. It is not geared towards patients, although everyone is welcome to attend.
Audience participation is encouraged and company representatives are asked to educate the public about ongoing trials they may have. In addition, input from providers, drug developers, etc., is fundamental to what this tumor board ultimately wants to accomplish, AN UNPARRALLED open discourse at the interface of different worlds to epitomize translational medicine.
With this tumor board, we intend to "drop the mic". Come see for yourself...