The Rise of Advanced Technologies in the Pharmaceutical Industry
Day 1 (How Advanced Technologies Are Shaping Pharmaceutical Industry)
Disruptive technologies and emerging trends such as robotics, artificial intelligence, precision medicine, and patient design will have an impact on pharmaceutical manufacturing and distribution. Invited specialists and DKG professionals will give speeches regarding these arising tendencies and technologies in use.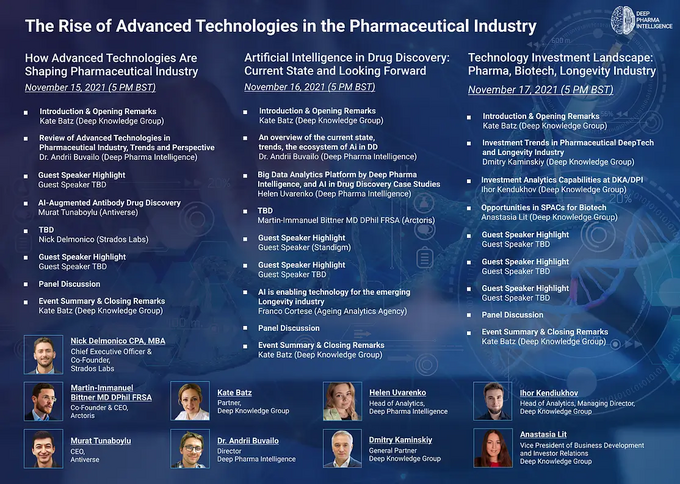 Day 2 (Artificial Intelligence in Drug Discovery: Current State and Looking Forward)
Astounding advances in computational power, combined with advancements in AI technology, are revolutionizing the drug development process. At this event, on the one hand, we will discuss how AI improves the efficiency of drug development, as well as how pharmaceutical industry titans can collaborate with AI-powered drug discovery firms to sustain their drug development programs. On the other hand, the event will highlight big-tech companies' partnerships with drug discovery businesses.
Day 3 (Technology Investment Landscape: Pharma, Biotech, Longevity Industry)
Longevity and biotech industries are poised for a massive leap in the near future, owing to the impact of AI on biomedicine R&D and the impending paradigm shift from treatment to preventative measures. The final conference event will shed light on key observations in the rapidly evolving and exponentially growing Longevity Industry's private equity, venture capital ecosystem and SPACs.