FREE WEBINAR: Getting Care to Patients: a new paradigm
How pharma can provide flexible care to patients, providers, and payers to create a better, more cost-effective, and differentiated infusion experience
Wednesday, April 28 – 10am EST, 4pm CET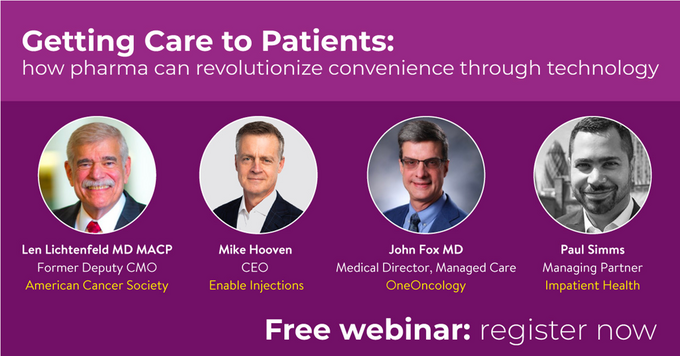 Covid-19 has sensitized patients and providers to minimizing time spent in the clinic.
Patients, especially immune-compromised, are reluctant to enter the clinic for treatment.
Infusion via intravenous administration is the standard of care for many today, but brings numerous challenges for patient and provider. Whereas flexible drug delivery technology that minimizes or eliminates patient time in the clinic can benefit patients, providers, and payers. Can pharma companies be the catalysts, enabling more convenient care for patients and providers, opening up delivery options ranging from the clinic to the home?
Join industry executives as we talk with key opinion leaders and providers of infusion services to discuss how companies can be part of the solution to improve patient access, product differentiation, and revenues – as well as improving patient adherence and outcomes.
Let's deliver a win-win-win and change the care paradigm for our generation – and those to come.
Register here: https://enableinjections.com/webinar-20/