Hamilton and IMCS Jointly Develop affinityPure™ STAR Assay Ready Workstation to Aid Coronavirus Research
Reno, Nevada. (April 28, 2020) – Hamilton Company and Integrated Micro-Chromatography Systems (IMCS) introduce the affinityPure™ STAR assay ready workstation as part of their ongoing collaboration. The solution, based on Hamilton's Microlab® STAR™ automated liquid handler, is pre-configured and qualified to automate high-throughput, small-scale affinity purification workflows. This includes applications such as Protein A purification of antibodies while screening biotherapeutics against SARS-CoV-2, the novel coronavirus that causes COVID-19. The affinityPure STAR is also ideal for other large molecule research and manufacturing applications.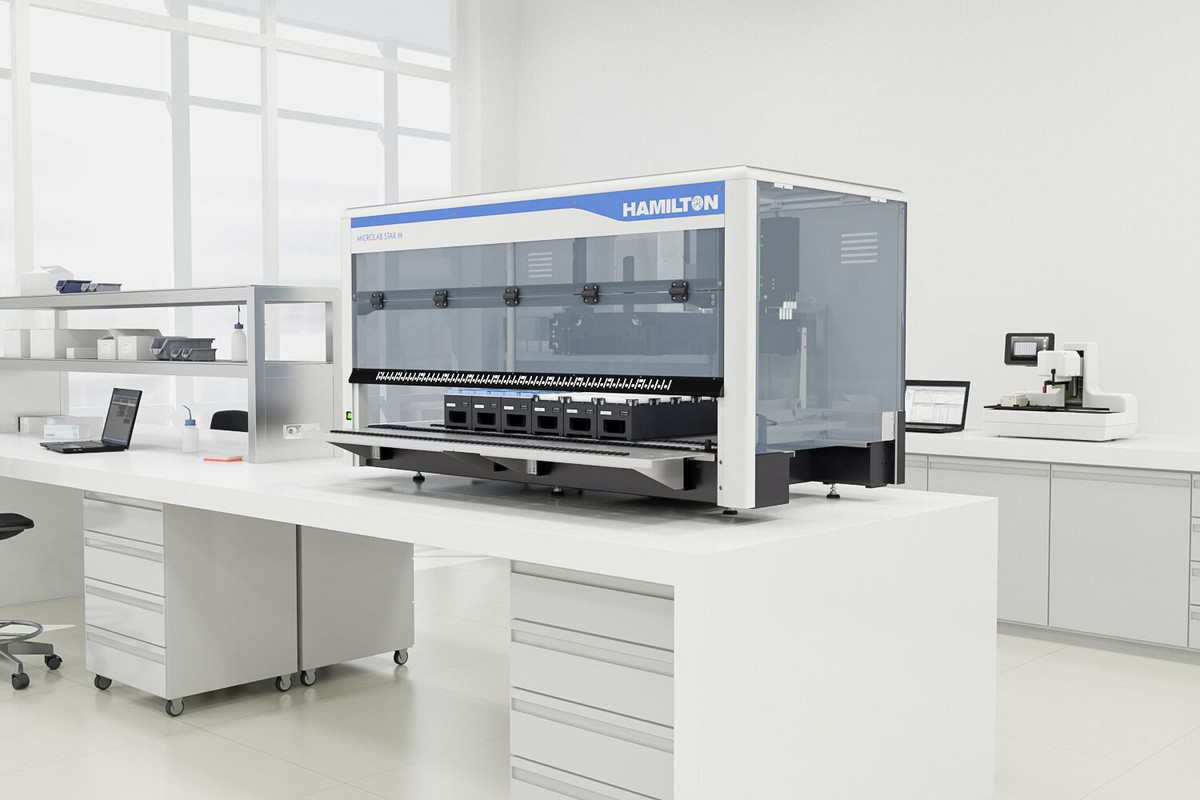 Specialized affinity purification IMCStips® used in the workflow contain resins such as Protein A, with custom formulations available upon request. The resins are loosely packaged in Hamilton's automation-ready Compressed O-Ring Expansion (CO-RE®) pipette tips that feature a tight seal to ensure precision and accuracy during liquid handling steps. Patented dispersive mixing technology in the IMCStips facilitates maximum contact between each resin and protein of interest and efficient binding of the target analyte for high recovery during elution.
The hands-free affinityPure STAR is specially designed for a true plug-and-purify experience that minimizes reagent volumes and consumable use while reducing time to results. A pre-defined hardware configuration processes up to 96 samples in 10-30 minutes compared to throughput-limiting and lengthy manual methods such as traditional spin columns. Optimized parameters for mixing cycles, volume, and other optional steps are easily accessed and fine-tuned, if desired, via the user-friendly graphical interface, and a testing mode enables rapid optimization of method parameters using a single deep-well plate and up to eight samples.
"Time and reproducibility have never been more critical to biotechnology and biopharmaceutical facilities seeking to identify, treat, and contain the coronavirus", commented Casey Snodgrass, Market Segment Leader, Pharmaceutical Biotechnology at Hamilton. "Hamilton and IMCS are fully aligned with the goal of providing as many tools as possible to researchers on the front lines of this virus and other disease states."
The affinityPure STAR optimized for affinity purification of proteins using IMCStips will be co-promoted by Hamilton and IMCS, enabling researchers to seamlessly integrate this automated workflow into their laboratory while leveraging the respective expertise and services of each Company.
Visit www.hamiltoncompany.com/automated-liquid-handling/assay-ready-workstations/affinitypure-star-for-imcstips for more information on the affinityPure STAR.
About Hamilton Robotics:
Hamilton Robotics, an affiliate of Hamilton Company, is a leading global manufacturer providing automated liquid handling workstations and laboratory automation technology to the scientific community. With a focus on innovative design, Hamilton products incorporate patented liquid handling technologies into a portfolio that includes liquid handling platforms, standard application-based solutions, small devices, consumables, and OEM liquid handling solutions. Known for advancing life science, clinical diagnostics, forensics and biotechnology industries, Hamilton products offer reliability, performance and flexibility. Ensuring a continuous commitment to quality, Hamilton utilizes state-of-the-art manufacturing at production facilities in Reno, Nevada and Bonaduz, Switzerland, and has earned a global ISO 9001 certification. Privately held, Hamilton maintains headquarters in Reno, Nevada; Franklin, Massachusetts; and Bonaduz, Switzerland, along with subsidiary offices throughout the world. www.hamiltoncompany.com/robotics
All trademarks are owned and/or registered by Hamilton in the U.S. and/or other countries. For details visit www.hamiltoncompany.com/trademarks.